Between September 17 and October 15, kids ages 10 to 14 and their parents/caregivers participated in a MoMA Family Art Workshop connected to Talk to Me. After viewing and discussing objects in the exhibition, the family groups developed their own communication-related inventions. We have invited them to share their projects here.
Inventors: Sophie and Lisa
Age of inventors: 10, and 10+
Invention: Mini Mom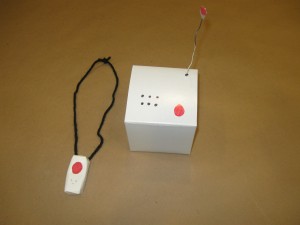 The Mini Mom will connect you easily with your mom; with a simple push of a button, mothers and children are connected. The child wears the break-away neck piece while the adult can track the child and remain in contact.
Inventors: Drew and Kendra
Age of inventors: 12, and 46
Invention: The Key Phone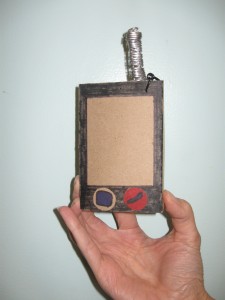 You will never have to remember your keys again because your keys are now a part of your phone.
Inventors:  Emily and Jennifer
Age of inventors: 13, and 45
Invention: Willow Message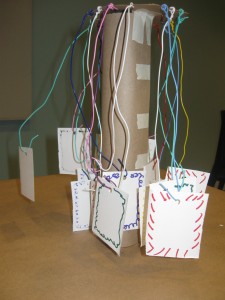 An aesthetically pleasing message center where messages (color coded depending on purpose, or which person the message is intended for) hang on wire hooks. The feel of this object emulates a willow tree, and serves as a centerpiece for counters or tables.
Inventors: Kianni and Ke
Age of inventors: 10, and 10+
Invention: Track-A-Pet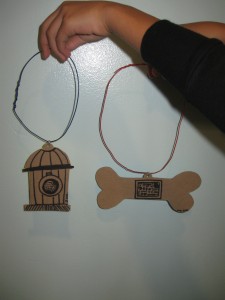 Track-A-Pet is the next step in storing a pet's info. More than just a stylish tag, the vet can scan it for information about the pet and its history all in one.
Inventors: Olga, Maria, and Irena
Age of inventors: 13, and 10
Invention: Helpful Bear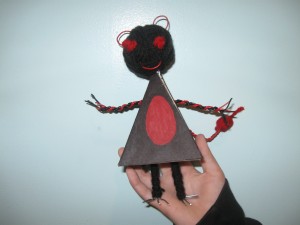 This bear is intended to calm a fussy child. It will approach a crying child and respond by making funny noises. When it gets the child to start laughing, then, its job is done.
Inventors: Anna Marie, Michael, Ella Volynskiy
Age of inventors: 9, 12, and 12+
Invention: The Friendly Garbage Bot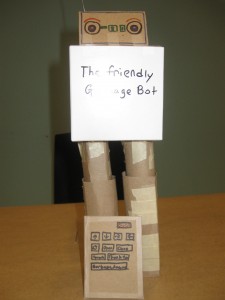 Friendly Garbage Bot is a robot that collects garbage from any room within a home. It has collapsible legs to make it taller or shorter. It also sorts items for recycling from the landfill trash. It has a friendly face, and is easy to use with the remote control.