Drawing conventionally has been associated with pen, pencil, and paper, but artists have drawn lines on walls, earth, ceramics, fabric, film, and computer screens, with tools ranging from sticks to scrapers to pixels. Looking beyond institutional definitions of the medium, On Line (on view from November 21, 2010 to February 7, 2011) argues for an expanded history of drawing that moves off the page into space and time. Comprising the work of more than one hundred artists, the exhibition charts the radical transformation of the medium between 1910 and 2010, as artists broke down drawing to its core elements, making line the subject of intense exploration: as the path of a moving point or a human body in motion (the dancer tracing dynamic lines across the stage, the wandering artist tracing lines across the land), as an element in a network, and as a boundary—political, cultural, or social.
On Line is organized chronologically in three sections: Surface Tension, featuring the artistic drive to construct and represent movement through line within the flat picture plane; Line Extension, composed of works in which lines extend beyond flatness into real space—that is, into social space; and Confluence, presenting works in which line and background are fused, giving greater significance to the space between lines. In following the development of the meaning of line over the last one hundred years, the exhibition traces it in movement, across disciplines, and as it has been drawn out and rewoven in time and space—inevitably reflecting the interconnection and interdependency that are increasingly both shaping and emerging from a globalized society. Line, like thought, once understood as linear and progressive, has evolved into a kind of network: fluid, simultaneous, indefinite, and open.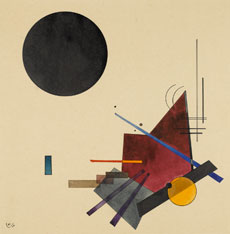 Surface Tension
This first section explores artists' drive to construct and represent movement through line within the flat picture plane, including examples of the Futurist exploration of speed and movement in form around 1910

, and the advent of Cubist collage, originating in 1912— considered a first attempt to move from the imaginary surface of representation to the space of the real world. The desire for space in the plane of the surface was further explored in the open-form concept of the Russian Constructivists, who, by the early 1920s, expanded the notion of sculptural form through their exploration of new materials. At the same time, Kurt Schwitters's Merzbau (begun early 1920s, destroyed 1943) is a critical example of an investigation of form and space; the artist occupied several rooms on various floors of his house in Hannover with abstract forms.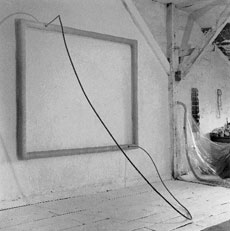 Line Extension
Works in this section play with lines that extend beyond flatness into real space—that is, into social space. Alexander Calder's three-dimensional forms are drawn in space with wire lines. Luciano Fontana's famous holes

and linear cuts allow line to escape from the prison of the flat surface. In the early fifties, artists such as Robert Rauschenberg, Ellsworth Kelly, and Cy Twombly focused attention on the dynamics of the line itself, removed from authorship. Whereas some artists were interested in the absence of lines as gaps that activate a surface, others, like Anna Maria Maiolino and Pierrette Bloch, became increasingly preoccupied by the material presence of the line in actual space, refocusing on the dialogue between the two-dimensional plane and three-dimensional space. Concurrent with this radical and non-formal experimentation was the work of artists such as Edward Krasinski and Karel Malich in Eastern Europe and Lygia Clark in Latin America.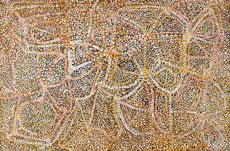 Confluence of Line and Plane
In the exhibition's final section, artists push their lines, both literally and conceptually, out into the "real" world: onto the walls of buildings (Giuseppe Penone's site-specific drawing Propagazione), into the earth (Michael Heizer's large-scale works in the landscape), and into the spaces of our daily life (Joelle Tuerlincxx's sculptures of found materials). Another common theme, grids and networks of overlapping lines, can be seen in works by Agnes Martin, Cildo Meireles, and Mona Hatoum. The works in this section ultimately stress interdependency—between surface and space, between present and past, and primarily between the line and the support. These works prove that a single mark can articulate and alter the understanding of the ground itself, an idea implicit in every day of lived experience.
On Line: Drawing and Film
On Line: Drawing and Film, held in conjunction with the gallery exhibition On Line: Drawing Through the Twentieth Century, presents films from MoMA's collection by artists whose work redefines the very parameters of drawing through an investigation of the line, both static and kinetic.
The intersection between the world and the line, both as a visual element and a rich metaphor for life, can be found in numerous films, from the dawn of cinema in the late 19th century to the present. Early animation—a film technique that springs directly from the medium of drawing—succeeded in the activation of the drawn line, as in Winsor McKay's Gertie, the Dinosaur (1914). Despite subsequent technical advances, many artists have chosen to continue to reveal the connection between drawing and film; they paint, scratch, and manipulate the physical material of film to create abstract lines and patterns, which sometimes stand alone as moving drawings. In other films, these drawn lines are forced into the cinematic world created by the filmmaker, as an active backdrop for artistic intervention. Then there are films in which the line functions symbolically, referring to the various trajectories of the world at large through spiritual and physical travel, such as Bill Morrison's Night Highway (1990). The passage of time, the marks left in our landscape, and lines drawn to both join and separate us from each other simultaneously provoke fascination and repulsion, as in A Season Outside (1998) by Amar Kanwar. The manipulation of line as cinematic subject was often inspired by the movement of the body, as in Circles I (1971)—a dance film by Doris Chase—and the syncopated, choreographed abstract imagery of Mary Ellen Bute's Tarantella (1940). Contemporaneously, the transformation of the line (or a crossing of multiple lines to form a grid) injects the limits of the exterior world into the interior of the work of art. The first wave of computer generated films, especially those made at the Bell Telephone Laboratories in Murray Hill, New Jersey, in the early 1960s—such as Computer Generated Ballet (c.1965) by researcher A. Michael Noll—explores the subject of "dancers" on a computer grid.
This exhibition includes films by Yann Beauvais (French, b. 1953), Stan Brakhage (American, 1933–2003), Robert Breer (American, b. 1926), Mary Ellen Bute (American, 1906–1983), Doris Chase (American, 1923–2008), Jim Capobianco (American, b. 1969), Walt Disney (American, 1901–1966), Ed Emshwiller (American, 1925–1990), valie export (Austrian, b. 1940), Harun Farocki (German, b. Czechoslovakia 1944), Emily Hubley (American, b. 1958), Amar Kanwar (Indian, b. 1964), Bernard Longpre (Canadian, 1937–2002), Len Lye (New Zealander, 1901–1980), Norman McLaren (Canadian, b. Scotland 1914–1987), Bill Morrison (American, b. 1965), David Piel (American, 1926–2004), Yvonne Rainer (American, b. 1934), Randy Rotheisler (Canadian, b. 1953), Carolee Schneemann (American, b. 1939), Zdenek Smetana (Czech, b. 1925), Stuart Sherman (American, 1945–2001), Alia Syed (British, b. 1964), and Steven Yazzie (American, b. 1970).
Exhibition Credits
On Line is organized by Connie Butler, The Robert Lehman Foundation Chief Curator of Drawings, The Museum of Modern Art, and Catherine de Zegher, former Director, The Drawing Center, New York, with the assistance of Esther Adler, Curatorial Assistant, Department of Drawings, The Museum of Modern Art, New York.
The exhibition and accompanying performance series are made possible by MoMA's Wallis Annenberg Fund for Innovation in Contemporary Art through the Annenberg Foundation, The International Council of The Museum of Modern Art, Maja Oeri and Hans Bodenmann, The Contemporary Arts Council of The Museum of Modern Art, and the Robert Lehman Foundation.
Website Credits
Department of Drawings
Connie Butler, The Robert Lehman Foundation Chief Curator of Drawings
Esther Adler, Curatorial Assistant
Department of Digital Media
Allegra Burnette, Creative Director
Jessica Croce, Digital Media Intern
Shannon Darrough, Senior Media Developer
David Hart, Media Producer
Dan Phiffer, Web Developer
Editorial
Jason Persse, Associate Editor
If a line is the trace of a point in motion, a human figure moving through space is drawing in air. This program of performances, organized in conjunction with the exhibition On Line: Drawing Through the Twentieth Century and MoMA's ongoing Performance Exhibition Series, moves drawing into three dimensions.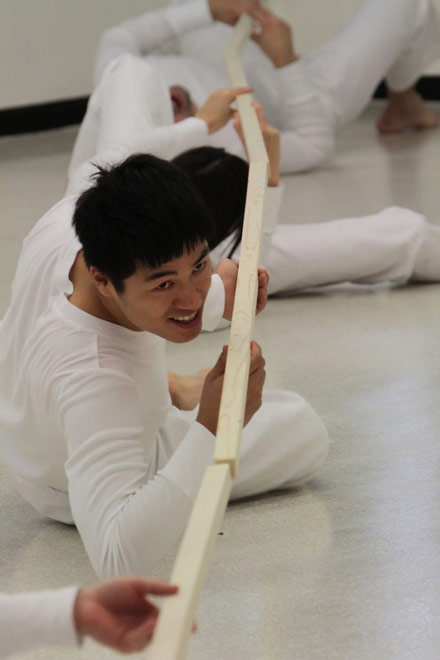 Performance 11: On Line/Trisha Brown Dance Company
January 12, 15 & 16. 2:00 & 4:00 p.m.
Choreographer Trisha Brown (American, born 1936) experiments with space, gravity, and the orientation of the body. She was an essential contributor to the development of postmodern dance in the early 1960s, an innovation associated with New York's Judson Dance Theater. At MoMA the Trisha Brown Dance Company, which celebrated its fortieth anniversary in 2010, will perform the early works Sticks (1973), Scallops (1973), and Locus Solo (1975) and premiere Roof Piece Re-Layed (2011), based on Roof Piece (1971).
Performance 12: On Line/Marie Cool and Fabio Balducci
January 17, 19 & 20. Throughout the day
The work of Marie Cool (French, born 1961) and Fabio Balducci (italian, born 1964) is rooted less in the tradition of performance art than in sculpture, painting, and drawing. The artists' actions are composed from an inventory of simple, reductive gestures initiated by the physical properties of ordinary materials, such as string, paper, or a piece of Scotch tape. Their work will be on view continuously throughout their three-day appearance at MoMA.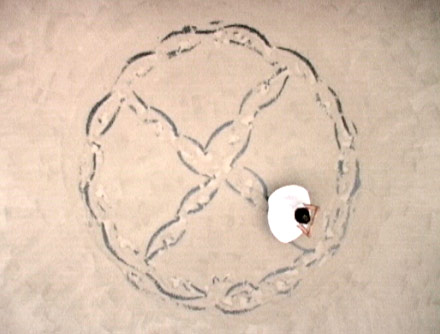 Performance 13: On Line/Anne Teresa De Keersmaeker
January 22 & 23. 2:00 & 4:00 p.m.
Anne Teresa De Keersmaeker (Belgian, born 1960) is one of the most prominent choreographers in contemporary dance. Throughout her career she has focused on the relationship between music and dance and also repeatedly ventured into the realms of text and visual art. The minimalist music of composer Steve Reich (American, born 1936) inspired De Keersmaeker's seminal work Fase: Four Movements to the Music of Steve Reich (1982). She will perform "Violin Phase" (an excerpt from Fase), dancing on sand, her movements creating a large circular drawing on the Atrium floor.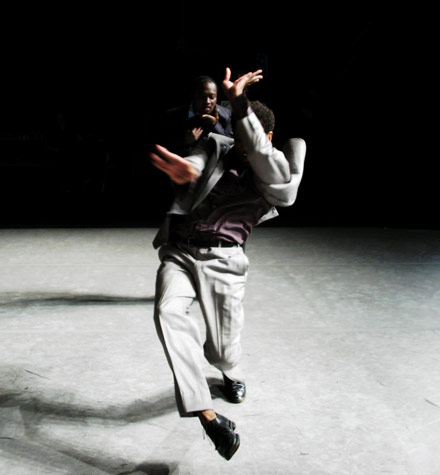 Performance 14: On Line/Ralph Lemon
January 26, 29 & 30. 3:00 p.m.
New York–based artist Ralph Lemon (American, born 1952) works across the disciplines of dance, film, and visual arts. In Untitled (2008), which Lemon created for himself and long-time collaborator Okwui Okpokwasili (American, born 1972), he explores the body's ability to push beyond technique and training, exhaustion and exhilaration, to movements unfettered by control, rationality, and reflex. The result is a quiet, harrowing duet that investigates connection and division between two bodies.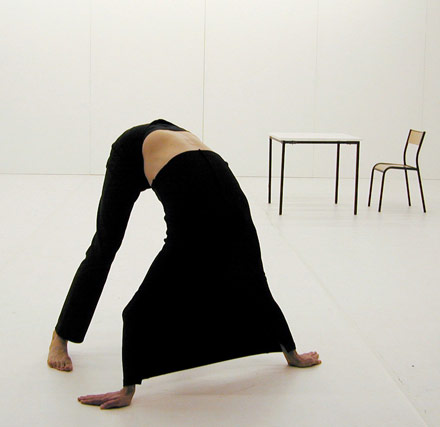 Performance 15: On Line/Xavier Le Roy
February 2, 5 & 6. 5:30 p.m.
Over the last decade, choreographer Xavier Le Roy (French, born 1963) has opened up new perspectives in the world of dance. Trained as a molecular biologist, he approaches his work scientifically, starting with a single idea or question. He will present his groundbreaking work Self Unfinished (1998), conceived in collaboration with Laurent Golding, which is concerned with the representation of the body; in it he morphs through bodily configurations, deviating as far as possible from an identifiable human figure.
Reservations are required. See MoMA.org/performance15 for details.
The performance contains nudity.