Above: Library, 1939. The Museum of Modern Art Archives [PA293]
Introduction
On the eve of director Alfred H. Barr, Jr.'s pioneering 1936 exhibition Fantastic Art, Dada, Surrealism, The Museum of Modern Art announced the arrival in its library of two extraordinary collections of Surrealist literature—those of Paul Éluard, the French poet and a central figure of the Surrealist movement, and Camille Dausse, a Parisian doctor and friend to many poets and artists from the group. The publicity surrounding the Library's acquisition helped frame discussions of Surrealism in the New York press, initiating debates on the merits of the controversial art movement that continued through that winter, thanks to Barr's exhibition.
Comprising almost seven hundred books, magazines, exhibition catalogues, manuscripts, tracts, pamphlets, and other ephemera, the materials and the geographic scope of the Éluard-Dausse Collection parallel the print culture of Surrealism itself. From the United States to Japan, Surrealist writers, artists, and filmmakers explored dreams and the unconscious, issued political tracts as often as artistic statements, and used the printed page as a site of aesthetic expression equal to the gallery wall. The acquisition, paid for by the chairman of the Museum's Library Committee, William P. Chrysler, Jr., provided the new department with its formative collection, significantly increasing its holdings in a diversity of forms and genres—from livres d'artistes and automatic drawings to gallery invitations and press clippings—and satisfying the Committee's self-imposed directive to document contemporary art in nontraditional ways. By actively pursuing primary sources and some of the more fugitive traces of contemporary artistic practice, the Library Committee developed an approach to modern art resources that has remained the blueprint for collections to this day. As the MoMA Library reaches its seventy-seventh year, the question posed by the first Committee—how to make a modern art library?—continues to be answered by the Éluard-Dausse Collection and others like it. Here, on view for the first time, are some of the rare items from this formative collection of Surrealist literature.

The exhibition is organized by Sheelagh Bevan, Assistant Librarian.
All material is in the collection of The Museum of Modern Art Library, except as noted. PE (Paul Éluard) and CD (Camille Dausse) are used to indicate the original source where it is known. A complete checklist and all works in the Library's collection are available for consultation.


---

The Library and the Acquisition
Soon after Iris Barry became the Museum's librarian in 1934 strategies for meeting the unique challenge of making a modern art library became the focus of conversation for the new Library Committee, whose membership included Alfred H. Barr, Jr., Philip Johnson, and William P. Chrysler, Jr. With Barry's modernist vision and Chrysler as its most active fundraiser, the Committee hoped to purchase a collection that would attract publicity and include ephemera and other nontraditional material necessary to document contemporary art. When the Surrealist art dealer Julien Levy alerted them to the availability of Camille Dausse's Bibliothèque surréaliste, the Committee immediately secured the services of Parisian gallerist Jeanne Bucher to act as agent in the sale. With the Library's goals in mind, Bucher soon located a second collection, that of acclaimed Surrealist poet Paul Éluard, that had an even greater emphasis on ephemera. Chrysler, then chairman of the Committee, offered to pay for both collections himself, hoping to inspire similar donations in the future. When the material arrived in New York in the fall of 1935, the Committee and the new librarian, Beaumont Newhall, initiated plans to mount an exhibition and publish an illustrated catalogue of the newly combined Éluard-Dausse Collection—neither of which came to pass. Despite the fact that much of the ephemera was later destroyed in a fire, the collection remains one of the most comprehensive contemporaneous collections of Surrealism in print.

Newspaper clippings New York Herald Tribune, November 29, 1936, and New York Times, November 29, 1936 [Reproduced from the A. Conger Goodyear Scrapbook, v. 42. The Museum of Modern Art Archives, New York]

Iris Barry c. 1940 (photograph by George Platt Lynes) [Photographic Archive. The Museum of Modern Art Archives, New York]
Film critic, curator, and quintessential modernist, Iris Barry greatly influenced the direction of the new department in her brief tenure as MoMA's librarian.
Livres et publications surréalistes. Paris: Librairie José Corti, 1931. Catalogue designed by Paul Éluard, with a cover by Max Ernst

José Corti's store on the rue de Clichy in Paris served as a site of distribution and occasional headquarters for the group's collective imprint, Éditions surréalistes.
Press release The Museum of Modern Art, New York, November 1936 [Press Release 112336-36]


Camille Dausse "Le Diagnostic biologique précoce de la grossesse," from Guérir (Paris, August 1933).

Doctor to many artists and poets and a regular at the Surrealist salons, Camille C. D. Dausse was also an art collector who wrote for Boris Souvarine's journal Critique sociale with George Bataille and Michael Leiris. Among the notable items in his library were Man Ray's Revolving Doors (1926), Surrealist drawings by Georges Bataille, Max Ernst's Histoire naturelle (1926), a manuscript by Robert Desnos, Salvador Dalí's La Femme visible (1930), and several livres d'artistes illustrated by André Masson, including a rare copy of Louis Aragon's Le Con d'Irène (1928), now in the Museum's collection of prints and illustrated books.

Paul Éluard and Max Ernst Répétitions. Paris: Au sans pareil, 1922. [CD]

Published two years before the group's first manifesto appeared, this Surrealist collaboration between Éluard and Ernst includes the artist's first use of collage in book form.

Paul Éluard Le Devoir et l'inquiétude, poèmes, suivis de Le Rire d'un autre. Paris: Chez A.-J. Gonon, 1917. With a wood engraving by André Deslignères [CD]

Éluard, born Eugène Grindel, was one of the central figures of Surrealism, having cofounded the movement in 1924 with André Breton, Louis Aragon, and Philippe Soupault. Composed during World War I, Le Devoir, the poet's fourth book, marks the first use of his pen name. The Éluard-Dausse Collection contains most of the poet's literary output, documenting his involvement with Dadaist and proto-Surrealist magazines such as Littérature and Proverbe and some extremely rare works of his poetry in Dors (1931) and Au défaut du silence (1925).

The Library n.d. (unknown photographer) [Alfred H. Barr Papers, 9.D.6. The Museum of Modern Art Archives, New York]

This photograph shows The Museum of Modern Art Library with the reading-room shelves funded by William P. Chrysler, Jr., who also paid for the Éluard-Dausse Collection.

Joan Miró and Lise Hirtz Il était une petite pie. Paris: Éditions Jeanne Bucher, 1928 [CD]

This, Miró's first illustrated book—a collaboration with the Surrealist poet Lise Deharme—was published by the gallerist Jeanne Bucher, a personal friend of Iris Barry and the Museum's agent for the acquisition of the Éluard- Dausse Collection. A dealer in Surrealist art, Bucher published some of the most important Surrealist books, including Max Ernst's Histoire naturelle (1926) and Une Semaine de bonté (1934)—both of which are in the Éluard-Dausse Collection. After securing the two collections for the Library, Bucher loaned paintings to Alfred H. Barr, Jr.'s 1936 Fantastic Art, Dada, Surrealism exhibition and continued to be a valuable contact for the Museum throughout the 1930s and 1940s. Her gallery exists in Paris to this day.

---

Literary Foundations of Surrealism
Other avant-garde movements sought to break away from the past, but the Surrealists forged new ground while actively aligning themselves with literary ancestors. The Éluard-Dausse Collection reflects this self-conscious genealogy despite the Library Committee's plan to sell off "potentially embarrassing" works of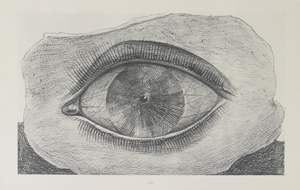 a purely literary or libertine nature. The Surrealists' veneration for the disordered imaginations of the Comte de Lautréamont and Arthur Rimbaud is evident in countless articles, books, and tracts in the collection. Fantastic and visionary literature was another influence, exemplified by translations of Lewis Carroll and William Blake—both of whom were included in Alfred H. Barr, Jr.'s 1936 Surrealism exhibition. The experimental writing of Raymond Roussel, Alfred Jarry, and Guillaume Apollinaire were more contemporary inspirations. At the Museum, the collecting of literary sources continued to play a part in the development of research collections for some time, especially at the new Film Library, which Iris Barry assumed directorship of in 1936, leaving the Museum Library.
Image above right: Max Ernst Histoire naturelle. Paris: Éditions Jeanne Bucher, 1926.

Comte de Lautréamont (Isidore Ducasse) Les chants de Maldoror. Brussels, 1874. [CD]

The Surrealists' vehement and unwavering admiration for Lautréamont led the group to attack a Paris nightclub that dared to take its name from this work. Maldoror is the source of the disjointed phrase that so captivated the group and provided a poetic model—"as beautiful as the chance encounter of a sewing machine and an umbrella on a dissecting table."

Isidore Ducasse Poésies. Paris: Au sans pareil, 1920. Introduction by Philippe Soupault [CD]

In 1919 Soupault and Breton found what was thought to be the one remaining copy of this work in the Bibliothèque nationale. Copying it out by hand, they later published it in their proto-Surrealist magazine Littérature.

Arthur Rimbaud Poésies. Paris: Albert Messein, 1919. Introduction by Paterne Berrichon, with a frontispiece portrait by Henri Fantin-Latour [CD]

This manuscript facsimile of minor works was part of the project by the poet's brother-in-law to transform Rimbaud's posthumous reputation from that of delirious, debauched poet to reformed Christian. In 1927, when officials announced plans to reconstruct Rimbaud's monument (designed by Berrichon), the Surrealists reacted angrily, issuing the tract "Permettez!" also in the Collection.

Lewis Carroll and Louis Aragon La Chasse au snark: Une agonie en huit crises. Chapelle-Réanville, France: Hours Press, 1929. Translated by Louis Aragon [PE]

Philippe Soupault William Blake. Paris: Les Éditions Rieder, 1928. [CD]
Achim d'Arnim and Valentine Hugo Contes bizarres. Paris: Éditions de cahiers libres, 1933. Translated by Théophile Gautier, with illustrations by Valentine Hugo and an introduction by André Breton [PE]

Another early precursor cited by the Surrealists, the German Romantic writer Achim von Arnim advocated the transformative power of art.

Guillaume Apollinaire and Germaine Albert-Birot "Choeur des Mamelles de Tirésias: Drame suréaliste," from Sic, no. 21–22 (September–October 1917). [CD]

Scholars credit the poet Apollinaire with coining the term "surrealist," which appeared in print for the first time in 1917. The publication of this piece of incidental music from his play Les Mamelles de Tirésias marks one of the first appearances of the word that was later adopted by the group.

Alfred Jarry Gestes et opinions du docteur Faustroll, pataphysicien, roman néo-scientifique suivi des spéculations. Paris: Bibliothèque-Charpentier, 1911. [CD]

Raymond Roussel L'Etoile au Front. Paris: A. Lemerre, 1925. [CD]

Like Blaise Cendrars and Pierre Reverdy, Roussel was a near contemporary whose influence is evident in early Surrealist literature. Reviewing this work in La Révolution surréaliste, Paul Éluard wrote: "Let Raymond Roussel show us that which has not been. We are a few to whom this sole reality matters."

Raymond Roussel La Poussiere de soleils. Paris, Librairie Alphonse Lemerre, 1926. [CD]

---
Surrealist Art in Book Form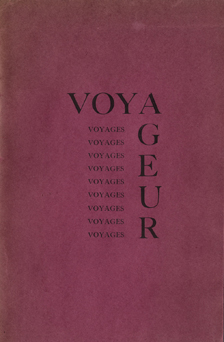 Library Committee members Philip Hofer, of the Morgan Library, and Helmut Lehmann-Haupt, of Columbia University, brought attention to the book arts, helping to plan exhibitions and establish connections with rare book dealers abroad. When the Committee acquired the Éluard-Dausse Collection, however, it did so primarily for its documentary value, not for the aesthetic quality of the publications. Surrealist books lack the cohesive style of Constructivist or Bauhaus publications, tending to be small, inexpensive items with cheap illustrative processes and retrogressive, classical design. Many of the volumes in the Éluard-Dausse Collection contradict that norm; and yet their value stemmed from the fact that they were primary sources not only of theoretical and poetic content but also of "living" artworks, not then available in textbooks or on museum walls. At a time when reference guides for art libraries were unreliable in the area of contemporary art, the Éluard-Dausse Collection helped correct misinformation while playing a role in the Museum's endeavor to document the art of its time.


Image above: Louis Aragon Voyageur. 1928

René Char Arsenal. Nîmes, France: De la main à la main, 1930. Frontispiece by Francesc Domingo [PE]

Dedicated to Paul Éluard, this rare copy of the expanded second edition of Char's second book of poems appeared soon after he joined the Surrealists. It was printed in an edition of thirty-nine, "whether you want it or not." The colophon continues, "it is comforting to think that the imbeciles will know nothing about it."

Louis Aragon and Yves Tanguy La Grande gaîté. Paris: Librairie Gallimard, 1929. One of fifteen copies printed on green paper, with a full-page inscription to Éluard, and two tipped-in plates by Tanguy [PE]


Georges Hugnet Onan. Paris: Editions surréalistes, 1934. [PE]

When both Tristan Tzara and André Breton expressed displeasure about the presentation of Dada and Surrealism in the Museum's 1936 exhibition, Alfred H. Barr, Jr.'s conciliatory choice to write the catalogue essays about the two movements was the rivals' mutual friend Hugnet.

René Crevel and Max Ernst Mr. Knife, Miss Fork. Paris: The Black Sun Press, 1931. Translated by Kay Boyle, with nineteen original photograms of frottages by Max Ernst [PE]

This is a special edition in English of the first chapter of Crevel's novel Babylone (1927), also in the Collection. The book is printed in red and black and was issued with a decorative binding that uses Ernst's designs.
André Breton, Paul Éluard, and Salvador Dalí L'Immaculée conception. Paris: Éditions surréalistes, 1930. Engraved frontispiece by Dalí [CD]

Despite the prominence of Éluard and Breton, it was Dalí whose celebrity in the United States brought the most attention to the movement. This copy belonged to "la petite Nusch," Éluard's second wife, and was inscribed to her by both authors.

Claude Cahun and Marcel Moore Aveux non avenues. Paris: Éditions du Carrefour, 1930. [CD]

Cahun (Lucy Schwob) became involved with the Surrealists in the early 1930s and was a founding member of the left-wing group Contre-Attaque with Georges Bataille and André Breton. This book of "poem-essays and essaypoems" defies categorization, approaching self-portraiture through experimental visual and verbal means. The heliogravures of Cahun's photomontages were made by Moore (Suzanne Malherbe), her partner and collaborator.

Benjamin Péret and Yves Tanguy Dormir, dormir dans les pierres. Paris: Éditions surréalistes, 1927. [PE]

One of the editors of the magazine La Révolution surréaliste, Péret worked closely with central members of the group throughout the 1920s and 1930s. This book of his poems is Tanguy's first work as a book illustrator.


---
Outsiders from Within
The value of collecting contemporaneously is exemplified in the Éluard-Dausse Collection by its strength in more dissident voices—some of whom were later marginalized from the Surrealist movement. Their prominence in the collection questions critical assumptions about the movement's parameters. Publications that critiqued the leadership of André Breton and pushed past the borders of Surrealist inquiry include Un Cadavre and Documents, shown here. Writers and artists involved in both publications were part of the group excluded by Breton in the second Surrealist manifesto, of 1929: Georges Bataille, Michel Leiris, Roger Vitrac, Georges Ribemont- Dessaignes, Robert Desnos, and Antonin Artaud. Dausse's friendship with Bataille, Leiris, and André Masson led to the inclusion of several rare works that have been transferred to MoMA curatorial departments, including a portfolio of Bataille's Surrealist drawings, Masson's lithographs for the rare 1928 edition of Histoire de l'oeil, and other books Masson illustrated, such as Georges Limbour's Soleils bas (1924) and Leiris's Simulacre (1925).

Robert Desnos and Georges Malkine The night of loveless nights. Anvers, France, 1930. With illustrations by Malkine [CD]

Once at the center of the group, Desnos continued his experiments with nocturnal visions and sleep-writing as the Surrealists increased their political activity toward the end of the 1920s. Breton's criticism of Desnos's more conventional verse forms—some of which appear in this book—helped lead to Desnos's break with the group.

Robert Desnos The night of loveless nights. Final leaf of the holograph manuscript, which also includes six automatic drawings [CD]

Georges Ribemont-Dessaignes, Georges Bataille, Robert Desnos, Georges Limbour, J.-A. Boiffard, et al. Un cadavre. Paris, January 15, 1930. Photomontage by Jacques-André Boiffard [PE]

These dissidents' responses to the criticism and "excommunications" of the second Surrealist manifesto are summed up in Bataille's contribution: "Here lies Breton the ox, the old aesthete and false revolutionary with the head of Christ." This tract was printed in an edition of five hundred; it was rumored that Bataille destroyed half the copies out of regret for its harsh tone toward Breton.

Georges Bataille "Le Langage des fleurs," from Documents, no. 3 (June 1929). Photograph by Karl Blossfeldt [CD]

The essay's final image, of the Marquis de Sade throwing rose petals into manure, contributed to Breton's epithet for Bataille in the second Surrealist manifesto: the "excremental philosopher." Managed by Bataille, Documents (1929–30) explored the more transgressive elements of the avant-garde alongside myth, ethnography, and popular culture without the moral tone sometimes apparent in mainstream Surrealist publications.

Roger Vitrac and André Masson Les mystères de l'amour. Drame en 3 actes, précédés d'un prologue. Paris: Éditions de la nouvelle revue française, 1924. Frontispiece by Masson [PE]

A Surrealist poet and dramatist, Vitrac was a contributor to Un Cadavre and to early issues of Documents. He cofounded the Théâtre Alfred Jarry with Antonin Artaud in 1926, where this play was later performed.

Antonin Artaud À la grande nuit: ou, Le Bluff surréaliste. Paris: Chez l'auteur, 1927.

Part of the group that gathered at André Masson's studio, Artaud briefly managed the Bureau of Surrealist Research in 1925, but soon earned Breton's public disapproval in the pamphlet Au grand jour, also in the Collection. Artaud's self-published response takes issue with the political thrust of the movement, contrasting individual suffering and the Surrealist rebellion against reason with the concept of collective revolution.


---
Surrealism beyond France
Collecting material that originated outside New York was part of the mission of the early Library Committee, which saw it as an opportunity "to build up a most catholic collection" that would supplement the Museum's holdings. Before the purchase of the Éluard-Dausse Collection, Surrealism had spread far beyond France, reaching from Paris and Brussels to Belgrade, Prague, Tokyo, and New York. The Czech group officially formed in 1934, but centers of Surrealist activity in Yugoslavia, Japan, and elsewhere had been active since the 1920s. In 1935 the movement's international scope was demonstrated in the appearance of the first Bulletin internationale du surréalisme, published in Prague on the occasion of a series of conferences attended by André Breton and Paul Éluard. The following year, Éluard urged Alfred H. Barr, Jr., to include the Czech Surrealists, Toyen and Jindrich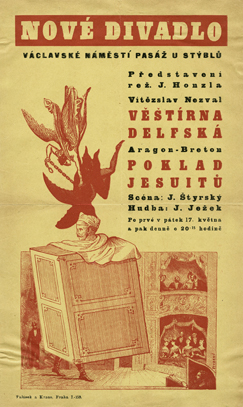 Štyrský, in his exhibition Fantastic Art, Dada, Surrealism, but Barr could do no more than mention them in the catalogue's chronology. The presence in the Éluard-Dausse Collection of these and other international artists, however, helped to counteract the practical and financial constraints on the Museum's acquisitions while achieving the Committee's goal of expanding the geographic scope of the Library's collection.

Prvni výstava skupiny surrealistu v CSR : Makovský, Štyrský, Toyen Prague: S.V.U. Mánes, 1935. Cover illustration by Jindrich Štyrský [PE]

This is the catalogue for the First Exhibition of the Surrealist Group in the Czechoslovak Republic, featuring members of the avant-garde Devetsil group, who had cofounded the Czech Surrealist movement in 1934: sculptor Vincenc Makovský, painter, photographer, and book designer, Jindrich Štyrský, and painter Toyen (born Marie Cerminova). The catalogue includes texts by the two leaders of the Czech group, Karel Teige and Vítezslav Nezval.


Image above left: Jindrich Štyrský Flyer for Le Trésor des Jésuites, by André Breton and Louis Aragon, and Vestirna Delfska by Vítězslav Nezval. Prague, 1935


Letter Chiruu (Tiroux) Yamanaka to Jeanne Bucher, December 14, 1934 [PE]

The Surrealist poet Yamanaka edited the Japanese anthology Hommage à Paul Éluard (1934) and later coedited the important Album surréaliste (1937) with Shuzo Takiguchi. In this letter to Bucher, the agent for the Library's acquisition of the Éluard-Dausse Collection, Yamanaka refers to the exchange of publications and ephemera between the French and Japanese, mentions an upcoming lecture in Nagoya on the history of the movement, and cites L'Esprit nouveau, a Japanese magazine in the Collection (now lost), edited by the poet Kitasono Katue.

Surréalisme New York: Julien Levy Gallery, 1932. Cover illustration by Joseph Cornell [PE]

This is the catalogue for the first Surrealist survey in New York, held at Julien Levy's gallery on Madison Avenue. Four years before the Museum's Fantastic Art, Dada, Surrealism show, Alfred H. Barr, Jr., loaned artwork to Levy's seminal exhibition, which included works by American artists such as Joseph Cornell and George Platt Lynes.

Nemogucé/L'Impossible Belgrade: Nadrealisticka izdanja, 1930. Photograph on title page by Nikola Vučo [PE]

This deluxe avant-garde almanac was the first collective publication issued by the Serbian Surrealists, led by Marko Ristić. Comprising statements, poetry, screenplays, automatic writing, and essays on dreams, the revue includes a history of Yugoslavian Surrealism by Ristić and Dušan Matić, contributions by the French group, and avant-garde photography by Vučo and Vane Bor.

Nadrealizam danas i ovde, no. 2. (Belgrade, January 1932). [PE]

Following the appearance of Nemoguće, the Serbian Surrealists published three issues of Nadrealizam danas i ovde (Surrealism here and now), which included surveys, polemics, criticism, and poems by Dorde Jovanovic, Dorede Kostic, Koca Popovic, Marko Ristić, Paul Éluard, André Breton, Tristan Tzara, and René Crevel. This issue contains a blank survey for Tristan Tzara and hors-text reproductions by Salvador Dalí, Alberto Giacometti, and Radojica Živanović-Noe.

Karel Teige Svet Ktery voni. Prague: Odeon, 1930. [PE]

This book is the second volume of O humoru, clownech a dadaistech—a selection of essays by the most important modernist critic and designer to emerge from Eastern Europe. A cofounder of the avant-garde Devětsil group, Teige was a pioneer in book design and advocate of the new typography. Along with Vítězslav Nezval, Teige hosted Paul Éluard and André Breton for the series of Surrealist conferences in Prague, and he edited the magazine Surrealismus v diskusi, also in the Collection.

André Breton and Toyen Spojité Nádoby. Prague: S.V.U. Mánes, 1934. With a cover illustration by Toyen (Marie Cerminova) [PE]

This is a Czech translation by Vítězslav Nezval of Les Vases communicants (1932)—Breton's exploration of strange encounters and the possibilities of exchange between dreams and waking life.


---
Fugitive Material
In the May 1936 issue of the Museum Bulletin, the new librarian, Beaumont Newhall, articulated the Library Committee's belief that the single most important function of the Library was to document "present-day art production" through the collection of "fugitive" material, or ephemera. Although Dr. Dausse's collection contained important Surrealist tracts, Paul Éluard's library was particularly rich in this area, with more than two hundred manifests, declarations, legal documents, letters, exhibition catalogues, and promotional materials relating to Surrealist publications. Some of the ephemera, which had been glued into Library scrapbooks in the 1930s, was destroyed in a fire at the Museum in 1958. In spite of the significant loss, the comprehensiveness of the Collection persists, and the diversity of materials contained within it—from the deluxe to the fugitive—remains the model for documenting contemporary art today.

"Au feu! " Paris, 1931.

In May 1931 the focus of activity by revolutionaries in the Spanish Civil War turned to religion. This tract, issued by the Surrealists in solidarity with the anticlerical vandalism and church burnings, advocates "terrorism by the masses" as the only effective means of separating church and state.

"Aux intellectuels révolutionnaires" Paris, 1930.

After conceding to criticism of Surrealism and the theories of Sigmund Freud at the Second International Conference of Proletarian and Revolutionary Writers in Kharkov, Russia, in 1930, Louis Aragon and Georges Sadoul returned to Paris and issued this manifest defending the use of psychoanalysis as a weapon against the bourgeoisie. Within two years, both Aragon and Sadoul left the Surrealists in favor of the Communist party.

Paul Éluard "Certificat." Paris, 1932. [PE]

After Louis Aragon's arrest for his inflammatory poem "Front rouge," Surrealist groups in France and Belgium issued collective statements in his defense—many of which are in the Éluard-Dausse Collection. That defense grew more tentative, however, as Aragon's growing criticism of Surrealism became public. In "Certificat," Éluard's personal denunciation of his former friend reflects the betrayal felt by many members of the group following
Aragon's remarks.


Louis Aragon Krasnyi front; poema. Perevod s frantzuzskovo Semyona Kirsanova. Moscow and Leningrad: Gosudartvennoye izdatel'stvo khudozhestvennoi literatury, 1931. [PE]

This is a Russian translation of Aragon's poem "Front rouge," inspired by his 1930 trip to Russia, with the provocative line "descendez les flics" (kill the cops) that led to his arrest and the so-called Aragon Affair. Aragon inscribed the chapbook to Paul Éluard, the year before their friendship ended.

André Breton and René Magritte Qu'est-ce que le surréalisme? Brussels: R. Henriquez, 1934. [PE]

This is the text of Breton's lecture on the history of the group from the Surrealist conference in Brussels. Magritte's cover shows an early version of his painting The Rape.

"Cycle systématique de conférences sur les plus recents positions du surrealisme" Paris, 1935. [PE]

This program and registration form for a series of readings and lectures contains images and text by many of the participants, including André Breton, Jean Arp, Salvador Dalí, Óscar Dominguez, Marcel Duchamp, Max Ernst, Alberto Giacometti, Valentine Hugo, Man Ray, and Yves Tanguy.

Hands Off Love Paris: Transition, 1927.

This offprint from the modernist magazine Transition, edited by Eugene Jolas, contains the Surrealists' defense of Charlie Chaplin, whose sexual habits had been assailed during his public divorce. Jolas wrote to Alfred H. Barr, Jr., in anger when his magazine did not appear on the list of Surrealist-related publications in the exhibition catalogue for Fantastic Art, Dada, Surrealism in 1936.

Studio 28 revue-programme for L'Âge d'or Paris, 1930. [PE (replacement copy)]

This is the illustrated program for the Surrealist film L'Âge d'or, directed by Luis Buñuel and Salvador Dalí, featuring Max Ernst, Valentine Hugo, and a voiceover by Paul Éluard. The film's run at Studio 28 in Paris lasted only six days before rioting by the Patriots' League and the Anti-Jewish League closed it down. Iris Barry, the Museum librarian who had initiated the acquisition of the Éluard-Dausse Collection, later recommended Buñuel for a job editing foreign propaganda films in a joint project between the Museum and the United States government during World War II.
Benjamin Péret, n.d. (photographer unknown). Found in a copy of Péret's Il était une boulangère (1925) [CD]

Papillons surréalistes Paris, 1925.

This is a page from an early scrapbook of Surrealist ephemera assembled by the Library. These colorful papillons (butterflies) were distributed to the public at the Surrealists' storefront operation in Paris, the Bureau of Surrealist Researches. The messages (If you love love, then you'll love Surrealism and Parents, tell your kids your dreams) reflect the whimsical tone of the Surrealists' early years.


---
Acknowledgements
Thanks to Rebecca Roberts, Carmen Martinez, Allegra Burnette, Chiara Bernasconi, Scott Gerson, Erik Landsberg, Roberto Rivera, Robert Kastler, Howard Deitch, Lucas Gonzalez, Ron Magliozzi, Jason Persse, Sarah Suzuki, Kathy Curry, and Eva Respini. This exhibition could not have happened without the generosity of members of The Museum Archives staff: Michelle Elligott, Michelle Harvey, Mackenzie Bennett, Tom Grischkowsky, and Donald Prochera. Special thanks also to Milan Hughston, May Castleberry, David Senior, Jenny Tobias, Jen Bandini, Rachael Morrison, Ian Goulston, Danny Fermon, Philip Parente, Alexa Goldstein, and Peter Huelster. Finally, thanks to Barry Schwabsky for his translation of Éluard's poem, "La Parole."