---
Introduction
Artists' books, zines, mail art, and other alternative publications are often vehicles for political opinion, and what could be more political than the American presidency? Bringing to light both the engagement and the wit of diverse contemporary artists, these works reflect wide-ranging attitudes toward the commander in chief and his circle, addressing individual presidents, vice presidents, first ladies, and also-rans.
Typical of this genre, these publications tend to be unabashedly leftist— "fair and balanced" is a rarity. Some works are confrontational, making direct statements using stark imagery and street-smart production techniques. Others are indirect, incorporating fine art printing and such avant-garde strategies as appropriation to make subtle but equally engaged statements. Through their spirited critique of the presidency, these works all celebrate freedom of speech.
The exhibition is organized by Jennifer Tobias, Librarian, Reader Services.

---
Narrative History
Unlike scholarly histories, these narrative artists' books make no pretense of objectivity or veracity. Celebrating subjectivity, the artists and writers comment on the institution of the presidency through highly individual points of view.
Karen Finley. George & Martha. 2006.
Finlay, known for sexually explicit performance art, wrote and illustrated this imagined weekend encounter between George W. Bush and Martha Stewart.
Jeffrey Vallance. My Life with Dick. 2005.
This chronological account is told as a personal history, in which, Vallance writes, "Every event in my life has corresponded to an antipodal Nixon event."
Sarah Ferguson. Hillary & I. 2008.
In this brief narrative the artist imagines becoming friends with Hillary Clinton, using manipulated press photographs to literally put herself in the picture.
Vera Lee Marlone and Roz Chast. Somebody Goes to the White House.1981.
Recounting her visit to the White House, the narrator reflects, "To this day I still don't know why I was invited."
William Burroughs and Allen Ginsberg. Roosevelt after Inauguration. 1964.
In this "total assault on the culture," Franklin Delano Roosevelt appears "on the White House balcony dressed in the purple robes of a Roman emperor" and appoints "hoodlums and riff raff of the vilest caliber" to office.

---
Paul Weinman. White Boy's Itty Bitty Book of Revolutions. n.d.
"White Boy" is featured in numerous miniature booklets by Weinman. The character frequently assumes different identities to rage at social injustices such as censorship, AIDS, homelessness, and drug addiction. Here he runs for president, donning a clown nose "because the red will pick up well on national TV."
Arthur Secunda, Guy Eisner, and Mervin Lane. The President. 1976.
Photographs of Eisner eating an orange illustrate a list of presidential duties. The dry narrative ends with a joke, in which the president "receives and entertains visiting monarchs—as well as other foreign and domestic fruits."
Ilan Stavans and Roberto Weil. Mr. Spic Goes to Washington. 2008.
This acerbic graphic novel tells the story of Samuel Patricio Inocencio Cárdenas, a former gang member who becomes a United States senator. Frustrated with the political process, he debates radical action with the ghosts of his heroes —just prior to the story's bloody climax.
Michael Crowley and Dan Goldman. 08: A Graphic Diary of the Campaign Trail. 2009.
A journalist and graphic novelist joined forces to recount the 2008 presidential campaign in all its complexity, resulting in this visually dynamic book dense with journalistic detail.
Bradley Lastname. The Secret Presidential Diary of William Henry Harrison. 1986.
This fictional diary of William Henry Harrison concerns his "one score and ten...days" spent in the White House. He writes, "Herein are described the scandalous doings during that month"; the narrative concludes with his death after a month in office.

---
Appropriations Committee
Like many artists working in the 1970s and 1980s, the creators of these books appropriated mass media images and texts to comment on medium, message, and the nature of authorship.
Ric Haynes. That Special Ace. 1996.

Haynes reinvents the book That Special Grace, published in 1964 after the assassination of John F. Kennedy. In the original, the elegiac recollections of Kennedy's friend, journalist Benjamin Bradlee, are illustrated with intimate images. Haynes has made the work his own by poetically editing the text and expressionistically altering the photographs.
Fernando Bryce. "Artist's Project." In Esopus, no. 5, Fall 2005.

Bryce redraws print publications to make subtle political statements. This series uses pages from the Cold War–era "cultural relations" magazine Americas. Here Dwight Eisenhower meets with Latin American "home economics trainees" during a White House visit.
William Schaff. Notes to a Friend; Silently Listening. 2003.

In this dystopia, the engraved portraits of George Washington and Benjamin Franklin have escaped from five-dollar and one-dollar bills and become skeletal demons.
David Rees. Get Your War On II. 2004.

In Rees's ongoing comic strip, clip-art office workers try to make sense of a post-9/11 world. Rees endows these depersonalized drones with expletive-filled voices, channeling his confusion and outrage.
Adam Lowe. Power Smile. 2001.

Lowe has compiled solicited photographs of American officials into a "miniature archive," asserting that "a good PR shot is worth a thousand policies in the business of winning votes."

---
Jim Clinefelter. The Machinery of State: 20th Century U.S. Presidents. 1996.

Assigning a commercial image of industrial machines to individual presidents, Clinefelter literalizes the notion of a "political machine." The approach recalls avant-garde imagery of the early 20th century such as Dada mechanomorphs and the "machine portraits" of Francis Picabia
David Thorne. Power. 1990.
This matchbook-sized work appropriates the logo and advertising tag lines of a major clothing retailer to critique the passing of presidential power from Bush father to son. Thorne uses the term "classics" ironically: "You decide. Gap classics, for this generation and the next." Subverting the language of advertising, the artist implies that the "things you inherit" may not be inherently valuable.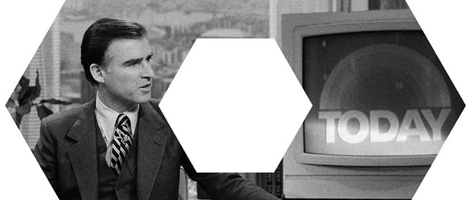 Above: Doug Aitken. Write-In Jerry Brown President. 2008.

Aitken looks back at the 1976 presidential campaign of California governor Jerry Brown, incorporating press photographs of Brown and statements by him to reflect on political realities, ideals, and the fine line between person and persona. Produced in an unusual hexagonal and hinged format, the work can be read and positioned in numerous ways—like history itself—forming at once both book and sculpture. The work concludes with this observation by Brown: "Half of what you remember is fictional. We make up the past but you're living now."
David Thorne. Men in the News: Sleep, no. 27, 1993 and Men in the News, no. 32, 1997.
In each issue of the long-running zine Men in the News, Thorne thematically combines news-media text and images to make ironic political commentary. The series is cleverly produced as a single photocopied sheet that folds into a codex and also unfolds into a small poster. In Sleep, the story of a homeless man who slept in the park across from the White House is layered upon references to overnight use of the Lincoln Bedroom by supporters of Bill Clinton. In Run, photographs of Clinton jogging illustrate a newspaper quote about the health of aging Chinese leaders, reflecting on the "exercise" of power in the face of mortality.
Cathy Busby. Sorry. 2008.

Enlarging images of public figures making official apologies, Busby focuses upon the way these speeches are "channeled through the conventions of news media." Bill Clinton is pictured at right.

---
Exchange Value
Self-publishing isn't limited to the book. Artists take creative advantage of alternative media and distribution methods to circulate ideas to a broad audience. Some artists literally take it to the streets with stencils, stickers, and flyers. Others spread the word through paper currency and the postal service —both federal institutions.
Political Art Documentation/Distribution. Artists Call. 1985.

The group Political Art Documentation/Distribution (active 1979 to 1988) organized Artists Call, encouraging political activism among "thousands of artists, poets, writers, performers and cultural workers." The results take diverse forms, reflecting each artist's sensibility, but all express urgency and passion. For example, this folded-paper house announces a call for works protesting United States military involvement in Central America. Produced as a simple photocopy, it can be mailed flat and then assembled.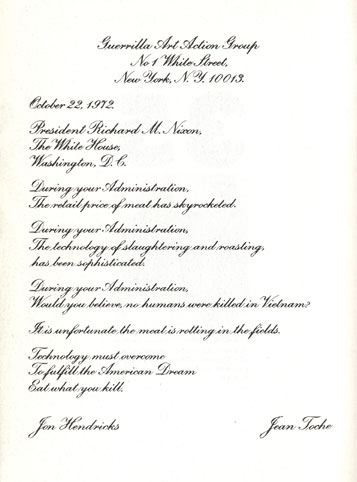 Above: Guerrilla Art Action Group. Letter to Nixon, October 22, 1972. Reproduced in GAAG, the Guerrilla Art Action Group, 1969–1976: a Selection (New York: Printed Matter, 1978). Reproduced by permission of the artists. Collection of the Museum of Modern Art Library.
In this ironically formal letter, members of the Guerrilla Art Action Group address their opinions about the Vietnam War to President Nixon himself.

---
Tonachel and Warhover. Let Them Eat Catsup. 1984.

This trifold mailer opens into a bold poster.
Kelly Richardson. I Cannot Tell a Lie. 1990.

This wallet-as-book contains a single dollar bill over-printed in blood red. Evoking the legend of a young George Washington who couldn't tell a lie, the statement accuses the president of oppressing a Native American tribe: "Georgey Porjey was a racist dude. He murdered the Iroquois and destroyed all their food."
Cildo Meireles. Zero Dollar n.d., and Zero Cruzeiro, n.d.

These fake bills comment on American militarism. On the "zero dollar," an aggressive Uncle Sam symbolizes longstanding US power, while the Brazilian "zero cruziero" depicts a powerless mental patient and a marginalized Native American.
The Yes Men. The New York Times. 2009.
Like its namesake, this biting parody was distributed on the street in New York City.
Martha Cooper. Going Postal. 2008.

Cooper documents the use of United States Postal Service labels as street art. "Procured" from post offices, these stickers become ready means for placing drawings and other graffiti in plain view.
Guido Indij. 1000 Stencil: Argentina Graffiti. 2007.

Street art about the United States presidency isn't limited to North America, as this record of Argentinean stencil graffiti shows. Here, a series of diverse works all demonize George W. Bush.
Vagrich Bakhchanyan. MOMA Disco. 1980–81.

These postcards by "President Reagan's Adviser on Mail Art" mix photographs of presidents with colorful rubber stamps. One card juxtaposes a picture of Jimmy Carter with one of actor John Travolta. Both men wear cowboy hats, a humorous commentary on the cowboy mythos and the power of celebrity. In other series Bakhchanyan uses a rubber-stamp image of Stalin, implying that figureheads are an international phenomenon.

---
Standard Operating Procedure
Drawing on strategies from the Conceptual and Process art movements of the 1960s and 1970s, these books derive their expressive power from systematic limitations or a rigorous procedure. Some of these undertakings are earnest, some ironic, and others deadly serious.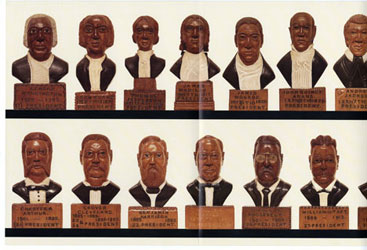 Above: "The Greatest." In Esopus, no. 5, Spring 2005. © Esopus Magazine. Reproduced with permission of the King-Tisdell Cottage Foundation.

The journal Esopus documents lovingly carved wooden busts of forty presidents rendered one by one by artist Ulysses Davis and displayed in his barbershop.

---
Ulrika Walmark. The Person behind the Person. 2008.

Walmark systematically photographed men and women who assist prominent figures. George W. Bush's assistant is represented by a rejection letter. The assistant of secretary of state Condoleezza Rice did participate, however.
Mark Lombardi. Mark Lombardi Card Archive. n.d. The Museum of Modern Art Archives.

Lombardi is well known for diagrams of intricate relationships between public figures and organizations. To establish links, the artist relied on card files such as this one. Presidents include John F. Kennedy, Jimmy Carter, Ronald Reagan, George W. Bush, Bill Clinton, and George H. W. Bush.
Lisa Anne Auerbach. Charted Patterns for Sweaters That Talk Back. 2008.

Contemplating Jimmy Carter's failed campaign to save energy by encouraging citizens to wear sweaters, Auerbach concludes, "If we'd had better sweaters back then, things could have ended up differently." Riffing on ethnic motifs as well as pattern-book clichés, the artist's effort is sincere; she encourages readers to "take the needles into your own hands."
Vitaly Komar and Aleksandr Melamid. Painting by Numbers: Komar and Melamid's Scientific Guide to Art. 1997.

The artists surveyed Americans about their painting preferences, then produced canvases based on the results. Half of those polled desired realistically painted figures, "Ordinary people or famous—makes no difference." The artists chose George Washington.

---
Anyone Can Grow Up to be President
Children's book genres are a popular point of departure for artists' publications about the presidency. Their appeal derives in part from the apparent translation of complex, difficult issues into simple and comforting stories.
Karen Hanmer and Henry Maron. The House That George Built. 2009.
Scott Blake. Bar Code Reagan 2006.
Ruth Hayes. Ron's World. 1984.

In these flipbooks, barcodes morph into a portrait of Ronald Reagan, who we also see speechifying to anxious goldfish. Meanwhile, a blue drawing of the White House fades into a collapsing house of cards, drawn in red.
Julie Marcus and Susan Carp. Pat the Politician: A Political Pull and Poke Parody. 2004.

Politics gets tactile in this satirical version of the popular "touch and feel" children's book Pat the Bunny by Dorothy Kunhardt, first published in 1940. In this update readers can touch Bill Clinton's underwear and feel Al Gore's wooden personality.
Ric Haynes. The Marxist Presidents, 1984, and Some Marxist Presidents, n.d.
It's hard to look presidential while wearing a fake nose, moustache, and glasses à la Groucho Marx. Here Haynes gently spoofs official portraiture, turning the presidential chronology into a fanciful pun.
Anne Villa–Henna and Roz Chast. The Little Book of Fact and Fiction. 1984.

In this colorful little book, the authors help readers distinguish fiction from fact. In an echo of the real-life difficulties of evaluating political spin, the reader is informed that Franklin Delano Roosevelt was not, in fact, the half-brother of entertainer Jack Paar.
Scott McCarney. The Decider. 2007.

Using chants such as "eenie, meenie, miney, moe," the artist becomes "the decider," clearly choosing who's "not it."

---
Anita David. Mamie, Betty, Nancy, Jackie and Rosalynn Hugging Small Black Children. 1983.

The identical sheets of this provocative work suggest a coloring book, and both first ladies and children are rendered as uninflected stick figures. Through the race-conscious title the artist implies that racial preconceptions possess the power to "color" our vision.
Chris Habib. Fore. 2007.

Each letter in this alphabet book composed of stencil templates is associated with a four-letter word and a sardonic illustration. For example, the letter M features an image of George H. W. Bush and the word "mild," while George W. Bush illustrates the letter Q, for "quit." Pages can be disbound into usable stencils.
Jeff Mariotte, Tom Morgan, and John Hunt. Barack Obama: The First 100 Days. 2009.
Rob Liefeld, Marat Mychaels, and Matt Yackey. Youngblood. 2009.

Ranging in tone from crass to worshipful, these comic books portray Barack Obama as a superhero, at once a savior and avenger destined to rescue humanity from the abyss.
Stephen Lindsay and Steve Cobb. Jesus Hates Zombies: Lincoln Hates Werewolves. 2008.

According to this history, Abraham Lincoln began battling werewolves during his rural childhood. Once in office Lincoln muses, "Freedom from werewolves…isn't exactly one of my presidential perks."
Erich Origen and Gan Golan. Goodnight Bush: An Unauthorized Parody. 2008.

Margaret Wise Brown's comforting bedtime story Goodnight Moon (1947) is familiar to generations of American children, many of whom are now voting adults. This parody, published at the sunset of the second Bush administration, says, "Goodnight democracy and goodnight privacy. Goodnight old growth trees; goodnight detainees."
---
Acknowledgements
Thanks to David Hart for video production.