Introduction

| | |
| --- | --- |
| | |
| | Detail of invitation to the exhibition Mark Tobey, The Museum of Modern Art, 1962. |
William Chapin Seitz (1914–1974) was the first scholar to receive a PhD from Princeton University in the field of modern art. He battled for over a year to convince the Princeton art history graduate committee that the work of living artists was a topic worthy of graduate study. The committee eventually conceded, and Seitz's dissertation was the first major text devoted to Abstract Expressionism.

After receiving his PhD in 1955, Seitz continued to champion Abstract Expressionists, defending their work against critics. He came to The Museum of Modern Art in 1959 as guest curator of a large exhibition exploring Claude Monet's late work and its influence on the New York School. A year later he was named Associate Curator of Painting and Sculpture Exhibitions. During his five years at the Museum, he organized a number of key exhibitions. He is most remembered for The Art of Assemblage (1961) and The Responsive Eye (1965), both large and significant survey shows. But there were other exhibitions, notably monographic shows devoted to the work of Mark Tobey, Arshile Gorky, and Hans Hofmann—three of the six artists examined in his dissertation—that focused particularly on the artists' creative processes. Seitz studied and thought about these three painters over many years, developing a rich understanding of their work and of them as individuals.

Seitz's personal connection with the artists he studied resulted partly from the fact that he began his areer as a painter. The scholar John Rewald once proclaimed of Seitz, "It was his painter's eye that saw better, and deeper, and more intensely than we others see that made Bill such a special figure among art historians." Through letters surrounding his dissertation topic and correspondence, photographs, and other archival material concerning the shows he organized at MoMA, this exhibition offers a glimpse into the career of one of the Museum's leading curatorial voices of the 1960s.

The exhibition is organized by Michelle Harvey, Associate Archivist.

---

The Princeton Debate April 1950–September 1951

Princeton's graduate committee in the Department of Art and Archaeology was reluctant to allow a student to write about contemporary art for a variety of reasons, many of which seem surprising in light of today's extensive scholarship on living artists. As the following documents demonstrate, Seitz had to persuasively address each of the committee's concerns. He enlisted the assistance of Alfred H. Barr, Jr., the founding director of The Museum of Modern Art and a Princeton alumnus. Thus began the more than year-long debate among Princeton, Barr, and Seitz concerning the validity of contemporary art as a subject of serious consideration for PhD studies. In the end the committee approved the topic and Seitz went on to write a key piece of work on the Abstract Expressionist movement.

Letter Seitz to Barr, April 25, 1950
Seitz reintroduces himself to Barr, whom he met five years earlier, and asks for his advice in pursuing a thesis topic relating to modern art.
[Alfred H. Barr, Jr., Papers, 1.253]

Letter Baldwin Smith to Barr, April 24, 1950
Smith, Chairman of the Department of Art and Archaeology at Princeton, outlines some of Princeton's concerns, namely that Seitz conduct an "objective analysis," and asks for Barr's recommendations on where to find scholarly sources on living artists.
[AHB, 1.253]

Letter Barr to Smith, November 27, 1950
In this letter of support for Seitz, Barr emphasizes the significance of Abstract Expressionism as a movement, as well as the "serious need" for research on modern art by young scholars. He criticizes the fact that art history students are being limited in ways that students in fields such as economics, anthropology, and the natural sciences are not.
[AHB, 1.253]

Photograph of Seitz, May 1964
[Photographic Archive]


Letter Seitz to Barr, January 2, 1951
Seitz outlines some of the Princeton committee's concerns, one being the fact that he will create documents by interviewing living artists rather than strictly using historical sources. In this letter, which was written early in the formulation of his dissertation topic, he has already identified Mark Tobey, Arshile Gorky, and Hans Hofmann as significant subjects of study.
[AHB, 1.253]
Letter Seitz to Barr, September 2, 1951
Once the committee approves
Seitz's topic, he writes to thank Barr, noting,
"I realize, of course, that the principle involved
is far more important than the immediate issue
of what I do next year."
[AHB, 1.253]

Manuscript of "Abstract-Expressionist Painting in America,"
Seitz's dissertation, 1955
[MoMA Library, Special Collections]
Letter Barr to Albert M. Friend, June 13, 1955
Barr highlights the strengths and weaknesses of Seitz's final dissertation.
[AHB, 1.285]

---
Claude Monet: Seasons and Moments March 9–May 15, 1960
| | |
| --- | --- |
| | In the late 1950s, Seitz spent a year in France conducting research on Monet, carefully tracking down the exact sites depicted in many of his paintings, some of which the artist himself had incorrectly identified. His extensive scholarship resulted in the first major monograph on the artist, published by Harry N. Abrams in 1960, and an extremely well-regarded exhibition at MoMA, Claude Monet: Seasons and Moments, the same year. Among other aspects of Monet's career, Seitz explored his influence on abstract painters. |
"It is doubtful if anyone else at that moment could have brought the same combination of scholarship and sensibility to organizing this exhibition. . . . He [Seitz] knew what the painters saw in Monet, and he knew how to make the public see what they saw, with fresh eyes. . . . The Monet we admire today is very much the Monet we were introduced to in that magnificent show."
—Hilton Kramer "A Distinguished Curator Who Linked Scholarship and Art," Art View section of The New York Times, March 13, 1977, 33. PI, II.C.189. MoMA Archives, NY.
---

Mark Tobey September 12–November 9, 1962

With this exhibition at MoMA, Seitz expanded on the investigation of Tobey's work presented in his dissertation. The artist was very involved in the preparation of this show and its ultimate installation. He and Seitz spent many hours discussing his work and ideas, so Seitz had the opportunity to ask the artist additional questions to clarify points he had made—and not made—in his Princeton study. Though not all critics agreed, Seitz felt that Tobey was "an American master now more celebrated in Europe than in his own country," and sought to expose his work to a larger American audience.

Letter Seitz to Tobey, January 3, 1962
Seitz tells the artist of his intention to prepare a MoMA exhibition and book devoted to his work, which will expand upon his presentation of the artist in his dissertation.
[Curatorial Exhibition Files, Exh. #710]





Excerpt from transcript of conversations between Seitz and Tobey, 1962
The artist discusses his use of the figure and the beginning of his "white writing," the term he gave his unique style.
[CUR, Exh. #710]

Letter Seitz to Tobey, May 11, 1962
In presenting a draft of the text for the book, Seitz was sensitive to the fact that his perceptions might differ from the artist's. He concludes his letter thus: "Whatever you think, you know that the manuscript is submitted with admiration and affection."
[CUR, Exh. #710]

Exhibition catalogue
[MoMA Library]

Invitation and ticket to Contributing Members' Preview of the exhibition
[Graphics, 71–72]

Flyer for lecture and film in conjunction with the exhibition [Department of Graphics Records, 76]

Installation photograph
[CUR, Exh. #710]

Press clippings
[Department of Public Information Records, Scrapbook 93]

Letter Tobey to Seitz, n.d.
Tobey responds to reviews of the show, stating, "K. Kuh gave me a very good write up and I am grateful to Dore Ashton for a very fitting reply to your [?] when Seliger gave the Art News quite a piece—short but snappy. Oh well. I'm glad there was some reaction—either I'm nothing or something. Anyway your 'book' on me ist gut. Ya! Ya!"
[CUR, Exh. #710]
---
Arshile Gorky: 1904–1948
December 19, 1962–February 12, 1963

When planning this exhibition, Seitz could not rely on the participation of the artist, as he had with Hofmann and Tobey. Gorky had committed suicide in 1948, so Seitz turned to the artist's friends and colleagues and, most importantly, his widow for assistance in rounding out his understanding. In the end Seitz chose not to do a retrospective, focusing instead on series of Gorky's works and underscoring his "creative process." Seitz aimed to make that process more evident and accessible to the general public.

Letter Seitz to Agnes Gorky Phillips, August 3, 1962
Seitz asks the artist's widow for approval of his plans to organize a Gorky exhibition at MoMA.
[CUR, Exh. #716]
Invitation to the Members' Preview of the exhibition [Graphics, 80]

Selection of excerpts from press coverage of the exhibition
[PI, II.B.125]
Letter Merlin E. Carlock to Seitz, November 2, 1962
Merlin Carlock attended the Grand Central School of Art in New York with Gorky in the spring of 1925, and his remembrances of the artist help illuminate his personality.
[CUR, Exh. #716]

Press release for the exhibition, December 19, 1962 [CUR, Exh. #716]
Installation photograph
[CUR, Exh. #716]

Installation photograph
[CUR, Exh. #716]

Letter Agnes Gorky Phillips to Seitz, November 24, 1962
Gorky's widow praises Seitz and his catalogue, writing, "on the whole you have written very well about the paintings, a difficult thing to do. I will always disagree with a too literal interpretation of any of the paintings just as Gorky objected to a too literal interpretation of what he said." For years to come, Mrs. Gorky Phillips would turn to Seitz as the expert on her late husband's work.
[CUR, Exh. #716]

Exhibition catalogue
When asking the Albright-Knox Art Gallery to loan The Liver is the Cock's Comb (1944) for the exhibition, Seitz indicated that he felt it to be Gorky's "most important picture."
[MoMA Library]


---

Hans Hofmann and his Students 1963–65

Hans Hofmann September 11–December 1, 1963

Seitz's presentation of the work of Hans Hofmann was a larger undertaking, in part because he organized two different shows related to the artist simultaneously. The traveling exhibition Hans Hofmann and His Students, which began circulating in spring 1963, included six works by Hofmann and one work by each of forty-eight of his students. It toured for two years and was installed at fifteen separate venues in the United States, but it was not shown at MoMA. Seitz also arranged a solo exhibition dedicated to Hofmann, which opened at MoMA in September 1963. The installation was unique because Seitz chose only forty works for the exhibition, many of which were created within the ten years preceding the show, rather than attempting a retrospective look at the artist's career.
Mock-up for exhibition title panel
[Department of Circulating Exhibitions Records, II.2/134(1)]

Beginning of wall text panel
[CE, II.2/134(1)]
Letter Seitz to Hofmann, February 21, 1963
Hofmann was concerned that showing his students' work next to his own would imply that a comparison should be made—that the eye should seek out examples of the influence of the master on his pupils, indicating a direct lineage from one to the others. Seitz assures him that this will not be the case, and that his students are enthusiastic about the show.
[CUR, Exh. #727]
Nell Blaine's statement on being Hofmann's student
Seitz solicited statements and reminiscences from Hofmann's students. Without realizing it, Blaine directly speaks to and dispels Hofmann's concerns, as he writes of the teacher's ability to "encourage original and independent thinking" in his students.
[CUR, Exh. #727]

Invitation to the Members' Preview of the exhibition
This invitation and the material hereafter pertain to the solo show of Hofmann's work at MoMA.
[Graphics, 105]

Exhibition catalogue
[MoMA Library]

Letter Hofmann to Seitz, May 11, 1963
Hofmann's wife, Miz, died during the preparation of the exhibitions. After expressing concerns about the catalogue, the artist writes, "I try to forget my misery by painting hard—and I paint very well indeed but in spite of it I am very unhappy."
[CUR, Exh. #727]

Installation photograph
[CUR, Exh. #727]

Letter Seitz to Hofmann, May 15, 1963
Seitz was very sensitive to Hofmann's loss and grief. After addressing the artist's concerns about the catalogue, he ends with, "I can do nothing about the pain which you must feel now, except tell you that I truly share some of it with you." Seitz dedicated the exhibition catalogue to Miz.
[CUR, Exh. #727]
Installation photograph
[CUR, Exh. #727]
"Old Man Crazy About Painting,"
[Newsweek, September 16, 1963, 88–89. CUR, Exh. #727]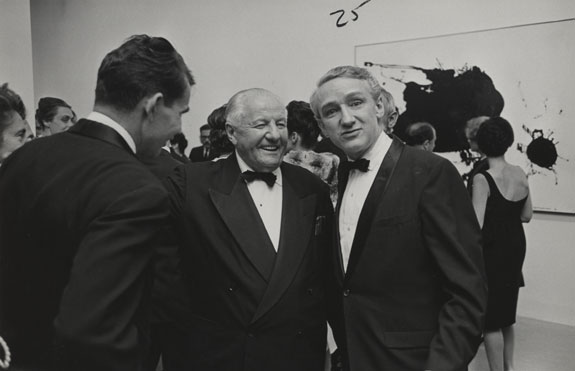 Photograph of Hofmann and Seitz at the exhibition opening, 1963
[CUR, Exh. #727]


---
Acknowledgements


I would like to extend my appreciation to The Contemporary Arts Council of The Museum of Modern Art for supporting this exhibition.

Many thanks are owed to my colleagues in the Museum Archives, who enthusiastically assisted in the preparation of this show. I am indebted to Michelle Elligott for her exemplary leadership and invaluable guidance. I would also like to thank Thomas Grischkowsky for help in securing images; Jonathan Lill and Molly Shea for their assistance in installing; and MacKenzie Bennett for her extensive support. I am grateful to Milan Hughston for his spirited encouragement and advocacy. The preparation of this exhibition was the result of the collaborative efforts of many dedicated and skillful members of the Museum staff. The show would not have been the same without the contributions of Julianna Goodman, Claire Corey, and James Kuo in Graphics; Allegra Burnette, David Hart and Lotte Meijer in Digital Media; Rebecca Roberts in Publications; Sarah Ganz and Kirsten Schroeder in Education; Jennifer Tobias in the Library; Rosa Laster-Smith in Imaging Services; John Dooley in the Registrar's Office; and Howard Deitch in Information Technology.

Professor William Agee provided advice and valuable feedback on the thesis from which this exhibition was developed. His knowledge of and esteem for Seitz were inspiring.


---
Except where noted, items are in the collection of The Museum of Modern Art Archives.