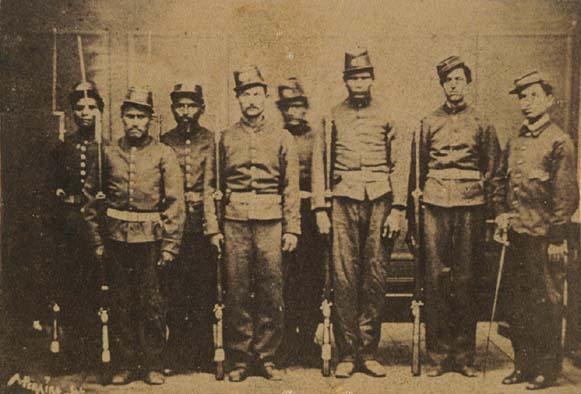 Because of the embarrassment that the failed French campaign in Mexico caused Napoleon III, letters and photographs on the subject of Maximilian's execution were censored. One letter, however, managed to evade the censors and was cited by journalist Albert Wolff in Le Figaro on August 11, 1867. The letter provided details of the capture, trial, and execution. "With the letter," Wolff wrote, "were four photographs, which I have in front of me."
The first of these photographs depicts the convent to which Maximilian was taken prior to his execution. The second shows the execution squad, comprised of six soldiers, a corporal, and an officer. The third and fourth photographs show, respectively, the frock coat and the waistcoat, riddled with bullet holes, that Maximilian was wearing when he was executed.
The photographs were taken by François Aubert, a Frenchman who had lived in Mexico for many years and who had become Maximilian's official photographer after the emperor was installed in Mexico City. Aubert's photographs corroborated a variety of rumors that circulated about the execution, such as the number of bullets required to kill Maximilian and the subsequent handling of his corpse. The images were widely distributed in France despite the attempts by censors to prohibit them, including the jailing of a photography dealer for being in possession of some. It is very likely that Manet read Wolff's report and it is possible that he saw the photographs as he was working on the Execution of Maximilian series.