Below: Tridion safety cell, 1998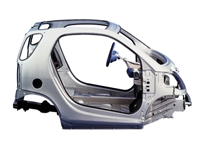 Size matters. Only eight feet long, the efficient Smart Car challenges habits of personal mobility. It is especially well suited to urban environments. As suggested by its clever marketing slogan "reduced to the max," the Smart Car has been developed to maximize the convenience, comfort, and safety of driver and passenger, while minimizing the impact on the environment. Low fuel consumption (averaging 49 miles per gallon) and eco-friendly methods of production distinguish the car from others on the market.
The Smart Car's body reveals a clear, functional, modular design. The black frame of reinforced steel—the so-called Tridion safety cell—gives the vehicle its inherent strength. The steel is coated with powder paint, considerably less harmful to the environment than conventional painting processes. Colorful, easily exchangeable body panels made of recycled plastic are virtually dent resistant and rust free. By locating the engine below the passengers, space is conserved and seats are given additional height.
The Smart Car was developed in the early 1990s by Mercedes-Benz. A team of engineers and designers led by Gerhard Steinle created the prototype in southern California. The design was further developed with input from the Swatch watch company. Cars are sold at "Smart Centers" throughout Europe, where the brightly colored vehicles are stacked in towers like objects in a display case, clearly aimed at youthful, style-conscious consumers seeking an affordable car. Since their debut in 1998, nearly half a million Smart Cars have been produced, and they have become a common sight in Europe—sometimes two per conventional parking space.