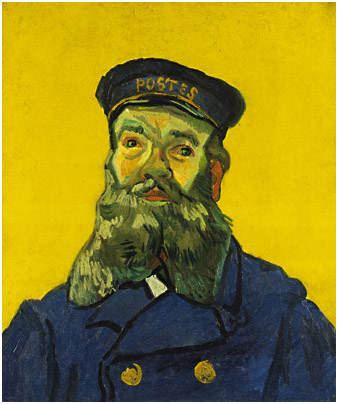 THE POSTMAN JOSEPH ROULIN. 1888.
Oil on canvas, 25 2/3 x 21 1/4" (65 x 54 cm).
Kunstmuseum Winterthur, Switzerland.
Gift of the heirs of Georg Reinhart, 1955.


In 1989 The Museum of Modern Art acquired a superb portrait by Vincent van Gogh, of his friend Joseph Roulin. In the special exhibition Van Gogh's Postman: The Portraits of Joseph Roulin, the Museum's painting is shown with four other paintings and two drawings that van Gogh made of this man, who was so important in his life at Arles, in the South of France.

Joseph Roulin was a postal employee in Arles, and van Gogh painted him for the first time in the summer of 1888, resplendent in his blue, gold-trimmed postal uniform and cap, seated at a table and set against a light blue background. The artist was fascinated by Roulin's physiognomy. The face, which he deemed Socratic because of the shortened nose, was flushed with a high coloration van Gogh attributed to heavy drinking and was garlanded with an abundant salt-and-pepper beard. But van Gogh was at least as taken with the man's character. Roulin was an ardent socialist, vehement in his support of the left wing of French republican politics. Perhaps more importantly for the lonely and isolated artist, Roulin was also the devoted father of a large family.

Van Gogh wrote to his brother Theo of his excitement about "the modern portrait," a picture that renders character not by the imitation of the sitter's appearance but through the independent, vivid life of color. Pursuing this goal in the portraits he painted of Roulin, van Gogh was influenced by the artists Honor&eacute Daumier (for his expressive and caricatural line) and Eugène Delacroix (for his use of color). Another, more immediate influence may have been Paul Gauguin, who worked with van Gogh in Arles in the fall of 1888. Gauguin urged less dependence on observation and more reliance on memory and intuition. This advice may have been especially telling in the case of van Gogh's later portraits of Roulin (including MoMA's), which were likely painted after the postman had left Arles for Marseilles.

Between the first Roulin portraits of August 1888 and MoMA's 1889 painting, huge changes took place in van Gogh's life and in his relationship to Roulin. Spurred by a quarrel with Gauguin, van Gogh underwent a psychotic episode in which he menaced his fellow artist and then sliced off a part of his own ear, offering it as a gift to a prostitute. Roulin tended to him in the aftermath of this incident, seeing him committed to the psychiatric hospital in Arles, watching over him during his internment there, writing to van Gogh's family to reassure them of the artist's health, and providing constant solace to the recovering painter. As van Gogh struggled to regain his mental equilibrium, this friendship and support, renewed during Roulin's return visits from Marseilles, became even more fundamentally important for him. The strength of the MoMA portrait, its centered stability and immense energy, must embody the deep admiration van Gogh felt for his friend.

The exhibition Van Gogh's Postman: The Portraits of Joseph Roulin, on view February 1 - May 15, 2001, was organized by Kirk Varnedoe, Chief Curator, Department of Painting and Sculpture.

This exhibition is made possible by BNP Paribas, Jo Carole and Ronald S. Lauder, and an anonymous donor.