Big Self-Portrait, 1967-68.
Acrylic on canvas. 107 1/2 x 83 1/2" (273 x 212 cm). Walker Art Center, Minneapolis. Art Center Acquisition Fund, 1969. ©1998 Chuck Close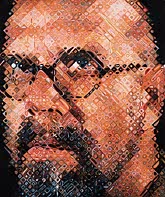 Self-Portrait. 1997.
Oil on canvas, 102 x 84" (259 x 213.4 cm). Private collection, New York. Photo: Ellen Page Wilson; courtesy Pace Wildenstein Gallery. ©1998 Chuck Close



Focus: Chuck Close Editioned Works
This companion installation focuses on the artist's prints and other editioned works. It was organized by Deborah Wye, Chief Curator, Department of Prints and Illustrated Books.



Over the years, Close's works have evolved from harsh black-and-white images to colorful and brightly patterned canvases of an almost abstract painterliness. Originally associated with photorealism, Close's rigorously systematic approach and often visibly gridded formats more nearly approximate those of the minimal and process artists who emerged alongside him in the late 1960s. His most recent pictures synthesize Close's long-standing interest in the spontaneous manner of the Abstract Expressionists with his strict adherence to the self-imposed rules that have guided his art from the beginning.

Close's sitters are consistently posed in a manner that allows only the subtlest of individual inflections. At first glance the polaroids the artist works from resemble driver's license or passport photos but are imposing in a way I.D. pictures can never be. Inherently grand in scale and aura even when the format is small and the features portrayed unremarkable, these "maquettes," as the artist calls them, are a primary product of his sensibility rather than a casually arrived at notational resource. Close chooses his subjects from among his family and friends--including artists such as Richard Serra, Cindy Sherman, Alex Katz, Roy Lichtenstein, and Robert Rauschenberg--to create works that range from coolly unemotional likenesses of unidentified individuals to psychologically charged glimpses of well-known members of the contemporary art world.

Robert Storr
Curator
Department of Painting
and Sculpture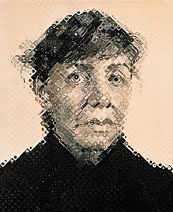 Dorothea. 1995.
Oil on canvas, 102 x 84" (259 x 213.4 cm). The Museum of Modern Art. Promised gift of Robert F. and Anna Marie Shapiro; Vincent D'Aquila and Harry Soviak Bequest, Vassilis Cromwell Voglis Bequest, and The Lauder Foundation Fund. Photo: Ellen Page Wilson; courtesy Pace Wildenstein Gallery. ©1998 Chuck Close

Chuck Close was organized by Robert Storr, Curator, Department of Painting and Sculpture. The exhibition is made possible by Michael and Judy Ovitz. A generous grant is also provided by Banana Republic. The Museum gratefully acknowledges additional support from Jon and Mary Shirley.