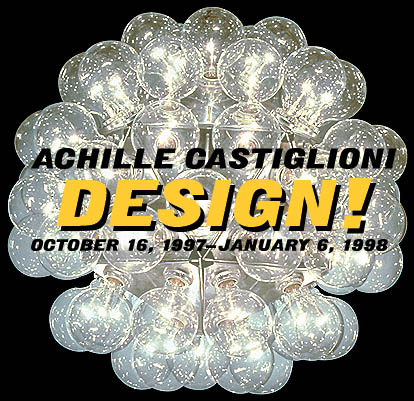 Design is one of the highest expressions of twentieth-century creativity, and Achille Castiglioni is one of its greatest masters. His objects stand as clear examples of rigorous method, technical skill, exuberant talent, and wit, combined to achieve a beauty that is fulfilling on both a rational and an emotional level. His work exemplifies the ideal of good design. This first museum retrospective of his work in the United States is thus a celebration not only of the designer, but of the entire discipline in which he excels.

Castiglioni was born in 1918 and studied architecture at the Polytechnic in Milan. Just after World War II he joined the studio run by his two older brothers Livio and Pier Giacomo, also architects. When Livio left the practice in 1952, Achille and Pier Giacomo collaborated until the latter's premature death in 1968.

During the course of his long career, which continues today, Castiglioni has designed dozens of objects, as well as temporary architecture for numerous art exhibitions, trade fairs, and showrooms. This exhibition presents a selection of these objects, as well as three reconstructed rooms from 1957, 1965, and 1984 that further demonstrate his design philosophy, based on observation and free association.

Castiglioni views the world as a wonderful catalogue of objects that can provide a designer with ideas and guidance, and his own work is often inspired by everyday things. The designer's personal collection of found objects, gathered over a lifetime of curiosity, consists of objects with lives of their own. Independent of any designer's name, these objects become the means through which he pursues and recognizes good design--a lens through which his work can best be understood.

With his functional and purist yet playful objects, Castiglioni has shown that form and function, while certainly the main ingredients for successful design, cannot be a designer's only concerns. He has thus contributed invaluably to updating modernist design to contemporary modern.



Paola Antonelli
Associate Curator
Department of Architecture and Design



The full text of this essay is available.

The exhibition is organized by The Museum of Modern Art, New York, in collaboration with Cosmit, Organizing Committee of the Italian Furniture Exhibition, Milan, Italy. This exhibition is made possible by a generous grant from Maureen and Marshall S. Cogan. Additional support is provided by Agnes Bowne, Alessi, Cosmit, Abitare, Campeggi S.r.l., Flos, and M2L, Inc. The brochure and the education programs accompanying the exhibition are made possible by a generous grant from the furniture division of the Italian Trade Commission.