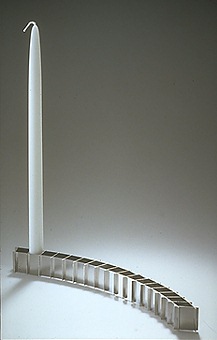 35. Richard Walraven, born 1950
"Rails" Candle Holder, 1993 (1993)
Stainless steel
Manufactured by Stork.Veco bv, Eerbeck
Lent by Richard Walraven, Amsterdam
1.1 x 1.1 x 13.3" (2.6 x 2.6 x 33.5 cm)
Photo by Tom Haartsen, courtesy Richard Walraven

Dozens of paper-thin metal sheets are assembled into a slightly curved form. Every candle that is inserted adds tension to the structure and keeps the others in an even stronger grip.