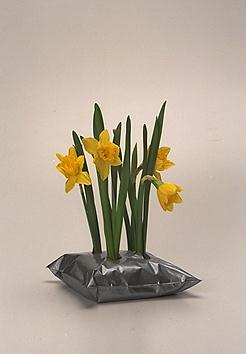 29. Tessa van der Kooij, born 1969
"Bloempotten" Flower Vase, 1994 (1994)
Polyethylene, soil, bulbs
Manufactured by Tessa van der Kooij, Eindhoven
Lent by Tessa van der Kooij
2 x 6 x 6" (5 x 15 x 15 cm)
Photo by Tessa van der Kooij

This is a special flower pot designed to grow bulbs, as bulbs are usually kept indoors for some twelve weeks. The bag filled with dry soil and bulbs can be bought from the florist. When water is added at home, the young plants emerge through the holes. The packagings are provided for various numbers of bulbs, from one to forty-nine, and are are available either in transparent or in aluminum-colored plastic.