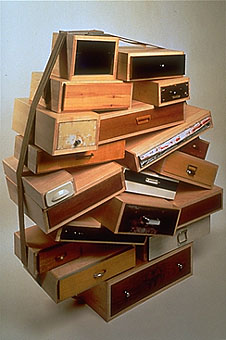 24. Tejo Remy, born 1960
"You Can't Lay Down Your Memory" Chest of Drawers, 1991 (1991)
Maplewood, various drawers
Droog Design collection, manufactured by Tejo Remy
Lent by Droog Design, Amsterdam
47 1/4 x 43 1/4" (120 x 110 cm)
Photo by Bob Goedewagen, courtesy DMD

Remy gives another example of poetic reuse of objects in this beautiful chest. Various drawers are simply kept together by a band.