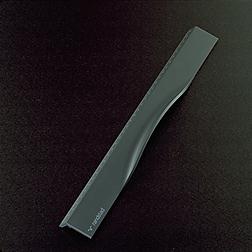 22. Ninaber/Peters/Krouwel
Ruler, 1994 (1994)
ABS, evoprene
Manufactured by Randstad Uitzendbureau bv.
Lent by Ninaber/Peters/Krouwel, Leiden
1 1/2 x 13 3/4 x 1/2" (4 x 35 x 1.5 cm)
Photo by Vincent Nabbe, courtesy Ninaber/Peters/Krouwel

The ruler is one item of a series of desktop accessories designed by Ninaber/Peters/Krouwel for Randstad. Its design is as basic and utilitarian as the object itself, yet with two innovative details that dramatically improve it. Soft at the touch, the ruler, like a carpet, is raised at one edge to facilitate its use. A thin line of evoprene rubber on the underside keeps the ruler from sliding when a line is drawn and raises it to make it easier to hold.