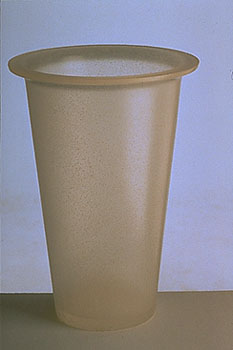 14. Hella Jongerius, born 1963
"Soft Vase," 1994 (1994)
Soft polyurethane
Droog Design collection, manufactured by DMD, Voorburg
Lent by DMD
10 3/4 x diam. 6" (27 x diam. 15 cm)
Photo by Bart Nieuwenhuys, courtesy DMD

Another object, a flower vase, appears in its simplest, most traditional form. The atypical use of materials transforms it with a surprise: The vase is in fact soft. The conical vase is in production and available in natural rubber color, yellow, and blue.