In advance of The Making of Mail Art, an artist-led MoMA Class taking place on February 21, the instructors—Zanna Gilbert, a postdoctoral fellow in the Department of Drawings and Prints, and David Horvitz, an artist—answered a few questions about their personal experiences with mail art, the unique elements of this art form, and the collection of mail art that Horvitz has sent to Gilbert at MoMA over the past two years.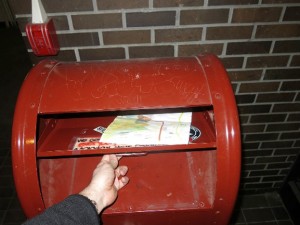 What drew you to mail art?
DH: I've always been attracted to sending works through the mail, even before I was aware of the term "mail art." For me mail art encompasses ideas of distance, travel, and movement, in the way that a work is sent from one location/one person to another location/person. It's a very personal, intimate gesture: the piece of mail literally travels the exact distance between two people. I also like how the work gets marked up; the evidence of its travel—torn paper, postage stamps, barcode stickers, damage—becomes a kind of residue.
You can argue that my work is not technically mail art, because mail art sometimes refers to a very specific and defined moment in art history. It has its networks and manifestos. I'm not a part of a network, and I don't have any ideological reasons for using the mail. My intentions are not to work against the art world (though I don't intend to work in accord with it either).
ZG: I was drawn to mail art as an artist-led network that allowed all the usual activities of art to take place without the need for institutions, curators, or dealers. Mail art as a movement arose in the 1970s as artists wanted to create more equitable structures for art circulation and display outside the market-oriented or state-controlled art systems (depending on where you were mailing from). In some cases this helped artists to bypass censorship and in others to establish an unlikely relationship with another artist thousands of miles away.

What is the most surprising experience you have had in creating, sending, receiving, or researching mail art?
DH: Sometimes I put stamps directly on objects and drop them in a mailbox. Sometimes I have to wait in line and hand my mail to a postal employee, so there is always a moment of not knowing what they will say. Maybe they will refuse. Maybe they will ask me to put it in an envelope, and then I will try to explain that I don't want to use an envelope. Often I will send things when I am abroad, so sometimes I am unable to communicate with the person in the post office. One time I was in a tiny town in Norway in the Arctic Circle for a week. I went to the post office every day. It was a tiny one inside a grocery store chain. They took everything without question—a piece of wood, a small painting in a wooden frame with the address written on the back. I felt I was giving them a little surprise every day.
ZG: Mail art is a constant surprise, since you never know what will arrive next! I've had so many expressions of delight from fellow staff members about the growing collection of mail art that I receive from David and other artists and keep in my cubicle (eventually this collection will go to the MoMA Library, if they'll take it). I love that it disrupts the usual paths of a work's entry to a museum, just like the library does. It is this irreverence that I find still has potential, even if the "network" no longer functions in the same way as it used to. Since I started my research, I've been constantly laughing at the tricks and low-down humor that appears in works of mail art.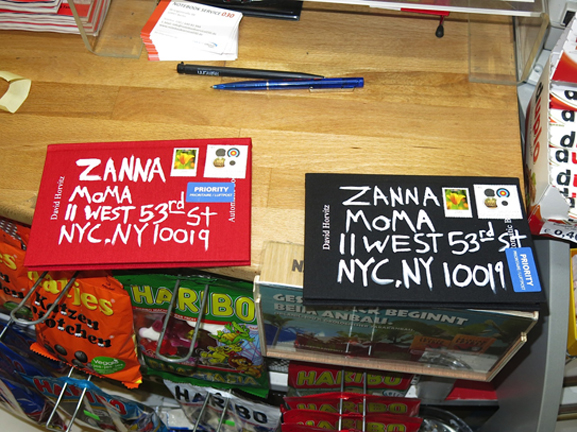 What will students in the workshop The Making of Mail Art learn and do?
ZG: In the morning, I'll give an overview of the history of mail art to introduce the major themes and artists that were influential, such as Robert Filliou and Ray Johnson. My research has focused on artists in Latin America, so we'll examine work produced in that region during the period of the military dictatorships. After this we'll have a viewing of some of these works, which are housed in the MoMA Library's Special Collections.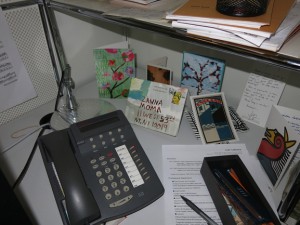 DH: I will send everyone a piece of mail before the workshop. During the class, I'll show examples of things I have sent to Zanna at MoMA. I will provide an array of materials and lead the group in making pieces of mail art, and together we will prepare them for postage.
Given the small size of the workshop, it would be nice if people continued to mail work to each other after the workshop. Imagine that after a number of months, or a year, or maybe many years, people might still be mailing works to each other. What's unique about some mail artists is that they take up this work as a lifelong activity. There's potential for the participants in this workshop to create a small network that remains active over a lifetime!
To learn more about The Making of Mail Art and to register, visit the MoMA Classes website.