Five for Friday, written by a variety of MoMA staff members, is our attempt to spotlight some of the compelling, charming, and downright curious works in the Museum's rich collection.
Our naive little brains all stuffed with visions of cuddling and companionship, my wife and I recently adopted an impossibly adorable pair of kittens. And while this new step in our domestic journey has been far from disastrous, I haven't exactly experienced the serotonin-releasing, stress-reducing bliss I was promised (by absolutely no one). When I first got the unruly little demons home, I told my boss, "I'll write the next Five for Friday column about collection works featuring cats. The Interwebs love cats! It'll be huge."
Three weeks later, my heart is still full of love for these creatures…but my arms are covered in tiny scratches and every piece of dark clothing I own is unwearable. Luckily, the breadth of MoMA's collection is such that I was still able to find works that articulate what I, in the wisdom that only four whole weeks of cat "ownership" can impart, have identified as The Five Stages of Cat Ownership…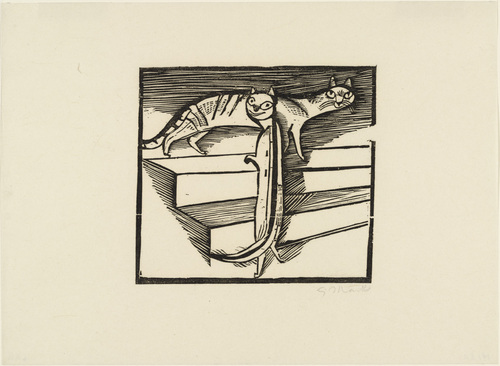 1. Gerhard Marcks. Little Cats (Die kleinen Katzen). 1922
Stage one: Idealism
See the sleek, intelligent little cuties depicted in Marcks's elegant woodcut? This is what we thought we were in for. Warm laps on cold nights. Licking. Purring. An impossible combination of convenient independence and undying affection. They behaved like this for roughly 48 hours. Then reality began to settle in.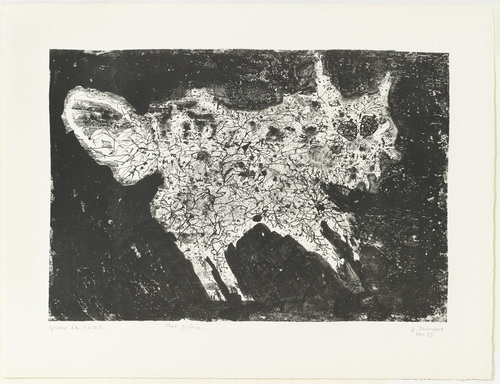 2. Jean Dubuffet. Angry Cat (Chat Furieux). 1953
Stage two: Disenchantment
Dubuffet's lithograph captures not a literal image of an angry cat, but rather the tumult within the cat owner's very soul. This is a time of noise, chaos, and withering self-doubt. What on Earth were you thinking? Curiosity killed the cat? No, in all likelihood the cat's curiosity gave its owner a stroke. Did you know they don't respond to human utterances like "stop," "don't," and "that's expensive"? Both of our cats must think their name is "Get down from there."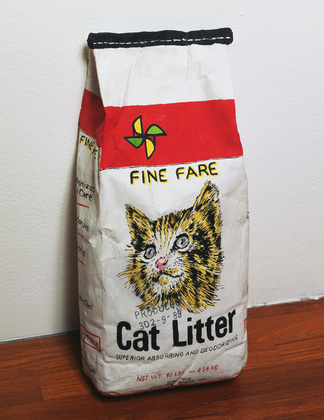 3. Robert Gober. Cat Litter. 1989
Stage three: Shell shock
You can no longer be surprised—or even fazed—by your intimacy with these invaders' bodily functions, eating habits, medical needs, and sleep patterns. Paying $30 for a large bag of lightly scented sand seems perfectly reasonable. You live in a world of litter, hair, stool samples, and veterinary appointments. You no longer jump at the sound of shattering dishes.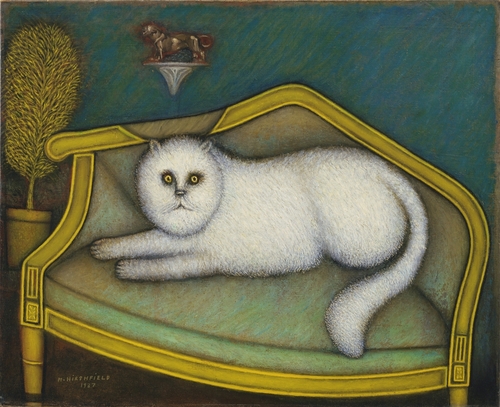 4. Morris Hirshfield. Angora Cat. 1937–39
Stage four: Alienation
Based on this painting, I'm guessing Hirshfield was a cat owner. He has perfectly distilled the eerie otherness of the felines that have invaded your home. You see those eyes? Even the cat is surprised at how quickly and completely you have become its slave.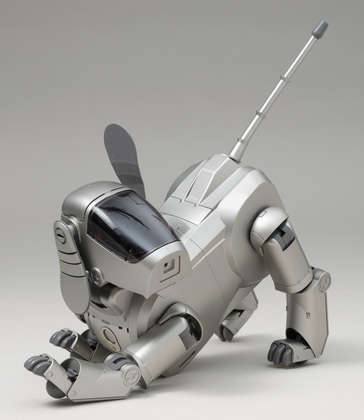 5. Hajime Sorayama, Sony Corporation and company design. Aibo entertainment robot (ERS-110). 1999
Stage five: Acceptance
Despite my occasional daydreams about an obedient, easy to maintain Aibo entertainment robot, I have come to love the cuddly, wonderful terrors that have overrun my home. We will never curb their relentless exploration, vocalization, and pooping. We will never place a glass on any surface; the glass will remain in someone's hand until it is empty and returned safely to the cupboard. But as I lay sleepless in bed with two unruly balls of fur and teeth attacking my blanketed limbs, I think it might just be worth it. That, or they have succeeded in taking full control of our minds.