Design Is a Noun
From the time you wake up to the time you go to sleep, design plays a role in your everyday life. Design makes ideas tangible, translating them into physical form. Someone is responsible for designing the things we consume, use, and interact with every day, be they objects, spaces, landscapes, or communications and transportation systems. Every moment, we encounter a set of solutions to a problem that has been considered by someone, or as Paola Antonelli, Curator of Architecture and Design at MoMA, has said: "Everything is designed, one way or another."
Prior to the 20th century, design was thought of mainly in the context of decorative arts, which emphasized unique and hand-crafted forms often available in limited quantity. Over time, the growth and complexity of modern society changed the way people interacted and went about their daily lives, which increased the demand for consumer products that met the needs of a broader public and were affordable. The Industrial Revolution and the emergence of mass production enabled designers to consider form, function, material, and affordability in ways that were not previously possible or viable.
Eventually, the classical notion of design expanded beyond the decorative arts into a broader field, subdivided into specialized areas of practice in design for the built environment, such as industrial design, interior design, and fashion design. The development of new technologies, materials, and user needs continues to spur new forms of design practice, such as interaction design.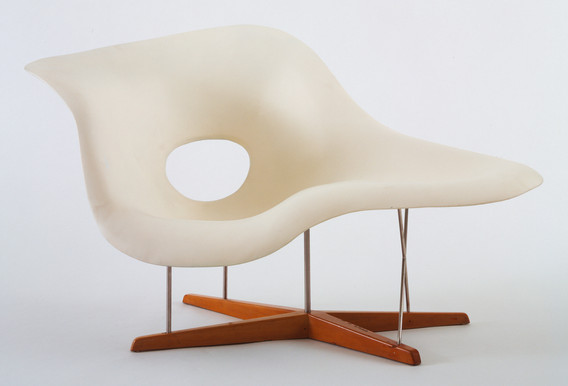 Charles Eames and Ray Eames. Full Scale Model of Chaise Longue (La Chaise). 1948.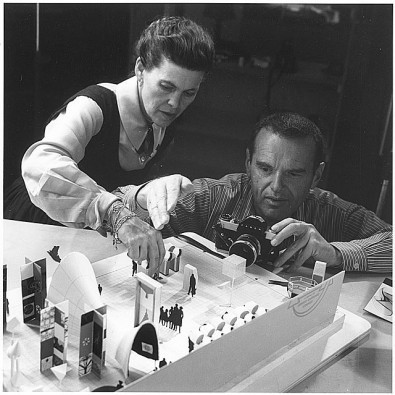 Ray and Charles Eames working on a conceptual model for the exhibition Mathematica, 1960. © Eames Office (eamesoffice.com)
Design Is a Verb
"Design" does not only refer to things and spaces; it is also the process of planning, evaluating, and implementing a plan or answer to a problem. The first step in the design process is often to brainstorm possible solutions. The brainstorm could take the form of words, sketches, or photographs that articulate the designer's ideas. Once the ideas have been expressed, the designer chooses the best resolution for the problem. Sometimes, a designer will consult an engineer, who helps produce a prototype. The prototype is tested to ensure that the design is functionally and aesthetically viable.
As consumers of everyday objects, we play an important role in the design process. Designers often look to consumers to evaluate and respond to the appearance and functionality of things they create. From choosing a new shape or color for a cell phone to deciding how tall to make seats on a subway car, designers rely heavily on market research and consumer input.
Get art and ideas in your inbox