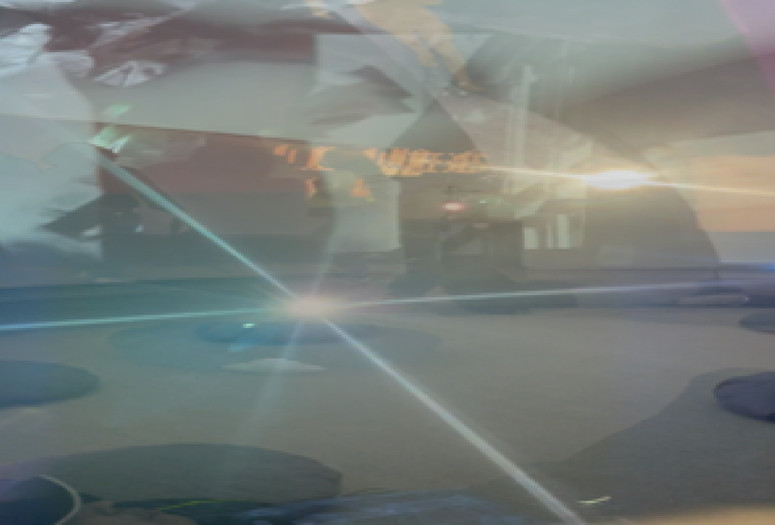 Dromeostasis: Input/Output derives its name from "homeostasis," a state of dynamic equilibrium achieved through a system of self-regulating feedback. Artist Kamau Amu Patton performs this concept by activating Stan VanDerBeek's installation Movie-Drome (1964–65) to create forms of electronic and sensory feedback. During this daylong performance, Patton channels VanDerBeek's archival images and sounds as live inputs. The audiovisual collage process releases immersive, sonic, and cinematic "outputs"—what Patton calls a "simultaneous cybernetic cinema."
During the closing weeks of Signals: How Video Transformed the World, Patton's Dromeostasis: Input/Output engages VanDerBeek's legendary project as a catalyst for new art, and highlights the exhibition's history of video as a transformational media network.
Kamau Amu Patton is a media artist who lives and works in Brooklyn and Chicago. Patton's work engages archives, documents, networks, and sites. His projects are immersive constructs and take form as expanded-field, intermedia structures. His works are temporary architectures made solid through attention, always becoming, continuing, and undergoing transformation. In 2020 Patton was Archive Artist in Residence at Experimental Sound Studio in Chicago. Utilizing recordings from the Sun Ra/El Saturn Collection, Patton created The Past & Other Dreams, a double cassette produced by the artist in collaboration with the Creative Audio Archive at ESS. A box set LP of Patton's arrangements of Terry Adkins's Lone Wolf Recital Corps, Second Mind | Alto Age, was released in partnership with the Pulitzer Arts Foundation in 2021. In 2022, Patton performed new sound compositions at Roulette Intermedium in Brooklyn and Basilica Arts in Hudson New York.
Tickets are free with Museum admission. No advance reservation is required and visitors are welcome on a first-come, first-served basis.
Capacity is limited to 25 people at a time. Please be aware that admittance to the queue may close at least one hour prior to closure of the galleries.
Please note that this performance takes place in an intimate space and masks are encouraged.
This event is equipped with assistive listening to make the sound-based content more accessible. This technology is compatible with most hearing aids when paired with a mobile device.
The artist would like to thank Soft Network and the Stan VanDerBeek Archive, especially Chelsea Spengemann and Sara VanDerBeek.

Organized by Stuart Comer, The Lonti Ebers Chief Curator of Media and Performance, and Michelle Kuo, The Marlene Hess Curator of Painting and Sculpture, with Piper Marshall, Exhibition Coordinator, and Eana Kim, Marica and Jan Vilcek Fellow, Department of Painting and Sculpture. Performance produced by Lizzie Gorfaine, Associate Director and Producer, with Kayva Yang, Assistant Performance Coordinator, Performance and Live Programs.