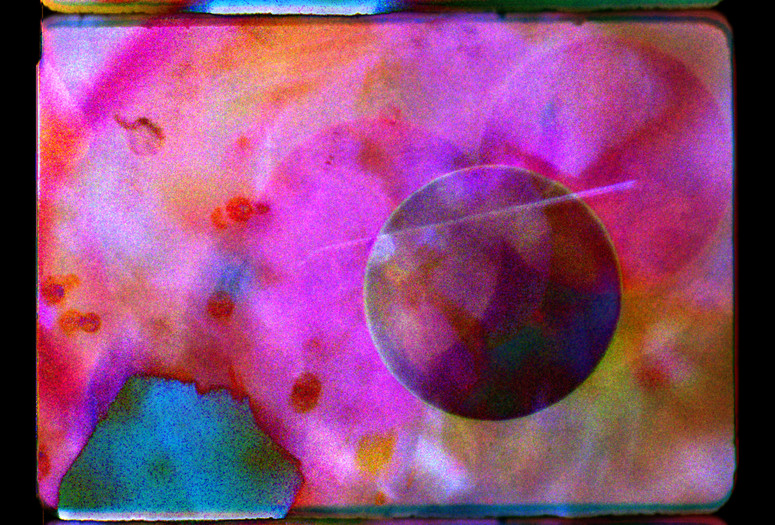 Colectivo los Ingrávidos (Tehuacán) approaches cinema as a ritualistic process capable of connecting moments across space and time. Images multiply, repeat, disintegrate, superimpose, and palpitate to the rhythm of hypnotic soundtracks. Foregrounding intimacy as a political gesture, Colectivo los Ingrávidos propose a cinematic trance of images, myth, and embodiment that bridges the ancestral to the avant-garde.
Focusing on Los Ingrávidos' concept of "shamanic materialism," this program is intended as a ritual, a sensorial and physical communal experience. Ranging from the intrinsic connection between classic Mexican cinema and the violence of the cinematic image to the impossibility of the testimony and its perverse illusion of irrefutable truth, this radical accumulation of images culminates with Tierra en Trance, a double-cinematic and colonial-ritualistic trance that deals directly with 500 years of irreconcilable excess.
This program is presented in conjunction with the Museum of the Moving Image, on the occasion of the exhibition Cinema of Sensations: The Never-Ending Screen of Val del Omar, in which Lumbreras (Luminaries), a new commission by Colectivo los Ingrávidos, will be on view. The post-screening conversation will be moderated by exhibition guest curator Almudena Escobar López.
Impressions for a Light and Sound Machine. 2014. Mexico. Directed by Colectivo los Ingrávidos. 7 min.
Coyolxauhqui. 2017. Mexico. Directed by Colectivo los Ingrávidos. 9 min.
The Sun Quartet, Part 2: San Juan River. 2017. Mexico. Directed by Colectivo los Ingrávidos. 13 min.
Sensemayá. 2021. Mexico. Directed by Colectivo los Ingrávidos. 7 min.
Itzcóatl. 2014. Mexico. Directed by Colectivo los Ingrávidos. 5 min.
Quetzalcóatl. 2020. Mexico. Directed by Colectivo los Ingrávidos. 2 min.
El nido del Sol. 2021. Mexico. Directed by Colectivo los Ingrávidos. 5 min. 16mm.
Tierra en Trance. 2022. Mexico. Directed by Colectivo los Ingrávidos. 38 min. 35mm
Program approx. 86 min