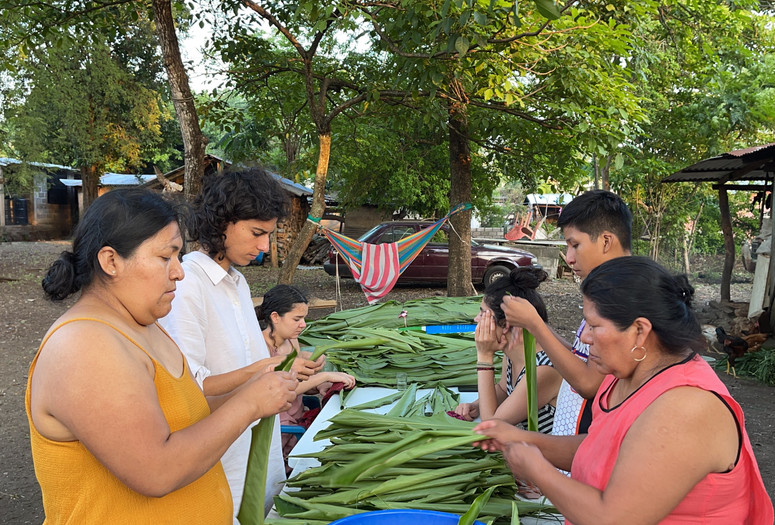 In 2021, the Cisneros Institute awarded Brazilian independent curator Catarina Duncan the Curatorial Research Fellowship, dedicated to support curatorial research in Latin America. With this fellowship, Duncan has developed the Territorial Re-Connections project, a study that proposed a series of dialogues between the work of three women-run collectives that work in connection with land-rights movements in Latin America: colectivo amasijo (Mexico), Mujeres Creando (Bolivia), and Grupo Nzinga (Brazil).
Which worlds do we want to celebrate and build together? is the first of three online conversations focusing on the work and practices of these collectives.
The relationship with the land as a methodology of artistic practice structures the work developed by colectivo amasijo. Martina Manterola and Carmen Serra, members of the collective, join Catarina Duncan for a discussion about the construction of women-led spaces, and the political implications of their practice.
The processes of cultivating and cooking, in this context, constitutes a way of transmitting knowledge and connecting collective memories. They will also present their investigations around the fandango, a celebration of reconnection to the land.
colectivo amasijo, created in 2016 in Mexico City, is comprised of women of different professions and from different parts of Mexico. The collective rises from the will to care, conserve, and celebrate. Creating the conditions to actively reflect on the origin and diversity of food, de-hierarchizing knowledge and focusing on the "doings" (haceres) as a way of learning. They listen to the narratives of women close to the land—non-dominant narratives—and cook collectively as a way to share, learn, and relate. Through food, the interdependence of language, culture, and territory is understood as a network of interrelationships.
Speakers
Carmen Serra is cofounder of amasijo collective. She holds a degree in Latin American literature and a master's in cultural biology. She has generated several cultural projects in various museums and foundations in Mexico, and served as a cultural attaché for Mexico in India and Peru. She has conducted research on the generative mechanism of collaboration. Serra directed the Common Benefit section of SITAC XIII, and teaches research classes in design, film, and television at CENTRO.
Martina Manterola holds a degree in economics from Instituto Tecnológico Autónomo de México and a diploma in agroforestry systems. She specializes in analyzing how the hierarchy of knowledge translates into losses of doing and knowing. Her practice investigates non-hegemonic knowledge. Within colectivo amasijo, she is developing the Complex Systems of Daily Life project, an archive of narratives through which she measures territorial degradation. For this, she has generated indicators to measure climate change from the narratives of the women who make up the amasijo network.
Catarina Duncan's curatorial work focuses on cultural practices and territorial identities in Latin America. She is currently curator at Solar dos Abacaxis in Rio de Janeiro, Brazil. Duncan was part of the curatorial team of the 32nd Bienal de São Paulo, INCERTEZA VIVA (2015–16); the 36th Panorama of Brazilian Art, SERTÃO (2019); Pivô Arte e Pesquisa (2014–15); and the exhibition Terra Communal Marina Abramović in Sesc Pompéia (2015). She was curator of the public programming of the work Cura Bra Cura Té, by Ernesto Neto, at Pinacoteca (2019) and of the Plataforma Crítica Oficina Brennand (2020). Duncan represented the Third Paradise project by Michelangelo Pistoletto in Latin America (2019–21) and the COINCIDÊNCIA program of the Swiss foundation Pro Helvetia (2017–20).
The program will be in English and Spanish, with simultaneous translation.
En 2021, el Instituto Cisneros otorgó la Beca de Investigación Curatorial —destinada a fomentar la investigación curatorial en América Latina— a la comisaria independiente brasileña Catarina Duncan. En el marco de la beca, Duncan desarrolló el proyecto Territorial Re-connections (Re-conexiones territoriales), una investigación que proponía una serie de diálogos entre las obras de tres colectivos de mujeres que trabajan con los movimientos por el derecho a la tierra en América Latina: colectivo amasijo (México), Mujeres Creando (Bolivia) y Grupo Nzinga (Brasil).
¿Qué mundos queremos celebrar y construir juntos? es la primera de tres conversaciones online que abordarán la obra y las prácticas de estos colectivos.
La relación con la tierra como metodología de creación artística es lo que estructura la obra que desarrolla el colectivo amasijo. Martina Manterola y Carmen Serra, miembros del colectivo, se unen a Catarina Duncan en un debate sobre la construcción de espacios liderados por mujeres y las consecuencias políticas de sus prácticas.
En este contexto, los procesos de cultivo y cocina constituyen un mecanismo para transmitir conocimientos y vincular las memorias colectivas. Las participantes también presentarán sus investigaciones en torno al fandango, una celebración de reencuentro con la tierra.
El colectivo amasijo nació en la Ciudad de México, en 2016, formado por mujeres de distintas profesiones y partes de México. Surgió con la intención de cuidar, conservar y celebrar, creando las condiciones necesarias para reflexionar activamente sobre el origen y la diversidad de los alimentos, y para desjerarquizar el conocimiento y centrarse en los "haceres" como mecanismos de aprendizaje. Se centran en las narrativas de mujeres que viven cerca de la tierra —narrativas no-dominantes— y cocinan en grupo como forma de compartir, aprender y relacionarse. La comida permite que la interdependencia que existe entre el idioma, la cultura y el territorio se comprendida como una red de interrelaciones.
Participantes
Carmen Serra es una de las cofundadoras del colectivo amasijo. Es licenciada en Literatura Latinoamericana y tiene una maestría en Biología Cultural. Ha impulsado varios proyectos culturales en distintos museos y fundaciones en México. También trabajó como agregada cultural de México en la India y Perú. Realizó una investigación sobre el mecanismo generativo de la colaboración. Dirigió la sección Beneficio Común del SITAC XIII y actualmente imparte clases de investigación en CENTRO —diseño, cine y televisión.
Martina Manterola es licenciada en Economía por el Instituto Tecnológico Autónomo de México y diplomada en sistemas agroforestales. Se ha especializado en analizar las pérdidas que produce la jerarquización del conocimiento en el hacer y el saber. Su práctica artística investiga el conocimiento no hegemónico. Dentro del colectivo amasijo, desarrolla el proyecto "sistemas complejos de la vida cotidiana", un archivo de narrativas a través del cual evalúa la degradación territorial. Para conseguirlo, ha elaborado indicadores que miden el cambio climático a partir de las narrativas de mujeres que forman parte de la red amasijo.
Catarina Duncan ha centrado su labor curatorial en las prácticas culturales y en las identidades territoriales en América Latina. Actualmente es comisaria de Solar dos Abacaxis en Río de Janeiro. Participó en el equipo curatorial de la 32ª Bienal de São Paulo, "INCERTEZA VIVA" (2015–16), del 36º Panorama de Arte Brasileño: SERTÃO (2019), de "Pivô Arte e Pesquisa" (2014–15) y de la exposición "Terra Comunal Marina Abramovic" en Sesc Pompéia, São Paulo (2015). Fue curadora de la programación pública de la obra "Cura Bra Cura Té" de Ernesto Neto en la Pinacoteca de São Paulo (2019) y de la "Plataforma Crítica Oficina Brennand" (2020). Fue representante del proyecto "Third Paradise" de Michelangelo Pistoletto en América Latina (2019–21) y del programa COINCIDÊNCIA de la fundación suiza Pro Helvetia (2017–20).
La actividad se llevará a cabo en inglés y en español, con traducción simultánea.