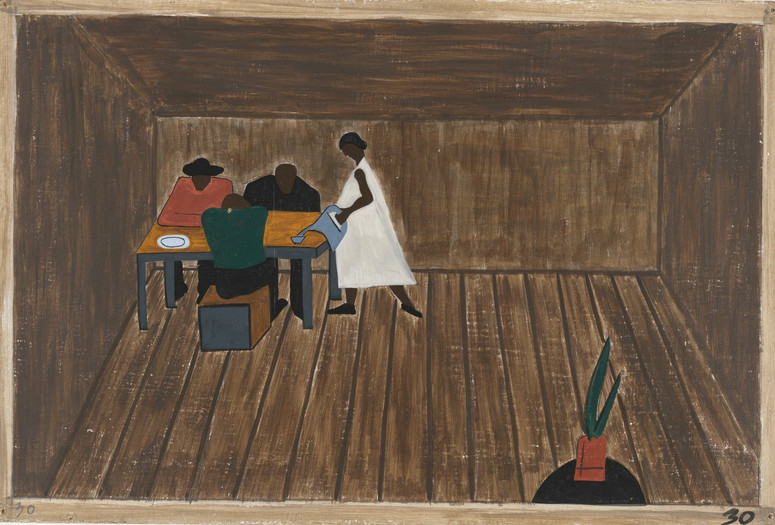 This workshop will use art to explore the relationship between critical pedagogy, social emotional learning (SEL), and liberatory practice. This session will seek to decenter the teacher as primary meaning-maker and examine the power of relationship-building to develop critical partnerships among teachers, students, and community members through critical pedagogy and SEL. Creating and sustaining these connections is key to fostering the empathy that transforms classrooms into spaces of liberation. Participants in the workshop will collaboratively define core concepts and strategize ways to disrupt oppressive narratives through inquiry-based learning and the exploration of the work of Jacob Lawrence. The session will support the cultivation of a curriculum that engages youth in discussions of art as a mechanism through which we can more deeply understand ourselves, others, and our communities.
Objectives
Teachers will consider the ways in which relationship building is foundational to critical teaching practice and healing-centered engagement.
Teachers will define and discuss culturally sustaining pedagogy, critical pedagogy, and the ways in which SEL fosters this work in the classroom.
Teachers will examine several works of art and reflect on how art can be used to disrupt oppressive narratives and colonial paradigms.
Speakers
Katherine Tineo-Komatsu is a licensed clinical social worker and a registered yoga teacher. She graduated with a bachelor of arts in Africana studies from Brown University and a master of science in social work from Columbia University. Tineo-Komatsu is an Afro-Indigenous Dominican born in the Dominican Republic and raised in New York City. She is particularly interested in exploring the various ways of dismantling systems of oppression through decolonization, while finding purpose through communities rooted in antiracist frameworks and social, environmental, and healing justices. Tineo-Komatsu lives in NYC with her partner and two daughters.
Anya Meier is a high school teacher, certified in English language arts and special education, in New York City's public school system. Meier believes deeply in the power of literacy as a mechanism of liberation and empowerment and is committed to culturally sustaining pedagogical practice and healing-centered engagement across school spaces. She received a bachelor of arts in Africana and Puerto Rican/Latino studies and political science from Hunter College; a master of arts in teaching in secondary English education, with additional concentration in special education and TESOL, from Northeastern University; and is a 2021 cohort member of the Summer Principals Academy at Teachers College, Columbia University.




Volkswagen of America is proud to be MoMA's lead partner of education.

Generous support for School and Teacher Programs is provided by the Carroll and Milton Petrie Education Program Endowment, the William Randolph Hearst Endowment Fund, and the Mimi and Peter Haas Endowment Fund for Elementary School Programs.

Additional funding is provided by the Ducommun and Gross Family Foundation and by the Annual Education Fund.