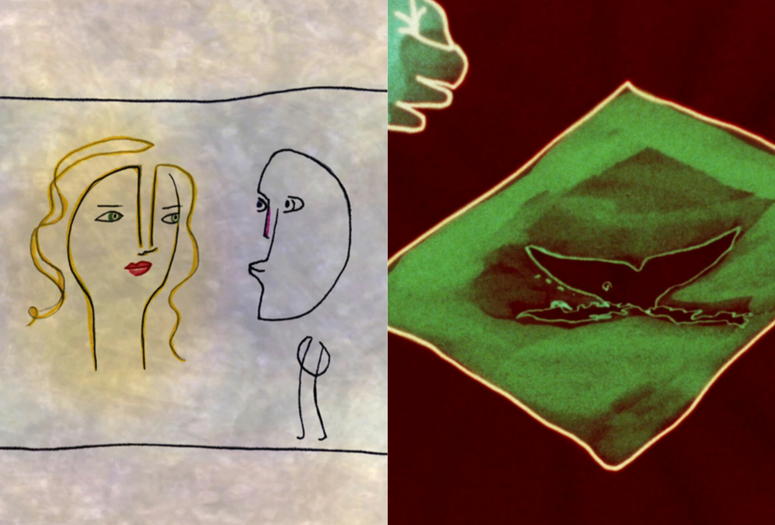 Virtual Cinema screenings are available exclusively to MoMA members. Not a member? Join today and start streaming.
Watch the films of Mary Beams and Emily Hubley below
Going Home Sketchbook. 1975. USA. Directed by Mary Beams. 1975. 3 min.
Reflecting on this deconstructed family portrait, Beams writes, "This film taught me a lot about Time, as I rotoscoped my family at our summer cottage in Indiana. I was at MacDowell during a cold and dreary fall. The hours I spent tracing my loved ones as they sat in the sunlight gave me a powerful tool for grabbing onto happiness. I came out of the summer-light Indiana trance into a chilly rainy New Hampshire autumn, ready to head back to dinner in the dark, and I felt as though I had been with my family all day, in the best place we all enjoyed together. It seemed as though, by spending hours drawing a few short moments in their lives, I could extend their time and mine on this earth. I felt I had control in providing more time to them by drawing more frames than each frame of original film."
Tub Film. 1971. USA. Directed by Mary Beams. 2 min
Beams's first-ever animation is a playful, beautifully simple black-and-white scene of a woman and her mischievous cat. The shifting perspective, play with the human form, and domesticity are recurring elements in Beams's work.
Seed Reel No. 1. 1975. USA. Directed by Mary Beams. 2 min.
Squiggling white lines playfully morph and morph again into sexual imagery and suggestive flora, conveying the sensuousness of the natural world.
Piano Rub. 1975. USA. Directed by Mary Beams. 4 min.
This frenetic, abstract work, created during Beams's MacDowell residency, pairs direct rubbings of baby grand piano keys with Super8 footage of the process and a manipulated piano soundtrack.
Paul Revere Is Here. 1976. USA. Directed by Mary Beams, Susan (Rubin) Hodara. 8 min.
In the summer of 1975, with a mobile rotoscoping station in tow, Mary Beams and Susan Hodara recorded locals and tourists alike musing on Paul Revere beneath his statue in Boston. With cerulean-washed frames and shifting white outlines of visitors, the documentary soundtrack creates a unique portrait of place and time.
Solo. 1975. USA. Directed by Mary Beams. 3 min.
Beams wrote of Solo, "This was a game of cycles I set up for myself on 4 × 6″ index cards. I made a grid, and drew a cycle to fit that grid, and then used each drawing from that cycle as a starting point for another cycle." Glimpses of nude figures paired with the artist's humming and domestic dialogue create the feeling of an abstract diary.
Rain Seeds. 1976. USA. Directed by Mary Beams. 1 min.
Described by Beams as an "apology film" created after accidentally killing a friend's beloved cactus, this short work weaves text and image to depict the life cycle of a plant.
School in the Sky. c. 1979. USA. Directed by Mary Beams. 2 min.
With an audio track of children describing their dreams, Beams's animation depicts them soaring above fields and through the clouds in scenes of youthful revelry.
Whale Songs. 1977-80. USA. Directed by Mary Beams. 8 min
Whale Songs, the ambitious final film in this period of Beams's personal 16mm filmmaking, combines whale watching with depictions of the animation process itself. The film was hand-colored in negative color, then filmed on color-reversal stock and printed as a negative, contributing to the film's singular look.
and/or. 2012. USA. Directed by Emily Hubley. Music by Yo La Tengo. 6 min.
The agony and beauty of the creative process are explored in this reflective work, first inspired by a piano solo by Yo La Tengo's Ira Kaplan, which reminds us that the act of creation can feel like "cracking the code in another dimension."
Enough. 1993. USA. Directed by Emily Hubley. Music by Georgia Hubley, Ira Kaplan. Sound design by Don Christensen. 5 min.
"Have an egg instead, and I'll grant you a wish," says the magical fish in this psychedelic fable of greed and gluttony. This short marks the first of many collaborations between Hubley and Yo La Tengo.
Blake Ball. 1988. USA. Directed by Emily Hubley. Conceived with Will Rosenthal. Music by Don Christensen. Additional animation by Georgia Hubley. 16 min.
The visionary world of William Blake is interpreted through baseball metaphors in this swirling animation inspired by his writing. The vibrant watercolor backgrounds, evoking Blake's own paintings, were created by animator Faith Hubley.
Octave. 2006. USA. Directed by Emily Hubley. Music by Yo La Tengo. 7 min
Hubley created this short while at work on her first feature, The Toe Tactic (New Directors/New Films 2008), as a musical exploration of poetry featured in the film. Each frame was drawn on a single sheet of paper using watercolor pencil and ink, and the animation is accompanied by Yo La Tengo's meditative score.
Tower. 1984. USA. Directed by Emily Hubley, Georgia Hubley. Music by Don Christensen. 10 min.
In this early work and collaboration between sisters Emily and Georgia, a figure journeys through a bewildering, menacing world. The film was created using a plethora of materials, including color-changing children's markers and spray paint, and many of the specialized supplies, like cels, cel paint, and grease pencils, were leftovers from their parents' famed Hubley Studios.
Virtual Cinema is not available to Annual Pass members. Virtual Cinema screenings are not available outside the US.