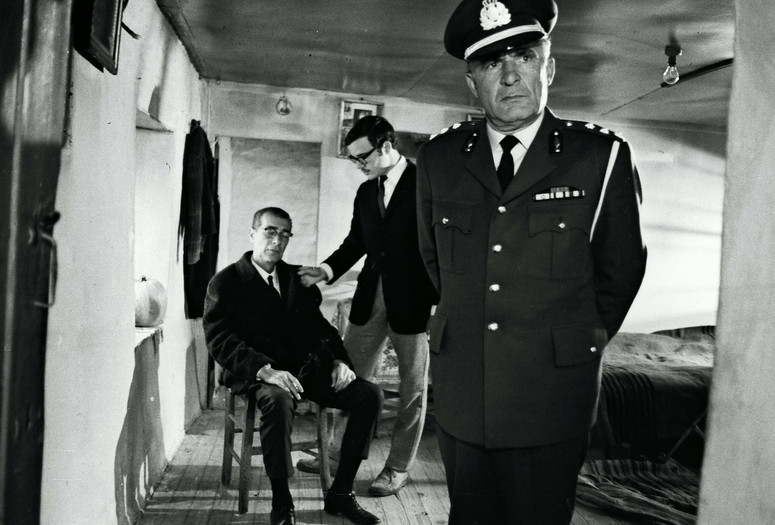 Virtual Cinema screenings are available exclusively to MoMA members. Not a member? Join today and start streaming.
Anaparastasi (Reconstruction). 1970. Greece. Directed by Theodoros Angelopoulos. In Greek; English subtitles. 100 min.
MoMA presents the North American restoration premiere of Anaparastasi, one of cinema's most striking feature-film debuts, which astonishingly has never had a New York theatrical release. Greek master Theo Angelopoulos's hauntingly sinister contemporary retelling of the Clytemnestra myth, from Aeschylus's Oresteia, takes the form of a police procedural under fascism. Filmed like a neorealist ghost tale, Anaparastasi reconstructs a seemingly true-story crime of passion—a wife's murder of her husband—in Tymphaia, an ancient village in the foothills of the Pindus mountains that was left for dead after the Second World War.
"Since I didn't commit this murder and also wasn't a witness, but just someone who came from the city," Angelopoulos observes, "I didn't think it would be very honest to relate the events in the form of a fiction, the way Visconti did in Ossessione for example, which is a film with almost the same plot. I wanted to attempt a double reconstruction, i.e., a reconstruction of the facts as they were told to me or as I read them in the court documents, and also a reconstruction of the type the police carry out with the guilty parties. The film functions on these two levels: on the level of the police's reconstruction of the events, and of my reconstruction in the form of interrogations. The film shifts back and forth between these two levels, without giving rise to a logical continuity. The film thus ends, for instance, with a scene that should have been at the beginning: the murder. But it's the murder as it appears from the outside."
Virtual Cinema is not available to Annual Pass members. With the exception of Modern Mondays programs, Virtual Cinema screenings are not available outside the US.