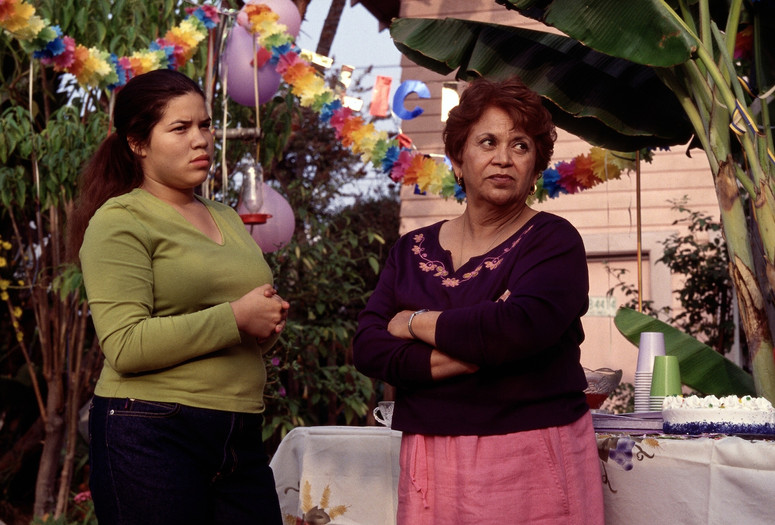 A Girl's Own Story. 1983. Australia. Written and directed by Jane Campion. With Gabrielle Shornegg, Geraldine Haywood, Marina Knight. 16mm. 26 min.
Campion's student short explores burgeoning teenage female sexuality in the era of Beatlemania.
Real Women Have Curves. 2002. USA. Directed by Patricia Cardoso. Screenplay by Josefina Lopez, George LaVoo. With America Ferrera, Lupe Ontiveros, Ingrid Oliu. 35mm. 90 min.
Real Women Have Curves has the familial drama, first love, and identity struggles familiar to teen films, but in the nimble hands of director Patricia Cardoso and screenwriter Josefina Lopez the film transcends its American contemporaries. Ana (America Ferrera) is a Mexican American high school senior in Los Angeles who clashes daily with her mother, Carmen (Lupe Ontiveros). Carmen bullies Ana about her weight and discourages her ambition to attend Columbia University, and their relationship only worsens when they spend the summer working together in the family's textile factory. Ferrera plays Ana with a sensitivity, self-confidence, and teen indignancy that's astounding for an acting debut. As poignant and essential today as it was at its New Directors/New Films opening night nearly 20 years ago, Real Women Have Curves serves as an urgent reminder of the need for Latinx representation in mainstream American film.