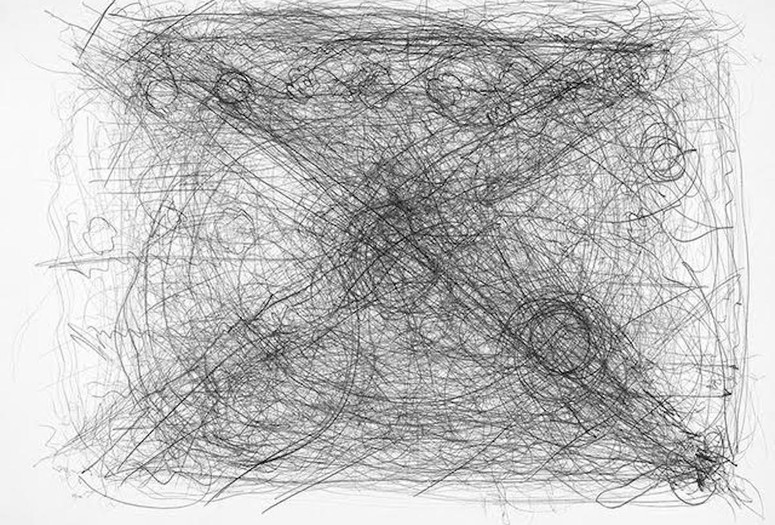 Join artist Morgan O'Hara for Live Transmission, a drawing method in which she tracks the trajectory of movement in real time. For this program, O'Hara will take participants through basic scribble exercises that will prepare them for their own exploration of drawing. No drawing experience is necessary.
Meet in the Abby Aldrich Rockefeller Sculpture Garden. Rain location is the Marron Atrium, Floor 2.
This event is free with Museum admission. Space is limited and available on a first-come, first-served basis. Sign-up begins 30 minutes before each workshop. Designed for adult participants, but children ages 12 and above are welcome if accompanied by an adult collaborator. The program involves long periods of standing. Seating is available upon request.
Morgan O'Hara was born in Los Angeles, grew up in postwar Japan, lived in Europe (Paris, Berlin, Italy) for 25 years, and now lives in New York and works internationally. Her Live Transmission drawings track the movement of peoples' hands in real time as they engage in life activities with multiple pencils and both hands.
O'Hara has drawn/performed Live Transmission on five continents since 1989, participating in international performance art festivals in Asia, Europe, and the US. O'Hara's work has been shown in exhibitions all over the world and is included in major collections including the British Museum, the National Gallery of Art, Washington, DC, and the Metropolitan Museum of Art. She is represented by Mitchell Algus Gallery in New York.
In January 2017 she began the social art project Handwriting the Constitution, which was covered in a full-page article in the New York Times. The project continues to grow across the US and internationally.