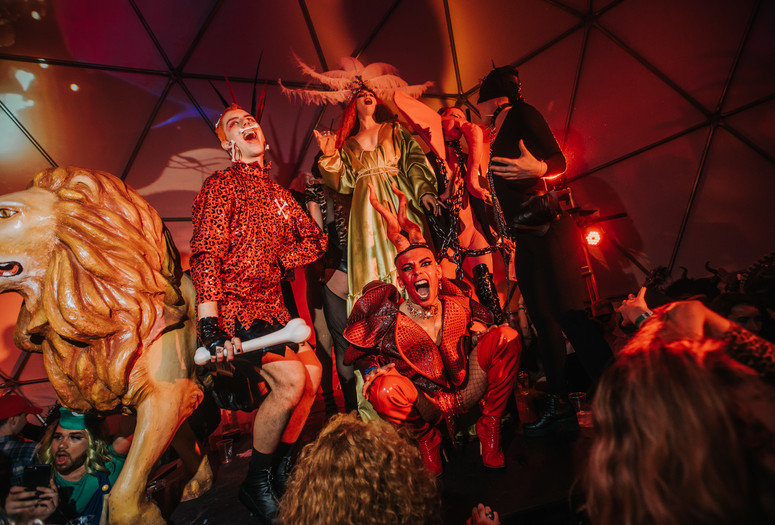 MoMA PS1 is once again collaborating with New York nightlife legend Susanne Bartsch for the seventh annual Halloween Ball. Featuring performances, DJs, and the most elaborate and outrageous costumes in the city, Cirque de Musée will be a raucous menagerie of wondrous beasts, fantasy revels, and vaudevillian magic.
Tickets:
General Admission: $25
MoMA / MoMA PS1+ Members: $18
Ticket Package (expedited entry and two complimentary drinks): $55
Get your tickets now for Susanne Bartsch's after party.
Live performances by:
Fou York | Muffy Queen | Radical Pom | Kiss | Candy Warhol | Joe | Linux | CT Hedden | Kyle Farmery | Ryan Burke | Magdalena Femanon | Peroxide | Archie Goats | Family Jewels | Cami Montoya | 2 To Fly | Shequida | Sean Blue | Julie Atlas Muz | Cornelius Loy | Lady Ace | Charlene | Gage of the Boone | Rify Royalty | Brandon Olson Ring | Petit Dum Dum | Dani Marie | Angelo Viz | Harajuku | Dolly Dharma
DJ sets by:
Ty Sunderland | Mazurbate | Amber Valentine | W Jeremy
Hosted by:
80881 | Topical Cream | Peter Eleey | Angela Goding | TALK HOLE | Raúl de Nieves | Jacolby Satterwhite | Stewart Uoo | Leilah Weinraub
MoMA PS1's acclaimed VW Sunday Sessions performance series welcomes visitors to experience and participate in live art. Since its founding in 1976, MoMA PS1 has offered audiences one of the most extensive programs of live performance in the world. VW Sunday Sessions highlights artists responding to contemporary social and political issues through a wide variety of creative and critical lenses. Encompassing performance, music, dance, conversation, and film, the series develops and presents projects by established and emerging artists, scholars, activists, and other cultural instigators. With a focus on artists that blur and break traditional genre boundaries, VW Sunday Sessions embraces the communities in New York City that create and sustain artistic practice.
Since 2012, VW Sunday Sessions has presented a commissioning program resulting in new work by Trajal Harrell, Mårten Spångberg, Anne Imhof, Tobias Madison and Matthew Lutz Kinoy, Hannah Black, and Colin Self. Additionally, the VW Dome Artist Residency offers a platform for creative development and experimentation for artists at all stages of the creative process.
VW Sunday Sessions is organized by Taja Cheek, Assistant Curator, and Alex Sloane, Assistant Curator, with Alexandra Rosenberg, Associate Producer, Chris Masullo, Production Coordinator, Enrique Alba, Production Assistant, and Cody Simons, Production Assistant.

VW Sunday Sessions and the VW Dome at MoMA PS1 are made possible by a partnership with Volkswagen of America, who have supported the program since its inception.

Major support is provided by the Anna-Maria and Stephen Kellen Foundation.

Dance programming as part of VW Sunday Sessions at MoMA PS1 is supported in part by the Mertz Gilmore Foundation.