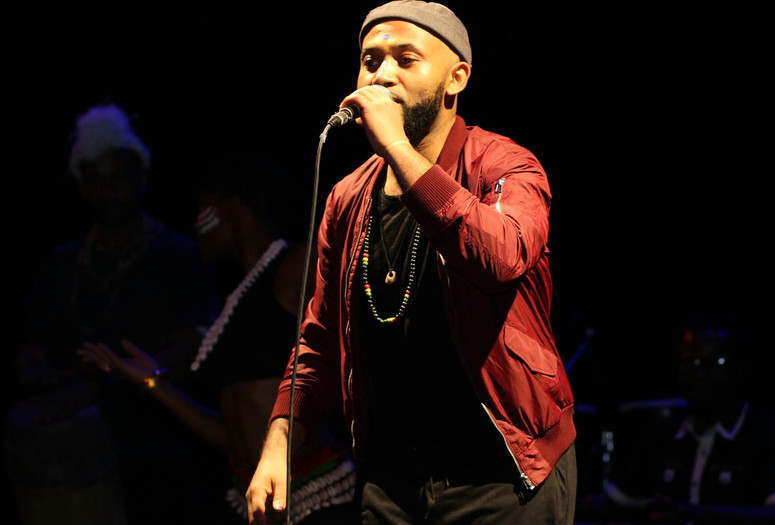 Live music begins at 6:30 p.m.
Nkumu Katalay, a native of Kinshasa, Democratic Republic of the Congo, moved to New York in the late 1990s. His music is the product of both cities' diversity. The child of a family of traditional healers, he was exposed to African dancing and drumming from an early age. His musical style of Rumbianfunk ("the rumba within my funk") collages Afro contemporary music with the funky sounds that revolutionized Zaire (1960s–70s), Wenge Musica popular music (Congo, 1990s–2000s), and traditional African sounds. Katalay's recent recording projects include "Congo4u," "Pure Water," and "Mwana Mboka" (Son of the Land). His first album, Paradox, is due out this fall.
This performance is presented in conjunction with the exhibition Bodys Isek Kingelez: City of Dreams.
Nkumu Katalay, lead vocals, rhythm guitar, drums; Firmin Belery, lead guitar; Emmanuel Oddet Etoummou, bass; Joseph Abiala, keyboard; Folachade Abiala, drumset; Rodney U. Naves, congas; Doriane Louisy Louis-Joseph, Naiika Sings, Aysiss Aïssatu Young, and Sofia Lauren Coffee, chorus vocals; Gabrielle Joseph, Simone Miars, Malekha-Shuki Goho, and Elsie Ndema, dancers
Every Thursday in July and August, 5:30–8:00 p.m.
Live music begins at 6:30 p.m.
Regular Museum admission applies. Performances take place in the Sculpture Garden. In the event of rain, the Garden will close, and music will take place in Theater 1. Please note: Sculpture Garden and indoor seating are limited and on a first-come, first-served basis.
The musical component of Summer Thursdays 2018 celebrates musicians living and working in New York City. Organized in collaboration with PopRally, the series hosts a variety of sounds that explore the City's expansive musical landscape. Each evening, unique sonic flavors fill the Sculpture Garden with a range of blended genres such as dream punk, Afrofuturist soul, funk fusion, hip-hop, experimental, and lo-fi baroque pop.