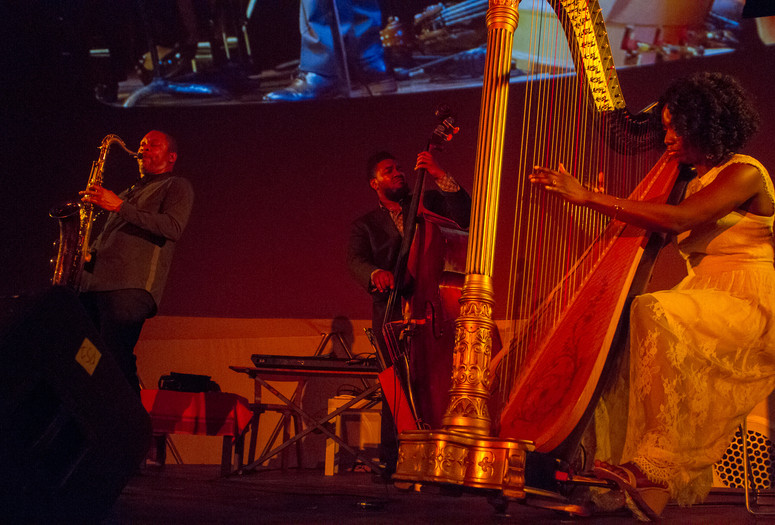 VW Sunday Sessions presents an afternoon celebrating the legacy of Alice Coltrane in collaboration with her son, saxophonist Ravi Coltrane. Alice Coltrane, also referred to as Swamini and Turiyasangitananda by her family and students, was a prolific composer, harpist, and keyboardist who dedicated the later years of her life to the Sai Anantam ashram she founded in 1983 in Agoura Hills, California. Featuring rare audio and video recordings from the extended Coltrane family's private archive, the program, organized with Luaka Bop, will also include discussion, presentations, and performances of Coltrane's music.
At 1 p.m., Purushottoma Hickson, a student of the Sai Anantam ashram, begins the program with a two-hour workshop including discussion, meditation, chant, and yoga geared to guests of all ages and abilities. Beginning at 3 p.m. in the VW Dome, harpist Brandee Younger presents a lecture performance on the legacy of Alice Coltrane's music and her personal and professional history with the harp, and Ravi Coltrane presents on his mother's life and work. Following these presentations, Ashley Kahn, music historian, journalist, and producer, will lead a discussion with Younger and Ravi Coltrane. The evening concludes with performances by Laraaji, and Kelsey Lu with Kyp Malone, Troy "Mobius" Simms, and Brandee Younger performing Coltrane's music live in the dome.
All guests will be required to check their phone, camera, and any recording devices upon entry. Recording of all kind is strictly prohibited.
Tickets: $15 (MoMA Members $13)
Programming throughout the building free with museum admission
MoMA PS1's acclaimed VW Sunday Sessions program welcomes visitors to experience art live and in real time. Embracing performance, music, dance, conversations, and film, the program vividly demonstrates how these art forms can push us to engage with our contemporary world in creative, illuminating ways. With an emphasis on artistic practices that blur and break traditional genre boundaries, the program supports and commissions new work, inviting artists, curators, and other cultural instigators to share their latest projects. MoMA PS1 offers one of the most extensive museum programs dedicated to live art in the world, representing a core component of the institution's mission since its founding.
VW Sunday Sessions is organized by Taja Cheek, Curatorial Assistant, MoMA PS1; and Alex Sloane, Curatorial Assistant, MoMA PS1, with Alexandra Rosenberg, Associate Producer.

VW Sunday Sessions and the VW Dome at MoMA PS1 are made possible by a partnership with Volkswagen of America, who have supported the program for six years since its inception.