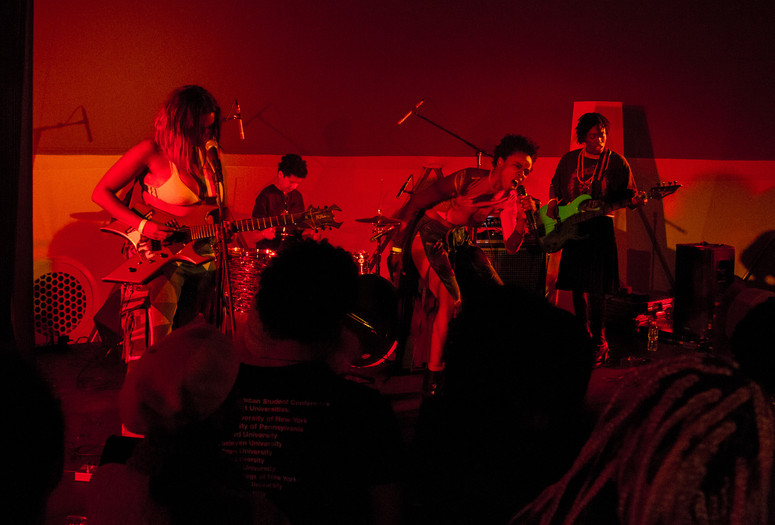 In collaboration with home school, a pop-up art school based in Portland, Oregon, VW Sunday Sessions presents a day of activities modeled after a school field day, featuring music, workshops, karaoke, poetry, and a film program. Referencing MoMA PS1's history as a neighborhood public school, the field day program will offer opportunities to question and reimagine the methods, purposes, and dynamics that connect art and education. As with all home school events, the field day will be recorded and archived online for distance learning.
The afternoon will include an open recording of The Diamond Stingily Show, a radio show by Diamond Stingily broadcast by Know Wave; a screening program by URe:AD Press (United Re:Public of the African Diaspora) comprised of contemporary audiovisual work created by and for the African diaspora; an edition by Elliott Jerome Brown Jr.; an artist talk with The Black School; a workshop led by MODUS, member of The Seventh Letter artist collective, on the intersection of asemic writing (writing marks without semantic content) and graffiti; keyon gaskin's therapeutic karaoke experience, Karaopy; and performances by RAFiA, Abdu Ali, and Fuck U Pay Us, an Afro-diasporic punk quartet performing live for the first time in New York City.
Additionally, GameBoyPhoto, a collaborative traveling photo studio run by Daniel Akselrad, Erik Goyenechea, and Alex Bahr, will provide a photo booth built from a vintage reverse-engineered Game Boy camera accessory. A reading program in the bookspace will feature manuel arturo abreu, Jasmine Gibson, Kameelah Janan Rasheed, and John Keene.
home school is a free pop-up art school in Portland, Oregon co-facilitated by Victoria Anne Reis and manuel arturo abreu. With a multimedia curriculum featuring artist talks, exhibitions, poetry readings, physical education, and other engagements, home school creates welcoming contexts for critical engagement with contemporary art.
Tickets: $15 (MoMA Members $13)
Programming throughout the building free with museum admission
MoMA PS1's acclaimed VW Sunday Sessions program welcomes visitors to experience art live and in real time. Embracing performance, music, dance, conversations, and film, the program vividly demonstrates how these art forms can push us to engage with our contemporary world in creative, illuminating ways. With an emphasis on artistic practices that blur and break traditional genre boundaries, the program supports and commissions new work, inviting artists, curators, and other cultural instigators to share their latest projects. MoMA PS1 offers one of the most extensive museum programs dedicated to live art in the world, representing a core component of the institution's mission since its founding.
VW Sunday Sessions is organized by Taja Cheek, Curatorial Assistant, MoMA PS1; and Alex Sloane, Curatorial Assistant, MoMA PS1, with Alexandra Rosenberg, Associate Producer.

VW Sunday Sessions and the VW Dome at MoMA PS1 are made possible by a partnership with Volkswagen of America, who have supported the program for six years since its inception.