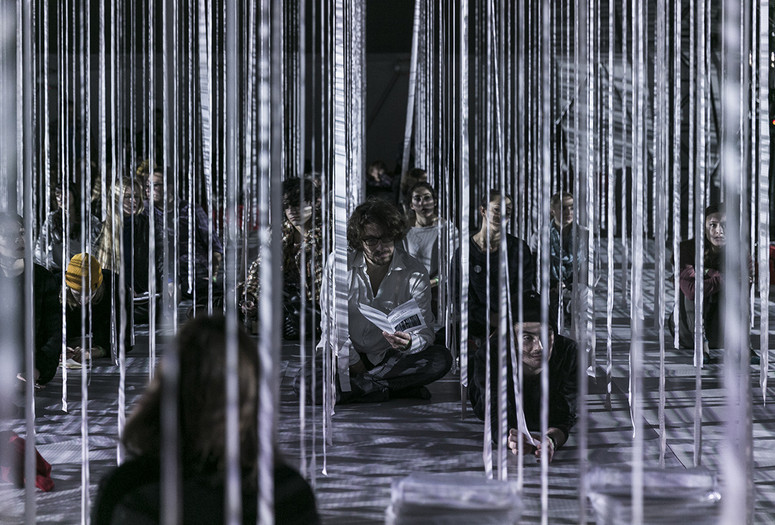 PART I
12:00 p.m.: Welcome into TREES
12:30 p.m.: Adham Hafez: This is the end – Postwar chronicles as Transhuman choreographies
1:30 p.m.: Live Music and CCAP Choreo_Intervention; excerpts from Omkretz
2:00 p.m.: Break
PART II
2:20 p.m.: CCAP Choreo_Lecture; att att
3:00 p.m.: Peggy Phelan: The Choreography of Samuel Beckett: The Violence of Gesture,The Endurance of Logos
4:00 p.m.: Avital Ronell: Transhuman Truckin'
5:40 p.m.: Collective Closure; TREES
CHOREO_ POLITICS of the TRANS_ HUMAN, organized by Cristina Caprioli, is a lecture/performance designed to inspire a collective discussion of contemporary choreography as a political and social practice. The event retains specificity of thought and action through the intertwining of text, bodies, and places, articulating a different fabric of discourse. The lectures are given by the authors, and performed within a frame of choreographic patterns and virtual imagery. The audience is invited to watch, listen, discuss, rephrase, resist, reaffirm, re-trace and re-embody the subjects and actions that arise. The event addresses a common field of exchange in which a joint choreography is recognized and immediately dispersed.
CHOREO_ POLITICS of the TRANS_ HUMAN takes place within, TREES, an immersive and interactive installation that, in addition to being the environment for Sunday's lectures, is on view to the public from Friday January 23, 2015 to Saturday January 24, 2015.
Peggy Phelan is Professor in Drama and English at Stanford University. She is the author of Unmarked: The Politics of Performance (1993), Mourning Sex: Performing Public Memories (1997), co-editor of Acting Out: Feminist Performances (1993), co-editor of The Ends of Performance (1997) and editor of Live Art in LA. Performance in Southern California 1970-1983 (2012).
Avital Ronell taught at the University of California at Berkeley from 1984-1995 and at New York University from 1995 to the present. Her books include The Uber Reader: Selected Works of Avital Ronell (2006); The Test Drive (2005); Stupidity
(2001); Finitude's Score: Essays for the End of the Millennium (1994); Crack Wars: Literature, Addiction, Mania (1992); The Telephone Book: Technology, Schizophrenia, Electric Speech (2001) and Dictations: On Haunted Writing (1986).
Adham Hafez works as a choreographer, performer, music composer and cultural producer. He is founder of HaRaKa: Egypt's first Dance Research, Development and Archive project; Cairography, Egypt's only critical writing publication for choreography and performance studies, and TransDance, the series of transdisciplinary festivals on dance and performance Adham initiated in Egypt.
Sunday Sessions is a weekly presentation of performance, moving images, dance, music, and discursive programs. Its mission is to embrace live arts as an integral aspect of contemporary practice and ask how art forms, which unfold in the here and now, produce specific ways of thinking and useful means to engage with the broader world. Every Sunday different artists, curators, thinkers and a range of other cultural agents are invited to share their latest projects and ideas with the MoMA PS1 audience.
CHOREO_ POLITICS of the TRANS_ HUMAN is organised by Cristina Caprioli

Performers: Ulrika Berg, Philip Berlin, Pavle Heidler, Emelie Johansson, Sebastian Lingserius, Louise Perming and Pontus Pettersson.

Sunday Sessions is organized by Jenny Schlenzka, Associate Curator with Alex Sloane, Curatorial Assistant and Rosey Selig-Addiss, Associate Producer.

Sunday Sessions 2014-15 is dedicated to Mike Skinner, 1974-2014

Sunday Sessions and the VW Dome at MoMA PS1 are made possible by a partnership with Volkswagen of America.

Major support is provided by MoMA's Wallis Annenberg Fund for Innovation in Contemporary Art through the Annenberg Foundation.

ccap would like to thank The Swedish Arts Council and the City Council of Stockholm and coproduction partner TANZ IM AUGUST for their support of CHOREO_POLITICS of the TRANS_HUMAN.