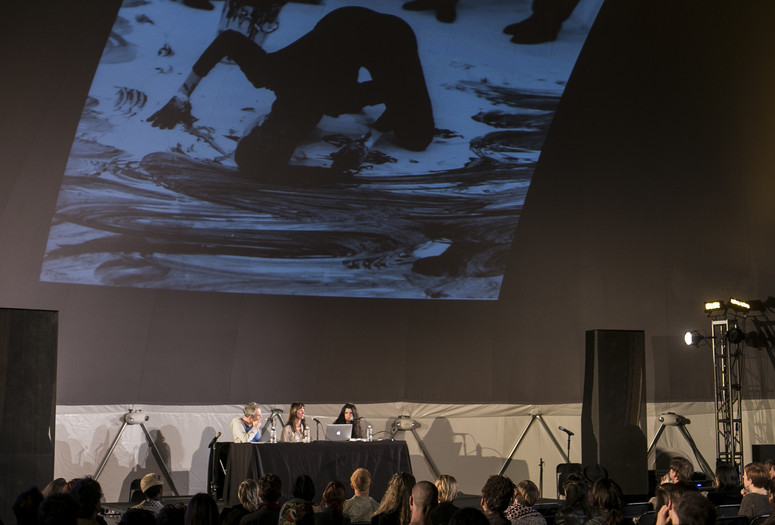 In anticipation of Xavier Le Roy's exhibition, Retrospective, on view this fall at MoMA PS1, the artist will present a lecture UNTITLED (2005).
The presentation is followed by two panel discussions around the recent cross-pollination between the fields of visual arts and dance.
In the first panel, choreographers Ryan Kelly, Jennifer Lacey, and Douglas Dunn as well as art historian Claire Bishop will discuss how experimental dance has unworked the choreographic discipline, tracing some of the relations between American postmodern dance and contemporary conceptual practices in France and Europe, as well as across critical and creative scenes. Dance scholar Noémie Solomon will moderate the discussion.
For the second panel, choreographer Xavier Le Roy will share his thoughts and experiences of presenting choreographic work in an art institutional context. He is joined by the acclaimed sculptor Janine Antoni who, in return, has recently created work with choreographers for dance venues. André Lepecki, performance and dance theorist, will engage in conversation with the two artists. The panel is moderated by MoMA PS1 Associate Curator, Jenny Schlenzka.
Sunday Sessions is a weekly presentation of performance, moving images, dance, music, and discursive programs. Its mission is to embrace live arts as an integral aspect of contemporary practice and ask how art forms, which unfold in the here and now, produce specific ways of thinking and useful means to engage with the broader world. Every Sunday different artists, curators, thinkers and a range of other cultural agents are invited to share their latest projects and ideas with the MoMA PS1 audience.
Dancing is Talking, Talking is Dancing, Conversations on Contemporary Choreography is organized by Noémie Solomon in collaboration with Jenny Schlenzka, Associate Curator, MoMA PS1.

Dancing is Talking, Talking is Dancing, Conversations on Contemporary Choreography is part of DANSE: A French-American Festival of Performance and Ideas, New York City, May 1-18, organized by the Cultural Services of the French Embassy in the United States, with the additional support from the French Ministry of Culture and Communication, Institut français, and FACE (French American Cultural Exchange).

This event is a continuation of the publication DANSE: an anthology (January 2014) and will inform the upcoming DANSE: a catalogue (fall 2014) by les presses du réel—New York Series.

Sunday Sessions is organized by Jenny Schlenzka, Associate Curator with Mike Skinner, Producer, and Alex Sloane, Live Programming Coordinator.

Sunday Sessions and the VW Dome at MoMA PS1 are made possible by a partnership with Volkswagen of America.