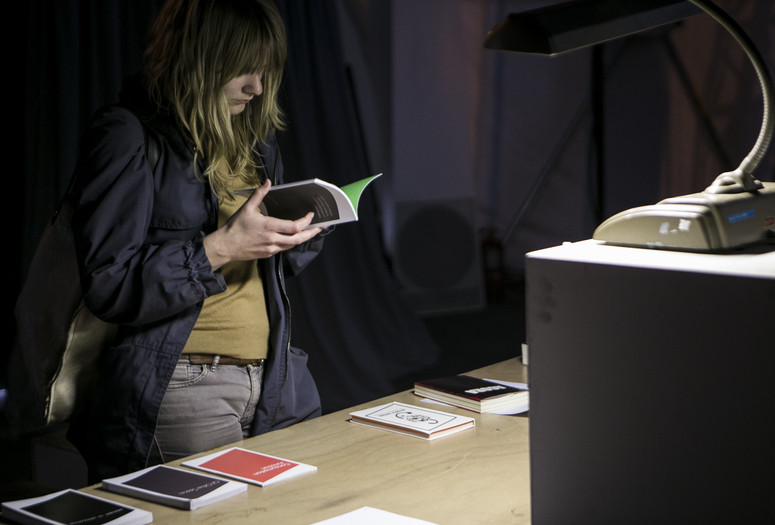 Within today's "crisis of education," driven by privatization, many artists, curators and art institutions attempt to reinvent the relations between art and research outside of the academic world, and to experiment, often in a collaborative manner, alternative models of knowledge production and exchange. Composing Differences brings together artists, curators, researchers and others from Europe and the United States, who are establishing new platforms to experiment with art and knowledge production, which defend the circulation of knowledge and the immaterial value of art as a tool of social change. A program conceived in collaboration with Glass Bead (Fabien Giraud, Jeremy Lecomte, Vincent Normand, Ida Soulard, Inigo Wilkins), PAF, Council (Grégory Castera, Sandra Terdjman) and Open School East (Jonathan Hoskins, Matthew de Kersaint Giraudeau, Lisa Skuret). With the participation of Nova Benway, Noah Chasin, Annie Dorsen, Guillaume Fayard, Tristan Garcia, Institute for Wishful Thinking, Jeffrey Mansfield, Guerino Mazzola, Reza Negarestani, Occupy Museums, Sarah Resnick, Carson Salter, Noé Soulier and W.A.G.E.
SCHEDULE OF PUBLIC EVENTS
Glass Bead Radio Workshops at MoMA AV Recording Studio
The interviews will be broadcast on Sunday April 27, 2014
Guest speakers: philosopher Reza Negarestani, musicologist and mathematician Guerino Mazzola, Occupy Museums (Tal Beery, Noah Fischer), W.A.G.E (Park McArthur, Lise Soskolne), Institute for Wishful Thinking (Maureen Connor, Andrea DeFelice) and Council (Sandra Terdjman, Grégory Castéra).
Council
April 21-26, Print Shop at MoMA PS1
With French choreographer Noé Soulier and American designer Jeffrey Mansfield, as a continuation to a previous council, Tacet, on the diversity of hearing modes. With the support of Harvard Graduate School of Design. By invitation only.
PAF Lectures: On Form and Object (A Treatise on Things) by Tristan Garcia
April 24, 25, 26, 10:00 a.m. – 1 p.m., Conference Room
Introduced by choreographer and one-time PAF ambassador Annie Dorsen. RSVP required at composingdifferences@gmail.com
Composing Differences
April 27, VW Dome
Following a weeklong program of workshops, talks and encounters at MoMA PS1, MoMA AV Recording Studios and e-flux, Composing Differences participants and their guests convene at MoMA PS1 for a Sunday Session navigating across various fields of knowledge to review possible methods and address art's relations with pedagogy, activism, representation and commoning.
With Virginie Bobin (Curator and Writer), Council (Grégory Castera, Sandra Terdjman), Annie Dorsen (Theater Director), Guillaume Fayard (Writer and Poet), Glass Bead (Fabien Giraud, Jeremy Lecomte, Vincent Normand, Ida Soulard and Inigo Wilkins), Jeffrey Mansfield (Designer), Open School East (Jonathan Hoskins, Matthew de Kersaint Giraudeau, Lisa Skuret) and Noé Soulier (Choreographer), and guests Nova Benway (The Public School, New York), Noah Chasin (Historian of Urbanism and Architecture), Sarah Resnik (Managing Editor, Triple Canopy) and Carson Salter (The Teachable File).
Sunday Sessions is a weekly presentation of performance, moving images, dance, music, and discursive programs. Its mission is to embrace live arts as an integral aspect of contemporary practice and ask how art forms, which unfold in the here and now, produce specific ways of thinking and useful means to engage with the broader world. Every Sunday different artists, curators, thinkers and a range of other cultural agents are invited to share their latest projects and ideas with the MoMA PS1 audience.
Composing Differences is organized by Virginie Bobin, Independent Curator and Writer.Composing Differences is part of ART².

ART² is presented in collaboration with the Institut français, the French Ministry of Culture and Communication and FACE (French American Cultural Exchange).

This project is also funded in part by Etant Donnés: the French-American Fund for Contemporary Art, a program of FACE and the Cultural Services of the French Embassy in the United States, with funding from the Florence Gould Foundation.

Sunday Sessions is organized by Jenny Schlenzka, Associate Curator with Mike Skinner, Producer, Alex Sloane, Live Programming Coordinator and Rosey Selig-Addiss, Production Assistant.

Sunday Sessions and the VW Dome at MoMA PS1 are made possible by a partnership with Volkswagen of America.