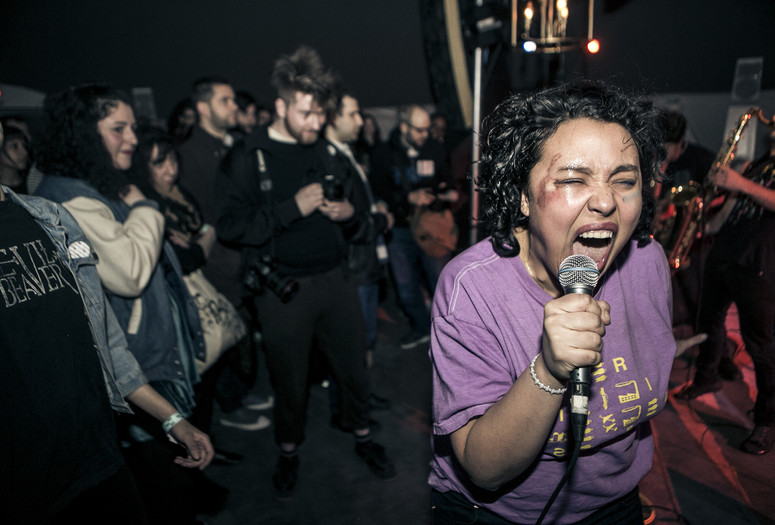 Sunday Sessions presents an afternoon of discussion and music surrounding feminist punk rock with artists who embrace visceral and engaged performance underlined by socio-political critique.
Priests (Washington D.C.) sprung from the nation's political-punk capital with a demo tape in 2012. Their tense, riotous songs offer a wealth of critical commentary, whether on street harassment (Leave Me Alone), environmental anxiety (Radiation), or a ruthless look at American history (USA (Incantations)), and yet their primal rage is poised.
Priests are joined for this event by the band Downtown Boys (Providence) and a duo set from Allison Crutchfield and Kyle Gilbride of Swearin (Philadelphia).
Olga Bell, a Moscow-born composer and member of the Dirty Projectors will open.
The artists join Jenn Pelly of Pitchfork to discuss the intersection of feminism, politics, and art within the context of their own narratives and music.
SCHEDULE:
3:15 p.m. – Olga Bell
3:55 p.m. – Alilson Crutchfield and Kyle Gilbride
4:30 p.m. – Discussion with Jenn Pelly
4:50 p.m. – Downtown Boys
5:30 p.m. – Priests
Sunday Sessions is a weekly presentation of performance, moving images, dance, music, and discursive programs. Its mission is to embrace live arts as an integral aspect of contemporary practice and ask how art forms, which unfold in the here and now, produce specific ways of thinking and useful means to engage with the broader world. Every Sunday different artists, curators, thinkers and a range of other cultural agents are invited to share their latest projects and ideas with the MoMA PS1 audience.
Sunday Sessions is organized by Jenny Schlenzka, Associate Curator with Mike Skinner, Producer, Alex Sloane, Live Programming Coordinator and Rosey Selig-Addiss, Production Assistant.

Sunday Sessions and the VW Dome at MoMA PS1 are made possible by a partnership with Volkswagen of America.