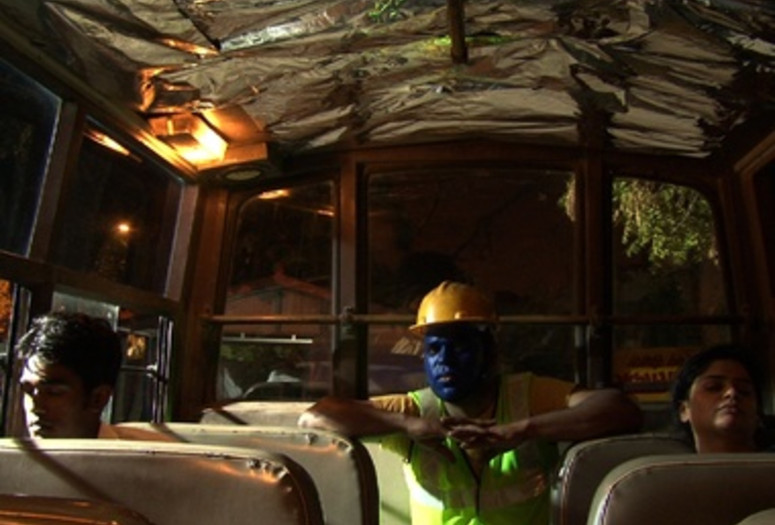 The Surface of Each Day Is a Different Planet. 2009. India. Directed by Raqs Media Collective. 38 min.
"Reflecting upon the ways in which ethnicity and 'type' have been characterized, animated elements resemble scientific instruments, such as those once used to measure the human skull in an attempt to determine levels of intelligence or those used to extract biometric data from today's passports. Photographs of institutionalized individuals by Francis Galton, a 19th-century anthropologist interested in the synthesis of human typologies, are layered into video footage capturing the movement of people from place to place. Intentionally open-ended and anti-documentary, the work examines how collectivity and anonymity have been represented over time and how, in the present, the conditions of post-colonialism and globalization contribute to an ongoing crisis of identity and entitlement" (Raqs Media Collective).
Strikes at Time. 2011. India. Directed by Raqs Media Collective. 18 min.
"Strikes at Time is a lucid dream, readings from an occasional anonymous journal, and a long walk at the edge of the city of the night. In that no man's land annexed by the awakening mind from the fatigue of the labouring day, the work weaves together a disquisition on time in the form of a discreet annotation on the philosopher Jacques Rancière's The Nights of Labour, together with renditions of the found text of a worker's diary by the CyberMohalla Ensemble, a group of unorthodox proletarian urbanists that Raqs has been in dialogue with over a decade. The shadowy presence of a Yaksha and Yakshi—guardians of wealth in Indic mythologies—stands watching over the work, marking time with questions" (Raqs Media Collective).