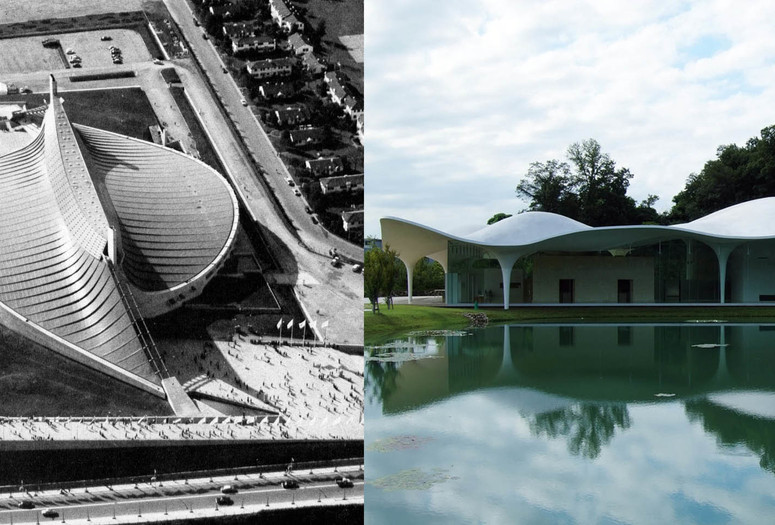 In conjunction with the exhibition A Japanese Constellation: Toyo Ito, SANAA, and Beyond, seven leading structural engineers will speak on Japanese structural design from 1950 through today. This symposium is organized by The Museum of Modern Art and Guy Nordenson of Princeton University, with John Ochsendorf of MIT. Speakers and panelists also include William Baker of SOM Chicago; Seng Kuan of Washington University; Marc Mimram, architect and engineer, Paris; Laurent Ney of Ney + Partners, Brussels; Mike Schlaich of Schlaich Bergermann Partner, Berlin; and Jane Wernick of Jane Wernick Associates, London. Additional panelists include Sigrid Adriaenssens of Princeton University; Caitlin Mueller of MIT; and Mutsuro Sasaki of SAP, Tokyo; with concluding remarks by Sean Anderson, Associate Curator of Contemporary Architecture, MoMA.
Please use the Film entrance at The Ronald S. and Jo Carole Lauder Building, east of the main entrance on 53 Street.
RSVP to [email protected]. Space is limited and RSVP is required.
Structured Lineages Schedule
8:30 a.m.
Doors
9:00
Introduction by Guy Nordenson
9:15
Seng Kuan, "Japanese Structural Design from Sano Toshikata to Sasaki Mutsuro"
9:45
Marc Mimram on Yoshikatsu Tsuboi
10:15
Mike Schlaich on Mamoru Kawaguchi
10:45
Laurent Ney on Masao Saitoh
11:15
Panel
Mimram, Schlaich, Ney, and Kuan, moderated by Sigrid Adriaenssens
12:00 p.m.
Lunch
1:30
John Ochsendorf, "Architecture and Engineering Education: Japan, U.S., E.U."
2:00
Jane Wernick on Gengo Matsui
2:30
Guy Nordenson on Toshihiko Kimura
3:00
William Baker on Mutsuro Sasaki
3:30
Panel
Wernick, Nordenson, Baker, and Sasaki, moderated by Caitlin Mueller
4:15
Concluding remarks by Sean Anderson