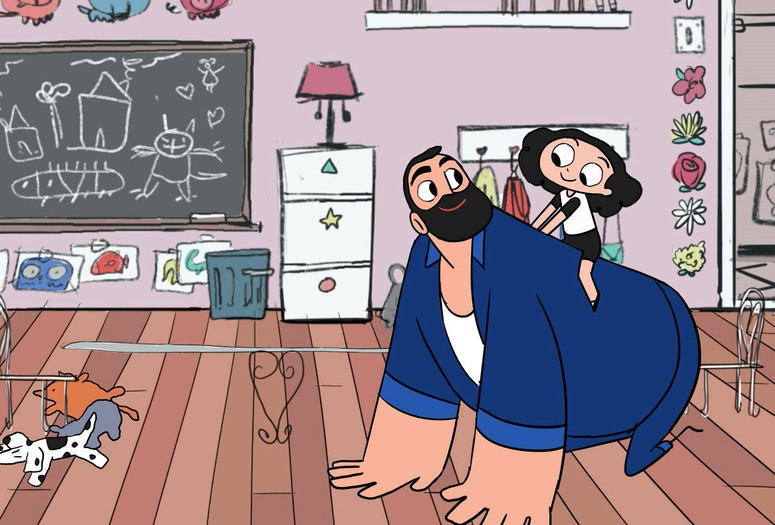 Lambs. 2013. Germany. Directed by Gottfried Mentor. A lamb's parents are shocked because their little lamb doesn't sound like the other sheep: it's saying "moo" instead of "baa." 4 min.
Papa. 2014. USA. Directed by Natalie Labarre. When an eccentric inventor comes to realize he's not a perfect father, he decides to create one for his daughter. 6 min.
Kisha's Song. 1981. USA. Directed by Betsy Nadas and Joe Seamens. This film documents a baby being rocked to sleep by a woman who sings and hums a Dr. Watts hymn. Though simple in presentation, the film creates a lyrical, tender portrait. 3 min.
Elizabeti's Doll. 2000. USA. Directed by Melissa Reilly. When her baby brother arrives, Elizabeti, a young Tanzanian girl, decides she needs a doll to care for the way her mother cares for the new baby. Based on the acclaimed book, Elizabeti's Doll teaches gentle lessons about the bond between mother and child. 7 min.
My Big Brother. 2014. USA. Directed by Jason Rayner.
A boy who shares a room with his gigantic brother can't compete with the giant physically, and the hand-me-downs are way too big, but he can't deny how his brother's unique stature has changed his world. 3 min.
Enjoy new and classic family-friendly short films, engaging discussions, and suggestions for follow-up activities in the Museum's galleries. This program is for individual families of up to two adults and up to three kids.
View more Family Programs.

Tickets: Free tickets are distributed on a first-come, first-served basis starting at 10:00 a.m. on the day of the program at the information desk in the Education and Research Building, at 4 West 54 Street.

Contact: (212) 708-9805 or [email protected]

Accessibility: Sound amplification devices are available for all programs. All theaters are equipped with loop systems and are wheelchair accessible.