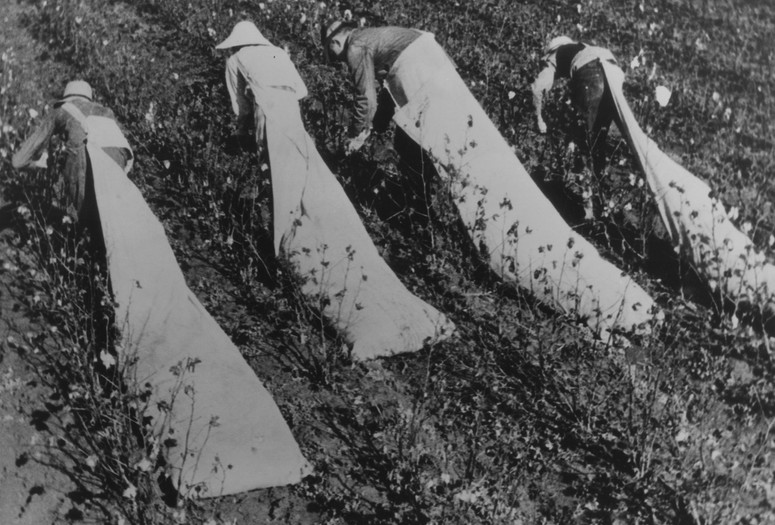 Program 70 min.
Sermons and Sacred Pictures. 1989. USA. Directed by Lynne Sachs. 29 min.
A Memphis-based Baptist minister whose fiery sermons held his African American congregation in thrall, the Reverend L. O. Taylor was also an amateur photographer and filmmaker who documented black life in the Jim Crow South during the 1930s and 1940s. This penetrating and moving documentary by Lynne Sachs, herself a Memphis native, uses Taylor's own images and sound recordings, together with reminiscences by his widow and circle of friends and colleagues, to create a portrait of a community leader who embodied the earliest stirrings of the civil rights movement, as well as a sobering image of contemporary Memphis at the century's violent end. Courtesy the artist. Courtesy Icarus Films.
Itinerant Negro Preacher. 1925. USA. Silent. 3 min.
Produced by Fox's Movietone newsreel outfit, this modest, touching film follows the Reverend J. W. Evans as he preaches the gospel on a mule-driven cart along Indiana's Lincoln Highway. Courtesy Moving Image Research Collections, University of South Carolina.
The River. 1938. USA. Directed by Pare Lorentz. 31 min.
Score by Virgil Thomson. The economic and social hardships of agrarian life during the Great Depression—from drought in the Dust Bowl to boll weevil infestation across the cotton belt, bank foreclosure to labor exploitation—were exponentially more punitive for black sharecroppers and their families. (As Josh White sang in "Southern Exposure," his protest song, "Boss takes my crop and the poll takes my vote.") Lorentz's The River, which inspired Jacob Lawrence for his Great Migration series, is a classic document of New Deal progressivism. Produced by the Resettlement Administration/Farm Security Administration, it extols efforts by the Tennessee Valley Authority to undo decades of man-made soil erosion along the Mississippi River while creating hydroelectric power for hundreds of Southern towns.
Fieldwork Footage. 1927–29. USA. Directed by Zora Neale Hurston. 7 min.
Under the tutelage of anthropologist Franz Boas (her former Columbia professor) and Harlem Renaissance arts patron Charlotte Osgood Mason, Zora Neale Hurston spent nearly two years studying the folkloric customs, work songs, spirituals, and vernacular language of African American communities along the River Road and from New Orleans to Florida—observations that culminated in her 1935 collection Mules and Men. The "pressures [of Hurston's journey] were both racial and sexual," biographer Robert E. Hemenway observes, "…as a woman who rejected sexual roles, traveling with only a handgun, a two-dollar dress, a suitcase full of courage through some of the roughest and remotest parts of the rural south." Hurston also took a 16mm movie camera with her; in this unedited footage, she casts an empathetic eye on Cudjo "Kossula" Lewis, believed to be the sole remaining survivor of the Clotilde, the last arriving slave ship to the United States (in 1859); as well as workers for the Everglades Cypress Lumber Company, and a river baptism. Courtesy The Library of Congress, the Zora Neale Hurston Trust, and Victoria Sanders & Associates LLC.