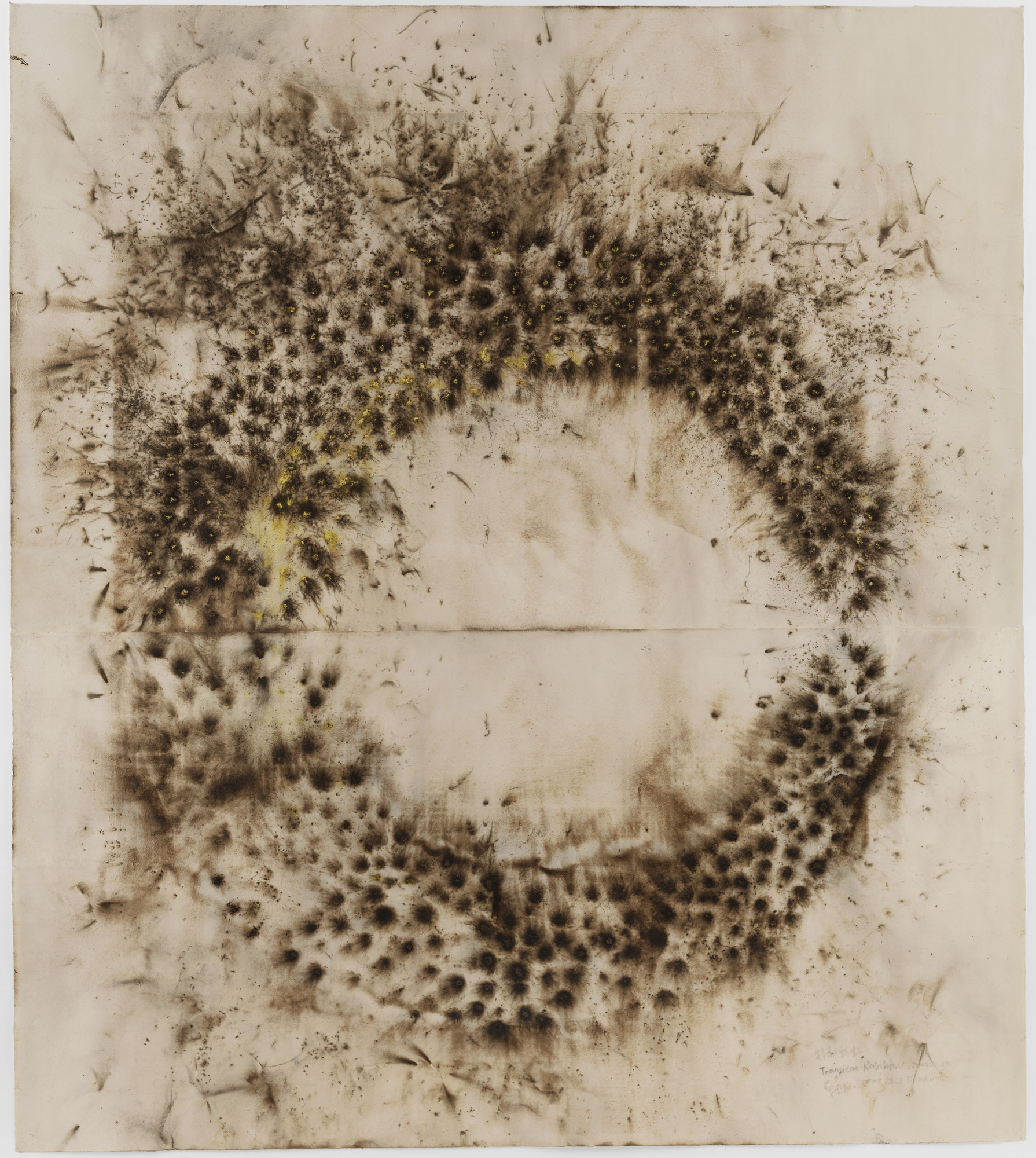 Cai Guo-Qiang. Drawing for Transient Rainbow. August 2003
29
Narrator: This huge drawing, by an artist who grew up in China, was made with something really surprising…gunpowder! His assistant translates for him:
Artist, Cai Guo Qiang: Hi. My name is Cai Guo Qiang. And this piece is called Transient Rainbow.
Narrator: Transient means something that passes by, and is gone. In China, every happy event or holiday is celebrated with firecrackers – and this artistic explosion was also a part of a celebration. While the building you're standing in was being built, this museum moved across the East River to Queens. Cai made his own artwork to celebrate the move – a rainbow of 1,000 fireworks that arched over the river, like a drawing in the sky.
It only lasted a few dazzling seconds. Then it was gone.
Cai made this picture soon after he made his fireworks rainbow. Did you notice there are two pieces of paper here? He used them to make a gunpowder sandwich. First, he laid one huge piece of paper on a fireproof floor and carefully placed small piles of gunpowder on it. Then, he put another sheet of paper on top. Next, he weighted it down, and lit a fuse…Hey, wasn't that dangerous? Well, yeah. Even the noise is scary!
As the smoke from the explosion cleared, Cai and his assistants rushed in to remove the top piece of paper and put out sparks, so the art wouldn't burn up while it was being made! The marks here are burn marks. At the top, they arch upward, like a rainbow. Below, they arch down –– like the reflection of the rainbow fireworks in the river. This drawing records the gunpowder explosion—and, unlike the fireworks, it should last for many years. When Cai opened up his gunpowder sandwich, he didn't know what it would look like. That was part of the fun!
Cai Guo Qiang: I have been charmed by this material because I can never fully control it, especially since gunpowder could be such a destructive material, but yet we can make something creative and constructive and beautiful out of it.