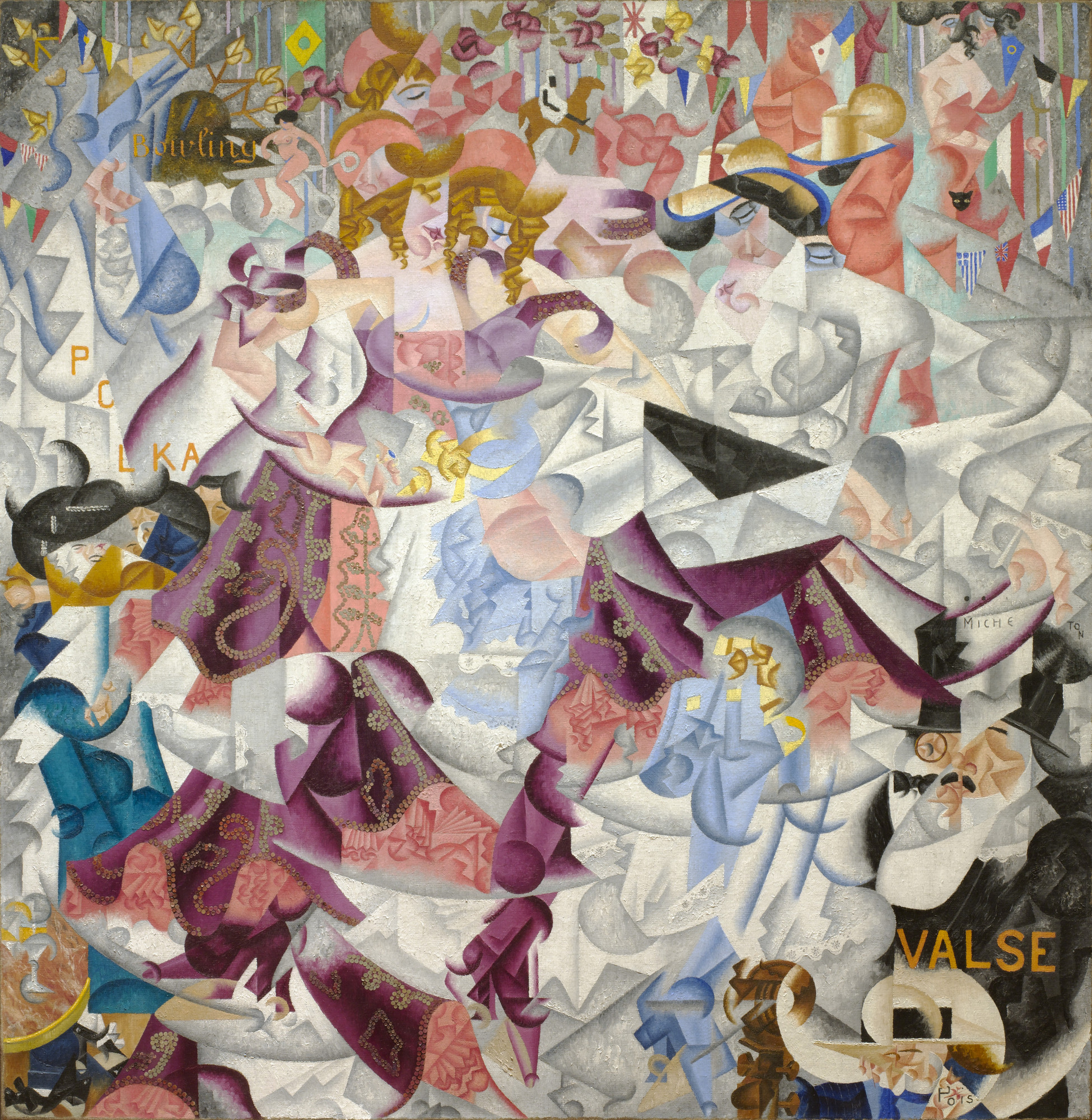 Gino Severini. Dynamic Hieroglyphic of the Bal Tabarin. 1912
3
Narrator: Have you ever spun around so fast that the room seemed to keep moving even when you stopped?
Whoa! Bet you felt a little dizzy! And after, for a moment, things sort of looked like they broke into a million pieces! That's what this painting of a dance or fancy ball captures – the way things look when you've been spinning or dancing around and around.
Now, look down in the bottom right hand corner…Can you find the letters V–A–L–S–E?
They spell "valse"—French for "waltz" – a dance where two people whirl round and round in circles!
The artist, Gino Severini, made everything here explode or break up into a crazy jumble to give the feeling of movement. But look closely, and you can figure out some of what's going on.
In the upper right corner see the string of colorful flags? And the little cat face? At the top of the painting, near the center, you might be able to find a woman's honey–colored curls. Maybe you can also see two closed eyes with blue shadow and her rosy lips. Lower down, you'll find bits of her purple dress too – it has real glittery sequins and a ruffly pink petticoat!
At the bottom, in the right corner, there's a man in a tall, black top hat. He has a bow tie and a black mustache. He might be carrying a tray with a drink on it.
Or maybe that brown shape sticking up in next to him is the top of an instrument he's playing. Wait! Is this one man or two different people? It's hard to tell for sure!
Wow! This picture is making me dizzy!
Hey, they're playing my all time favorite dance! It's spelled out on the left, in orange letters. P – O – L – K – A. Polka!!!
Woman: Monsieur! Would you care to polka avec moi?
Narrator: Would I?! Gotta dance! Catch you at the next painting.