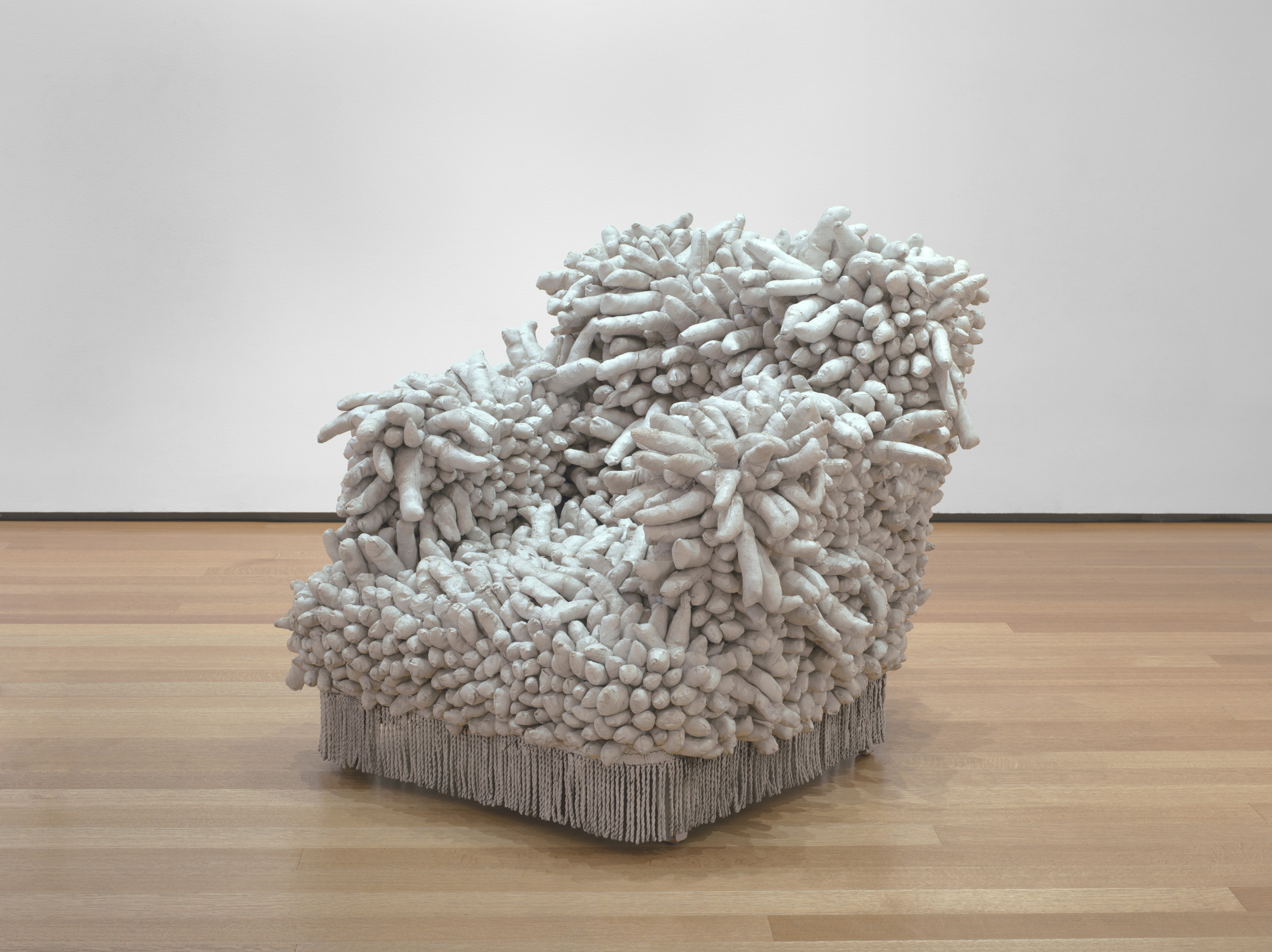 Yayoi Kusama. Accumulation No. 1. 1962
410
Narrator: After establishing her painting career in Japan, Yayoi Kusama moved to New York in the late 1950s, where she continued to explore an obsessive repetition of form in paintings, sculptures, installations and performances. Curator Laura Hoptman:
Curator, Laura Hoptman: Accumulation No. 1 is the first of a series of sculptures that feature this agglomeration of phallic forms. The Accumulations are created by sewing a sock-like form and stuffing them with cotton. She chose to use as the support for her "Accumulations" domestic furniture. Accumulation 1 is an armchair. Accumulation No. 2 and No. 3 andNo. 4 are sofas, a baby carriage, and a ladder.
Narrator: Her use of everyday objects in the early 1960s placed Kusama at the forefront of Pop Art. And her treatment of those objects invoked issues about gender that would become central to the feminist movement in the coming years.
Curator, Laura Hoptman: She's a woman artist in a man's world in 1962 in New York City, a tough, tough, venue to be a woman artist.
Narrator: Sculptures like this embarrassed many male critics of the period, who often ignored their obvious symbolism.
Curator, Laura Hoptman: Nobody mentioned the fact that this is a bristling, phallic work, with a decidedly feminist overtone. It was this domestic piece of furniture covered with phalluses. By sitting on this piece of furniture, of course, you're doing damage or you're doing violence to the phalluses that you're sitting on. It is at once inviting, but it's also quite intimidating. These works are shocking and they continue to be shocking because of their overt sexuality and also their humor.