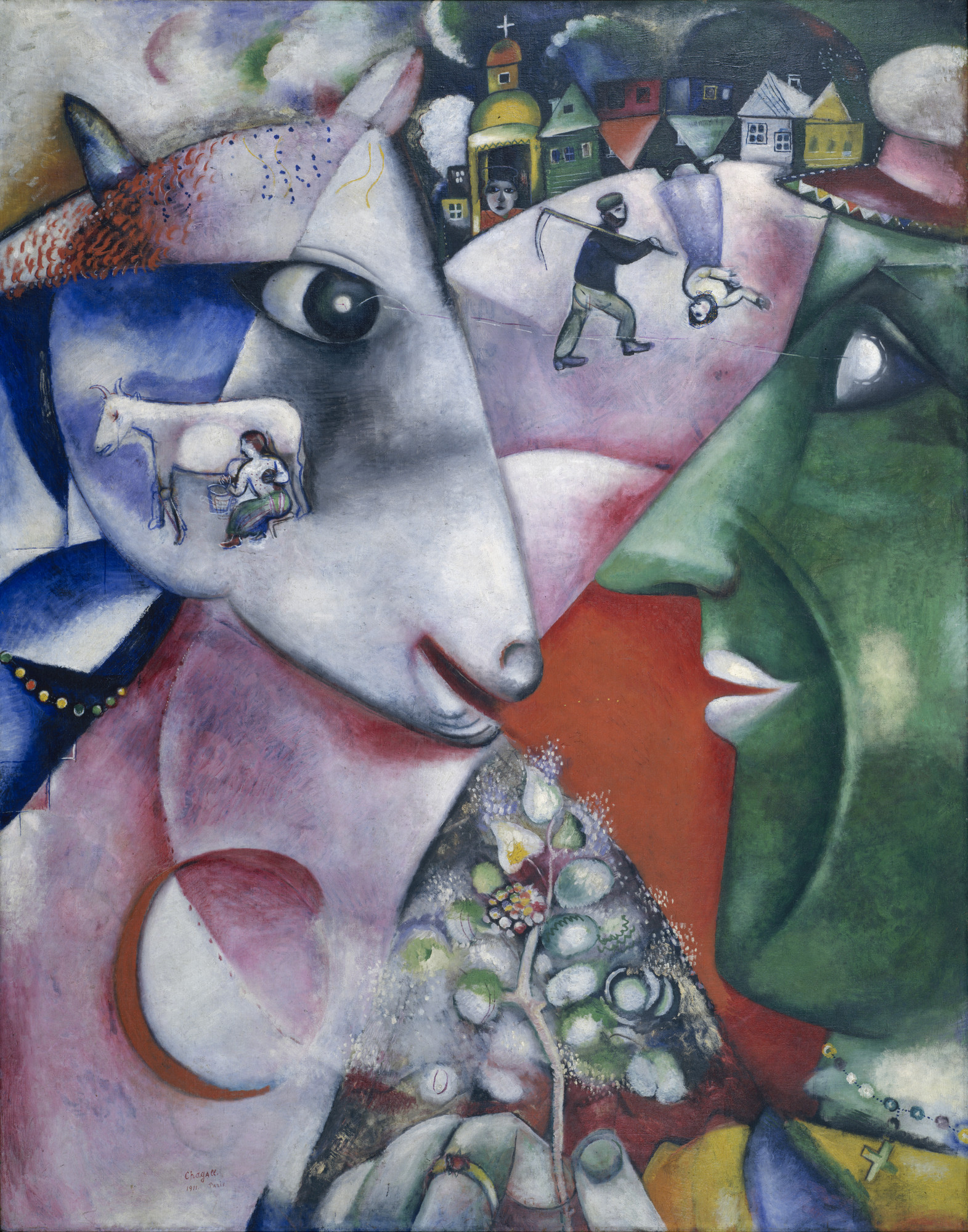 Marc Chagall. I and the Village. 1911
522
Curator, Leah Dickerman: We're looking at Marc Chagall's I and The Village that the Russian artist made in Paris in 1911.
And what you see when you look at this work of art is a brilliantly colored field in which the figure of a young peasant boy that some think might be Chagall himself stares intently at the image of a cow, and there's a small, dotted line that connects the eyes of these two creatures and behind there's an almost magical village in which a young peasant carries his scythe and a young woman floats upside down, and below at the bottom is a hand in which a flowering tree seems to grow.
What you see in the work of art is a kind of conjuring of the place that he came from. But I think it's also important to think about the ways that this isn't an actual depiction of a Jewish village in Russia. These villages were of course very, very poor and they had been wrecked by violent pogroms. So, it isn't necessarily a wonderful place to be, as it's depicted here, but it's very much about being in Paris and thinking about home from a distance.
Chagall came of age in an important moment in which there was a flowering Yiddish renaissance in Russia, where it was possible for the first time for young Jewish artists to imagine a Jewish culture that wasn't tied to a religious tradition and they turned to Yiddish, the secular language, not Hebrew, the religious language to create this world that specifically addresses Jewish experience.
And this is on the cusp of a moment in which abstraction is just being invented. Now Chagall's picture isn't abstract, but he's taking the lessons of some of these people who are interested in creating abstract pictures, and thinking about how color might provoke a particular response in the viewer.