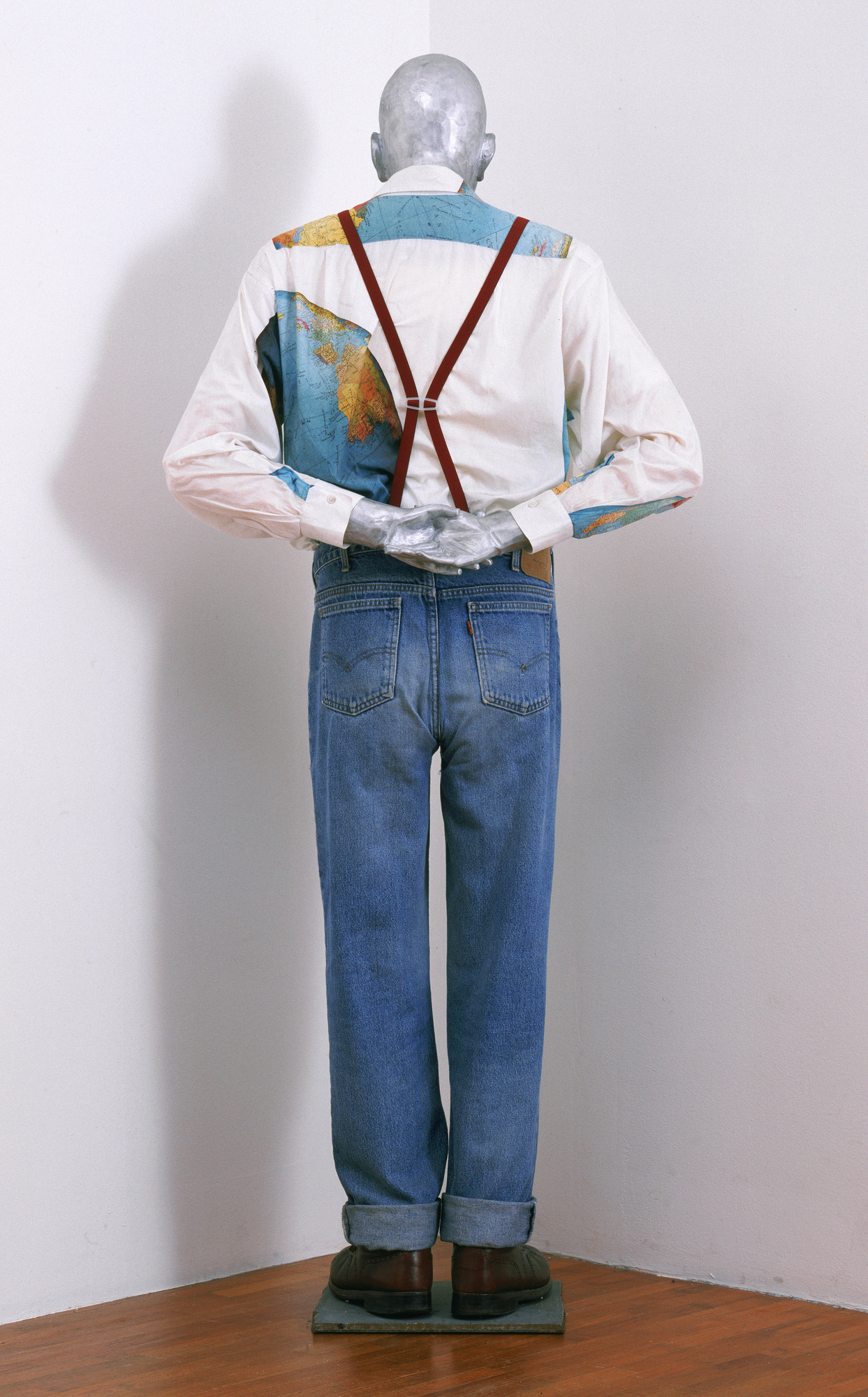 Martin Kippenberger. Martin, Into the Corner, You Should Be Ashamed of Yourself. 1992
262
Narrator: A grown man standing in a corner?? That's so puzzling.
[Puzzling Pieces sting]
Scolding woman: Martin, stand in the corner and be ashamed of yourself!
Narrator: In fact, that's the title of this piece. It shows the artist, Martin Kippenberger. Do you think standing in a corner would be a good way to punish a grown up?
Kippenberger made this sculpture when someone wrote about his work in a nasty way, as if they were scolding him. He gave a photo of himself to a craftsman and had him carve the head and hands. Then cast them in metal. Inside the clothes, the body is a metal stick figure with foam padding. The jeans are probably the artist's own. Did you notice the shirt has pieces of maps on it? I wonder why?
Martin Kippenberger had four sisters. He was the only boy, the middle child. When he was little, he liked painting better than playing with toys. On the kitchen wall, the family wrote in big letters.
Announcer voice: Martin Our Artist!
Narrator: How long is a time out for a grown up, anyway?! Poor, poor Martin.
Wait. Maybe this is a joke, and Martin's telling the man who wrote the nasty article that he doesn't care.
Lots of artists use themselves in their work. When you're ready to leave this gallery, walk through the big doorway on the other side of the blankets. In the next room, straight ahead of you, you'll see four yellowish photographs. Try imitating what you see in them. Or make some other weird, fun, goofy or outrageous expressions just by using your mouth.