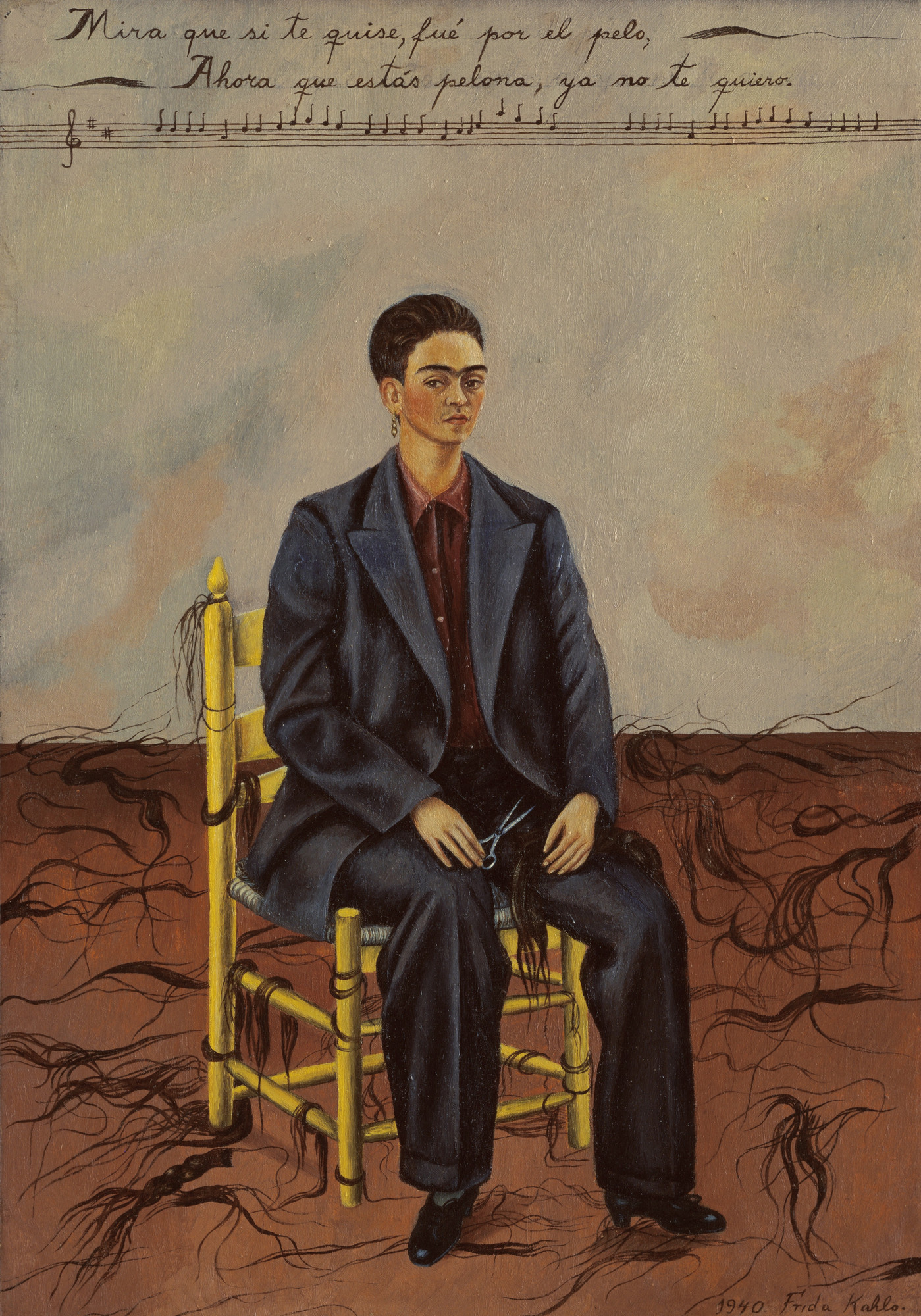 Frida Kahlo. Self-Portrait with Cropped Hair. 1940
541
Curator, Anne Umland: This work is a self-portrait of the Mexican artist, Frida Kahlo. You note that this is a figure dressed in an oversize charcoal gray suit with crimson shirt. And still further down, you get to what is perhaps the most uncanny part of this image, a floor littered with these writhing tendrils of carefully exquisitely detailed hair if you look down very closely at the lower left corner, for instance, you see the remnant of a braid that has been clipped off.
Kahlo would always insist on the documentary character of her work and its intimate relation to real lived events in her life. Kahlo divorced her husband, the Mexican mural painter, Diego Rivera in November of 1939, just months before beginning this painting. And it has often been said that she cut her hair off as an act of mourning in relation to this separation from Rivera.
We know from other images and photographs that to all who knew Kahlo and Diego Rivera in the thirties and forties that the suit would have been instantly recognized as an attribute of Rivera's. There is something that simultaneously both very tender and yet aggressive, in the sense of putting on someone elses suit to take on, in this case, at least Rivera's artistic identity for herself and redefine it in her own terms.
The words inscribed at the top of the canvas and the musical notes are both derived from a popular Mexican folksong that sings of a man who once loved a woman for her hair. And now that she's cut it off, he doesn't love her anymore. I think, however, the act could be read not only as mourning but as an act of self-assertion painted at a moment when Kahlo is eager to establish herself as an independent artist.