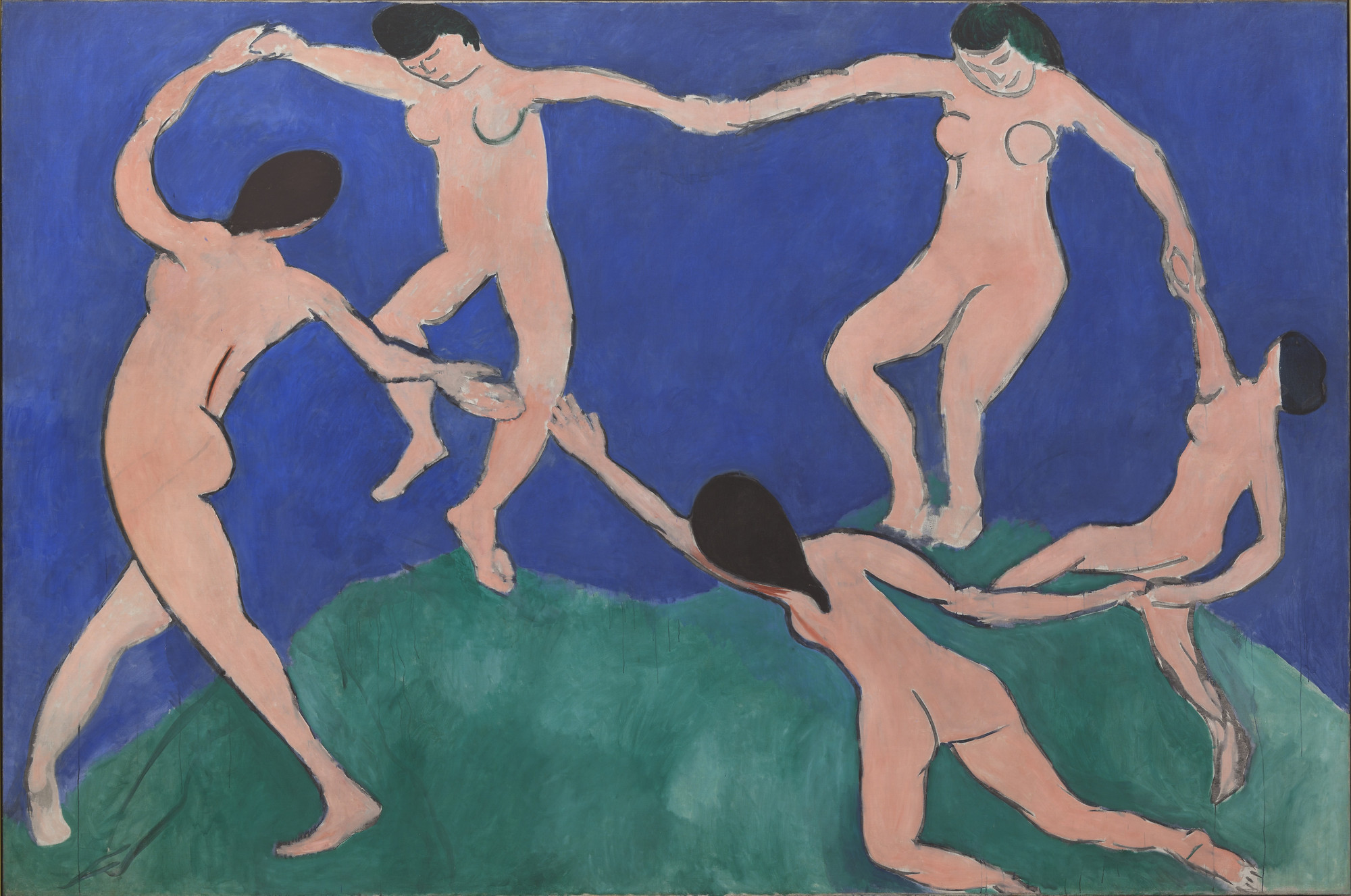 Henri Matisse. Dance (I). Paris, Boulevard des Invalides, early 1909
524
Glenn Lowery: Curator, Ann Temkin:
Ann Temkin: In 1908, the year before he made this painting, Matisse was quoted as saying, "Suppose I want to paint a woman's body. First of all, I imbue it with grace and charm, but I know that I must give something more. I will condense the meaning of this body by seeking its essential lines. The charm will be less apparent at first glance, but it must eventually emerge from the new image, which will have a broader meaning, one more fully human."
When Matisse first painted this work, its early audiences weren't able to find the charm and grace at all. What they saw were five figures that did not seem to be capturing the essence of women but seemed almost to be more like paper dolls. One hundred years later, this painting and its companion called Dance (II) are very much seen as quintessential evocations of grace.
What matters to Matisse isn't some realistic description of what a ring of dancers would look like, but the way that this ring of dancers would fill the dimensions of this rectangular canvas, and thus you have things happening like the very long reach between the two dancers in the foreground at the far left and then at the bottom right, where you see their arms reaching and barely touching each other's and, in fact, the way in which the woman on the far left's right hand is painted, it almost looks like it's unfinished, but for Matisse, that was enough. Matisse painted it in a very quick amount of time, less than a week, and he did something that was so shocking, in a sense, in making a painting that's essentially a few colors.
Another radical thing is that the sky and the earth are not given any detail whatsoever. It's just a purely flat expanse of this one blue color and this one green color, painted in such a way that you realize that you're not in some kind of specific place that can be identified, but rather some kind of ideal place in the mind's eye.