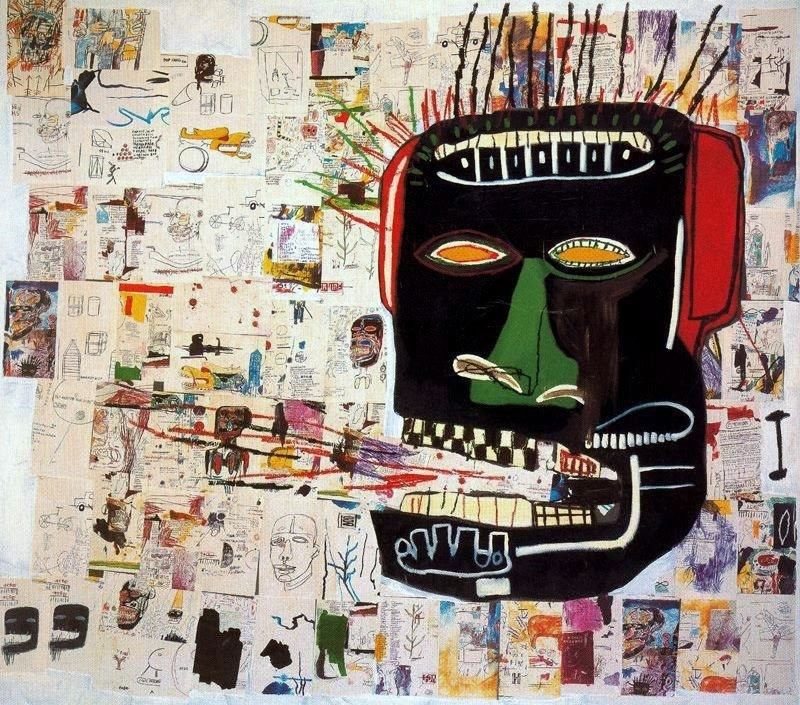 Jean-Michel Basquiat. Glenn. 1984
555
Laura Hoptman: We're looking at a Jean-Michel Basquiat painting called Portrait of Glenn, that the artist made in 1985. And its main motif is a large, mask-like head, with an open mouth and black and white teeth. The head is surrounded by dozens and dozens of notebook pages that have been collaged around it. Portrait of Glenn is, most probably, a portrait of Glenn O'Brien, who was a writer and journalist in the East Village.
Basquiat really began his career as a kind of graffiti artist, but it was his paintings that really got him noticed. What he became best known for was the words, and the phrases, and the glyphs, and the symbols that are a large part of his visual vocabulary. So when you look at a Basquiat painting, you can also read it.
Basquiat's painting style was raw, and fresh, and very emotional, but it really had an underpinning of art history. The Portrait of Glenn doesn't resemble Glenn O'Brien at all. It is a mask influenced by Haitian artwork, as well as the way that European artists like Pablo Picasso translated the artifacts that they saw from Africa and Oceania into a modern language. Many of the notebook pages have similar mask-like visages. We might surmise that Basquiat was working out, in a way, the kind of mask that he wanted to use for this particular portrait.