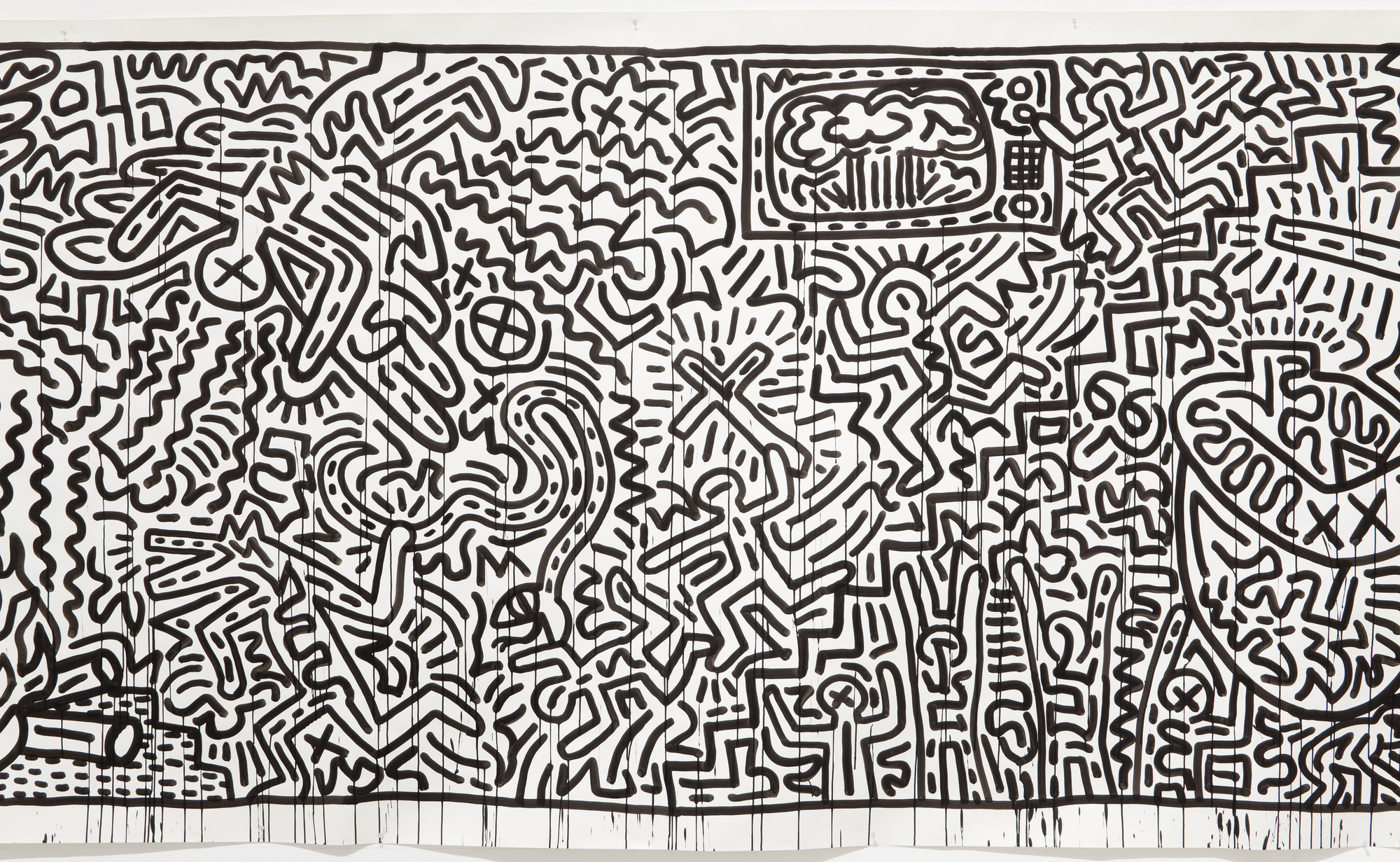 Keith Haring. Untitled. 1982
266
Director, Glenn Lowry: Keith Haring made this enormous drawing at age 24, having gained notice as a street artist but yet to make his breakthrough into the art world. Julia Gruen was Haring's friend and studio manager, and now serves as Executive Director of the Keith Haring Foundation.
Julia Gruen: As you walk along the drawing, which is what one must do, you will see that, while it is so extraordinarily dense with imagery, it has a certain narrative. Some of the images are messages that speak to power, conflict, exploitation, subjugation, fears of nuclear holocaust. An image of a television with a nuclear explosion on it. Crucifixes, headless figures, serpents. The crucifix was in response to the first visit of Pope John Paul II to Poland. You get flying saucers. You get dancing dogs. Flying saucers are a of symbol of the future and future energy. The Mickey Mouse images are somewhat symbolic of the United States.
I would call this composition a very apocalyptic vision which is a theme that reoccurs in Keith's work throughout his career. Keith knew very well that it was in combining these images that quite extraordinary stories and messages could be conveyed.
Glenn Lowry: Haring began each work with the complete image in mind. In this case he worked nonstop, finishing the drawing in less than eight hours.
Julia Gruen: When he put the brush to the paper, it simply flowed down his body, out the brush in this extraordinary continuous movement.
Glenn Lowry: Much of Haring's inspiration came from the energy and artistic activity that surrounded him in New Yorks East Village in the 1970s and 80s.
Julia Gruen: It was a very creative time in New York and the downtown East Village art scene in the late 70s and early 80s was incredibly fertile. It was like being the proverbial kid in the candy store.
Glenn Lowry: In a 1986 interview, Haring described what it was like to be a part of the re-emerging East Village art scene.
Artist, Keith Haring: The art world was starting to go through a tremendous transformation and all of a sudden painters were starting to appear again and people were interested in painting. When I got here everyone wanted to be in a band, now everyone wants to be a painter.
Club 57 was really one of the first places where we sort of just got together and organized one night exhibitions and then later doing things like in the Mudd Club and Danceteria and these other places. Mainly because it was geared at not making the audience necessarily come to where the work was but taking the work to the audience.