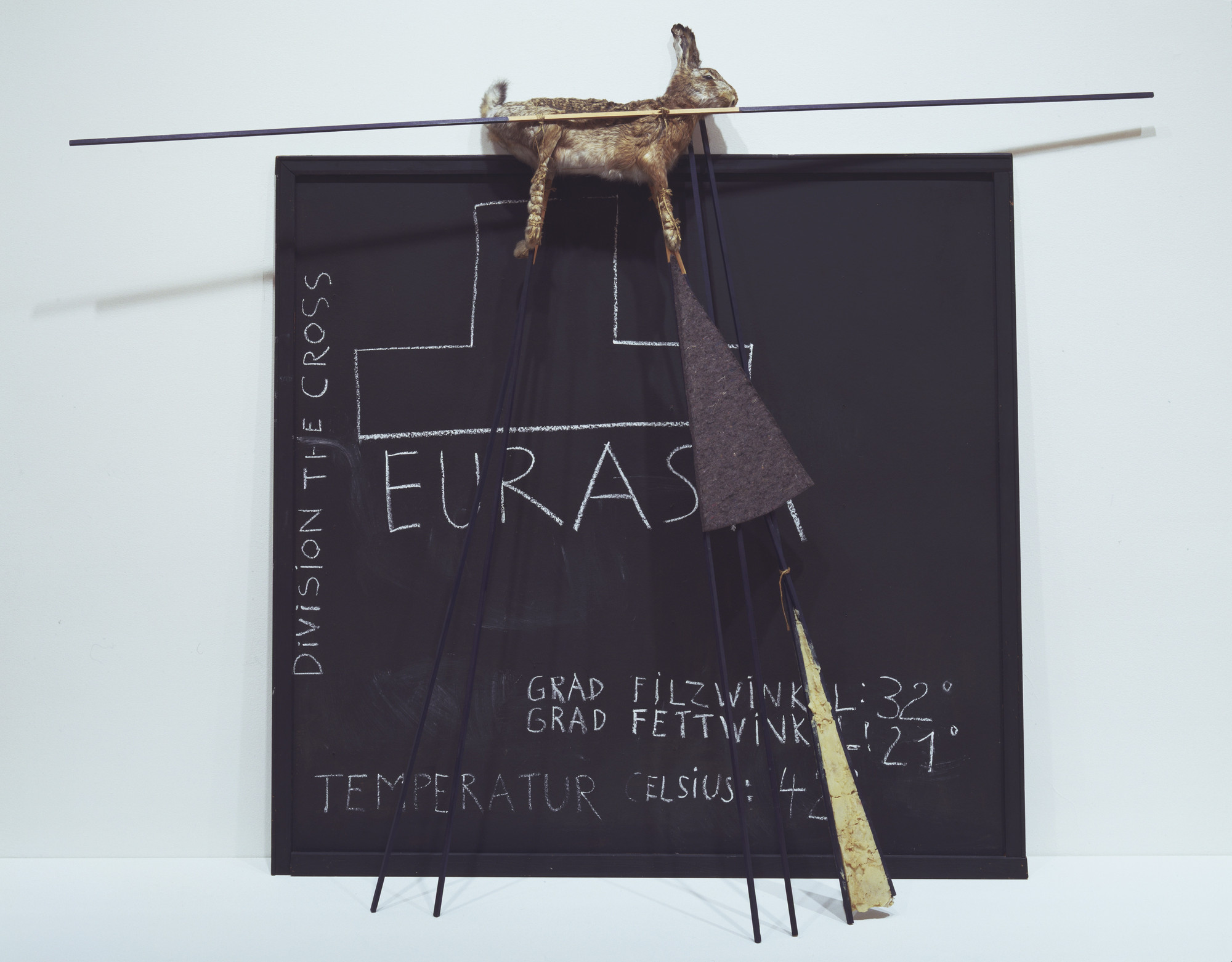 Joseph Beuys. Eurasia Siberian Symphony 1963. 1966
451
Curator, Ann Temkin: This work by Joseph Beuys called Eurasia Siberian Symphony 1963 is from a performance that he gave in a gallery in Berlin in the year 1966. Performance was integral to what he did. So art wasn't something that you looked at passively, or made and then went away, but it was something in which you engaged in public and with others.
Eurasia was a big theme in all of Beuys' performances and art in general, in that he felt, and remember this is at the time of a divided Germany, that one of the big problems with the post-war world was the division between Asia and Europe and the split between western and eastern ways of thinking.
Beuys performed with a dead hare—a hare that for him was a symbol of an animal who linked Europe and Asia, and who could jump figuratively if not literally from one continent to the other. The blackboard was often part of his performances. Here you see the degrees, the grad filzwinkel and grad fettwinkel refers to the angles at which the fat triangle which you see at the bottom, and the felt triangle which you see above it, have been made. And fat is something, which changes its form through heating and cooling. Beuys wanted sculpture to have the idea of something that has the innate potential to change. And for him that was an important metaphor for humanity, that human beings had to retain the ability to change, to transform themselves to adapt to new situations.
As he told it, when he was in the war, he, was in a Luftwaffe plane that went down in Russia and when he was saved by Tartars they wrapped him in felt and in fat to save his life. There's been debate among scholars how much that story is really true. But I think what's important is that he saw these materials as life-giving and life-preserving for him or for humanity as a whole.