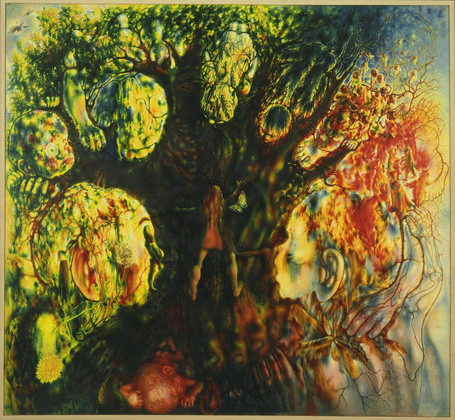 Pavel Tchelitchew. Hide and Seek. 1942
545
Ann Temkin: Hide and Seek presents an utterly fantastical portrayal of children playing the game of hide and seek within and around the branches and limbs of a vast tree.
Glenn Lowry: It was painted in 1942, by the Russian-born American artist Pavel Tchelitchew. Curator Ann Temkin:
Ann Temkin: But like so many elements in this painting, that tree is a double kind of image because when you look really closely at its bottom part, you realize there are toes, and when you look at its upper limbs, you see they could be the fingers of a hand.
You realize there are many children's heads, many of them within images of other images. For example, when you look at the arm and the fingers in the upper-left corner of the painting, you realize that every finger has a child's head within it. And so it goes on and on.
There's lots of imagery that recalls the veins and the arteries. There are sexual organs. It's a very visceral picture, and it's quite a horrific picture. In many ways it's no accident that this was a painting made at the height of World War II.
During the 1940s, Tchelitchew's reputation at MoMA and elsewhere was as great as that of Matisse or Picasso. But what happened is that the history of art took a different turn and the hyper-realistic detail and precision and the startling imagery that is so important to Hide and Seek became out of fashion.