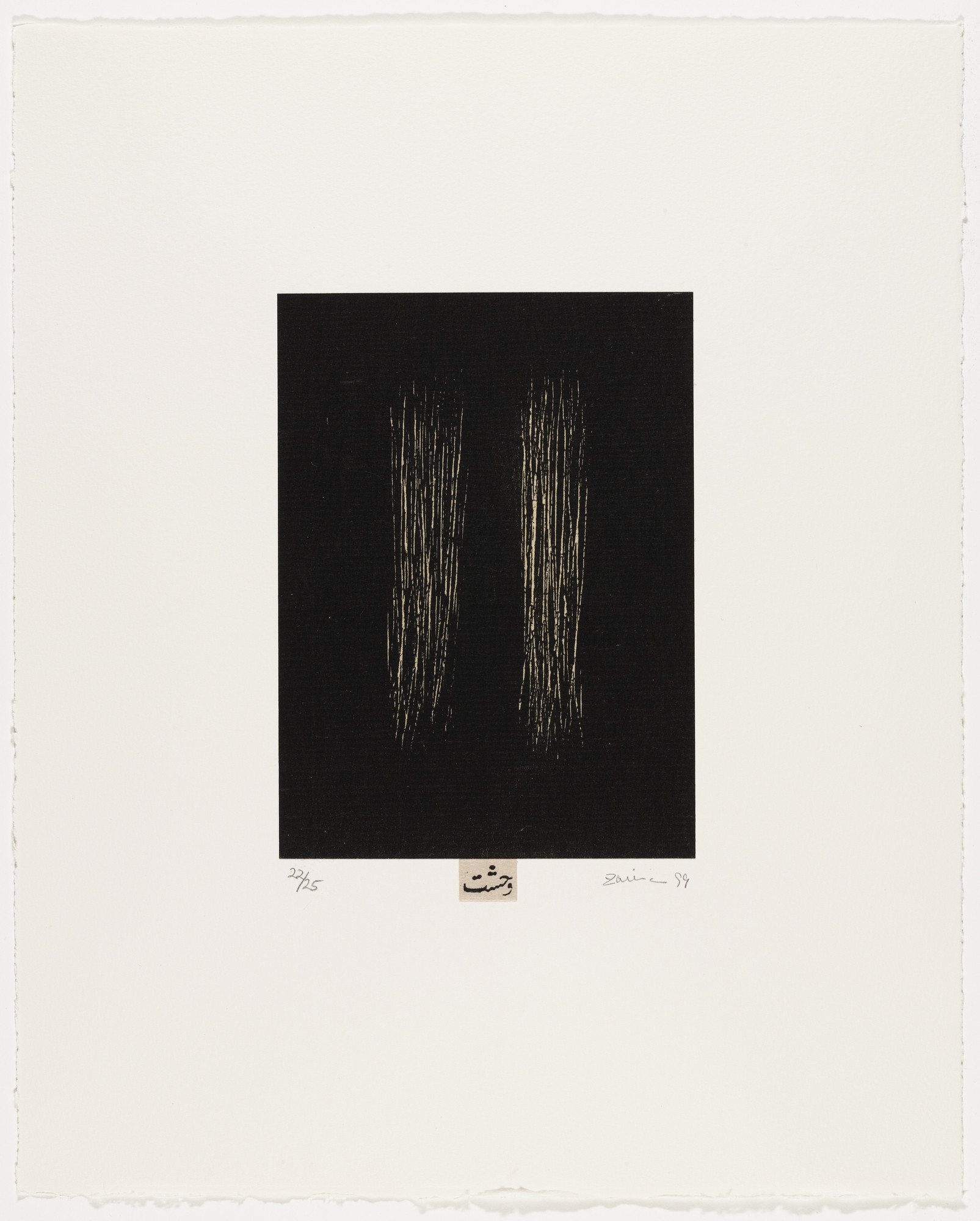 Zarina. Despair from Home Is a Foreign Place. 1999
270
Artist, Zarina Hashmi: My name is Zarina Hashmi. I was born in Aligarh, a small university town 80 miles south of Delhi. In 1975, I moved to New York. I was on the road for 20 years before I came here.
When I was traveling, I always thought that one day I will go home. But over in the 40 years, there was nothing to go back to, because my family was scattered all over the world. Actually this piece I just did for myself just to understand how I got here. You know, home is a foreign place. So language is as important in this piece as the image. It has to be read as a poem.
Director, Glenn Lowry: The artist, who goes by her first name, came up with a list of words in Urdu that conjured up the idea of home. Zarina had a calligrapher write these words, which can be seen at the bottom of each panel, and then created a corresponding image. These woodblock prints are meant to be read in rows from left to right, starting from the top.
Zarina Hashmi: The first line is I start by my home, so I made a very rough floor plan of the house, and it goes with that. And then threshold. Because all of these have cultural meanings that you have come to that threshold. And then the door and the entrance. And the courtyard is very important for me, because we spent a lot of time outside.
Glenn Lowry: In the third row, she describes the time of the day. Look for the fourth panel to the right; its an image of a ceiling fan.
Zarina Hashmi: Because I can't think of an afternoon in India without the ceiling fan (Laughs).
Glenn Lowry: In the fifth row, in the far right panel, Zarina illustrates the idea of disappearing language with a musical score.
Zarina Hashmi: Because you know, when you leave, you leave your country, and but you also leave your language. And that is a very big loss, because you know, you will never speak it, or you will never communicate with other people in the language which you grew up with.